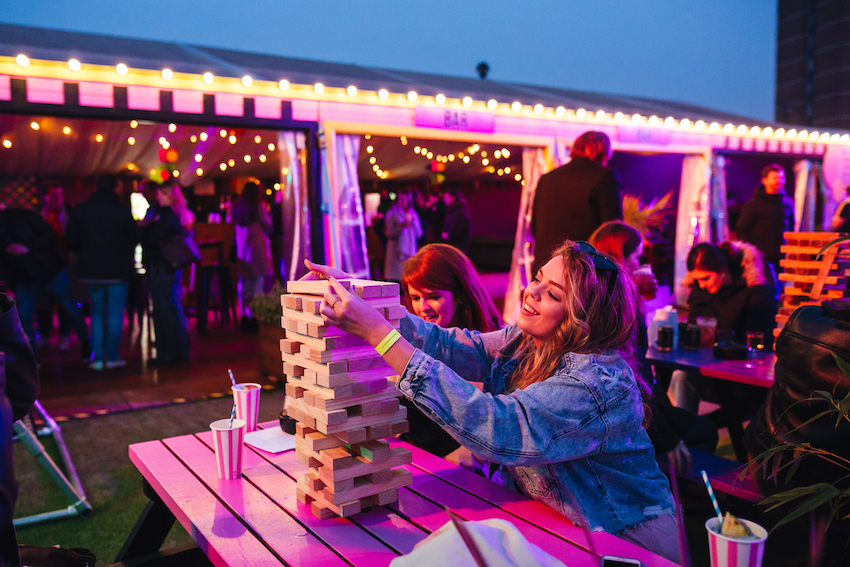 Christmas is almost upon us, the time to kick back and get exceedingly merry with all your best mates as you let the festivities commence. This year, as well as looking forward to santa sliding down your chimney and seeing your family get more drunk than usual, the guys at Stratford's Roof East are ready to take your Christmas to the next level. 
The sprawling urban space set up on a former rooftop carpark, with incredible skyline views of the city, is going all out this year to make your festive season the best one yet. 
Roof East is a rooftop bar, that much you should be happy about. But it's so, so much more besides. How many bars do you know where you can partake in Curling, VR Foosball and Crazy Golf? None, is the answer. Except here.
Roof East have laid out a veritable spread of action across December for you to enjoy, much of it completely freaking free! What pray tell do they have in store?
Well, those with an eye for detail can enjoy the free art classes they're putting on, where you can try your hand at being the next Picasso, as Santa Claus poses for you as you aim to recreate the spirit of Christmas on paper. 
You can also learn how to craft your very own custom-made stockings with London Craft Club, or get a free caricature drawn of yourself in just five minutes flat by the renowned Luisa Calvo. And no festive drink with your mates would be complete without a pub quiz to get your mind working overdrive as you attempt to see beyond the haze from all the mulled wine you've drank. 
Those who are currently single but have bagged themselves a hot date could find this the perfect venue to kindle those flames, as Roof East was recently featured on the Channel 4 show dating show Flirty Dancing, which shows they know a thing or two about matchmaking. Impress them at the pub quiz, or get straight down to it with some mulled wine to warm your cockles and some hot chocolates, hot buttered rum and hot berry punch to tempt your taste buds.
If you want to forgo the romance and show the world how good you are at everything, then those of a competitive nature will be glad to know Roof East caters for you too. Sliders Curling, VR Foosball, Birdies Crazy Golf and a whole host of new '90s arcade games such as Pac-Man, Street Fighter II and Space Invaders, will keep you fully entertained for hours, all courtesy of the fine folks at the SFG Club.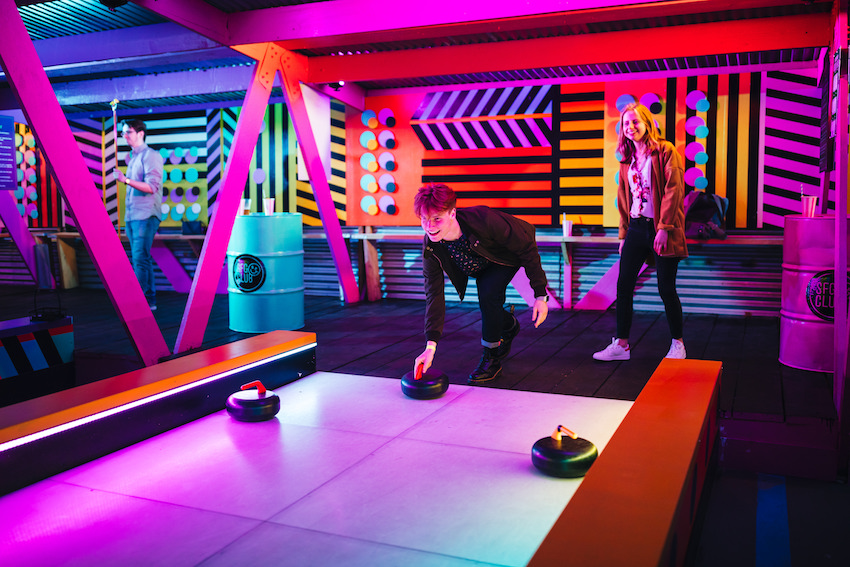 If you've got a shedload of mates, or work colleagues, and want to organise the mother of all shin-digs, then you could think about hiring out Roof East like an absolute baller. They cater for groups starting at 50 people going right up to 300, big enough for even the most well-connected social butterflies. 
Eat, drink, be merry, and so much more besides, with 2019's ultimate festive hangout Roof East. If there's a side of fun they haven't yet covered, we sure as hell don't know what it is!