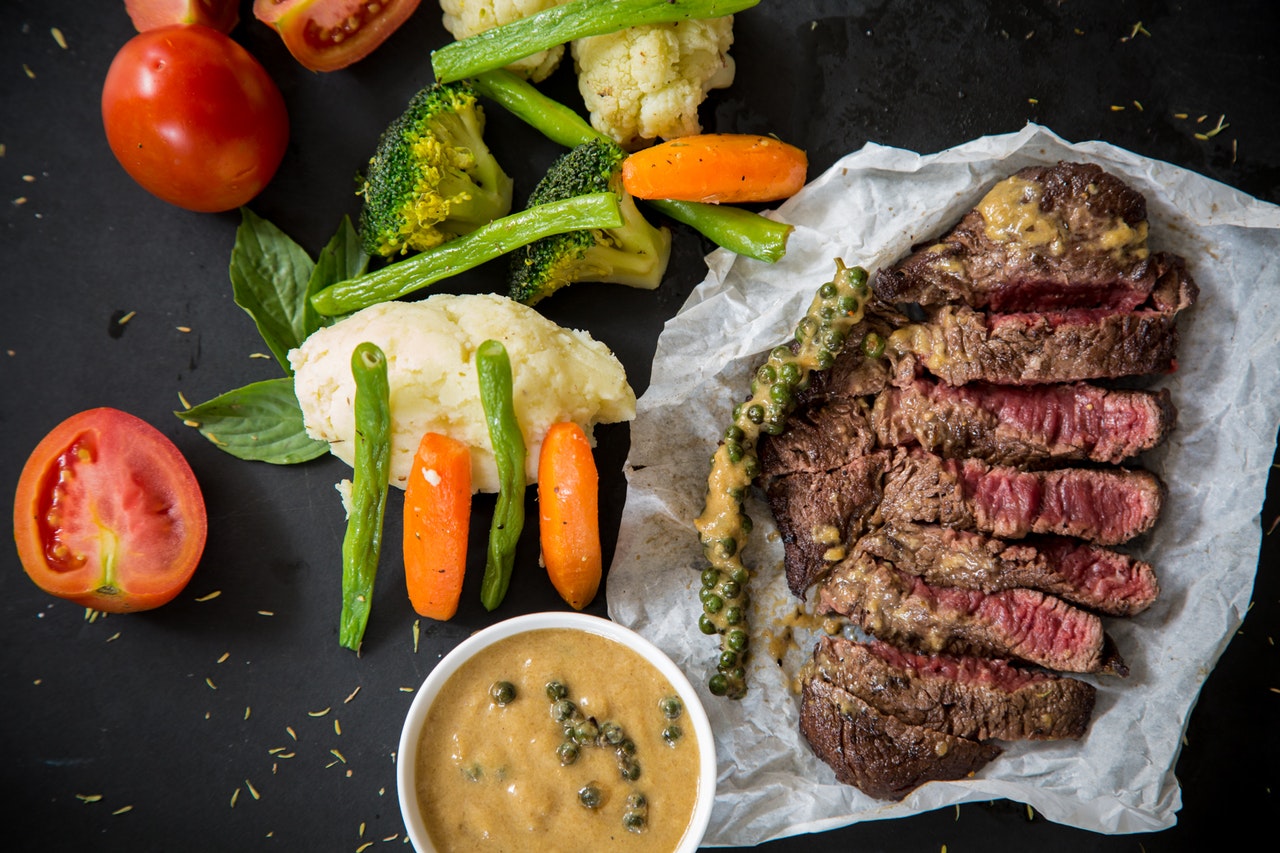 Whether you like it blue or well-done, whether it's served on a porcelain white plate or a slate, whether you wash it down with red wine or whiskey: steak is a British institution. You can find low-key luxurious steak dishes featuring crispy, golden fries at a local pub or you can pay upwards of £100 for a decedent cut at an upper echelon establishment. However you like your steak, London eateries have got you covered. Here are just some of the places you can indulge in satisfying, succulent steaks around the city.
Beef & Brew
Where: Kentish Town
Let's start off with an eatery that won't charge you an arm and a leg for a sumptuous steak: Beef & Brew. Situated near Owl Bookshop and Her Upstairs in Kentish Town, this restaurant is a local favourite for serving Hanger steak, a delicacy that's quite difficult to come by. Otherwise known as Butcher's steak or onglet, Hanger steak is one of the most flavoursome steak varieties there is, and the chefs at Beef & Brew know exactly how to cook it. Still, the best part for patrons may be that it only costs £10 to experience the incredible dish. Other steaks on offer are chateaubriand, rib-eye and Galician sirloin, which comes from cows that have been reared in Galicia, Spain for 14 years. None of the steaks served at Beef & Brew cost more than £20, ensuring that your experience there will make your stomach and wallet happy. 
Sophie's Steakhouse
Where: Chelsea
If you're looking for a meat fix without all the bells and whistles or the hassle, we have to recommend Sophie's Steakhouse. Situated in Chelsea, this eatery can be found near a number of entertainment venues including Finborough Theatre and City Slots casino, which are only improved upon by adding delicious steak dishes. If you're not up for a night on the town though, Sophie's Steakhouse is also available on Deliveroo. So you can simply get cosy and watch your favourite movies or create your own DIY casino experience by playing top slots, blackjack or roulette at https://www.mrgreen.com/en/ while indulging in Sophie's sumptuous steaks. Options include 10oz rib-eye, 8oz fillet, 20oz T-bone and 12oz sirloin, all of which are sourced from British native breeds. Sophie's burgers are also pretty impressive, made with a cross rib beef and served carpaccio style in a brioche bun. If you're looking to make your gaming even more realistic, opt for the live casino games on Mr Green, where you will be served by real-life croupiers and dealers via live-streamed video.
Tramshed
Where: Shoreditch
Finally, we have Tramshed. Located in a former East End tram-generator building right at the centre of Shoreditch, this restaurant is for the truly arty hearty steak eaters out there who are willing to part with quite a bit of cash. Not only is Tramshed home to the Cock 'n' Bull Damien Hirst installation – only parts of which can be seen at http://www.damienhirst.com– but also Mark's Kitchen Library, HIX ART and a beautiful Mezzanine where you can book semi-private events. Of course, our readers will probably be going there for the steak, and they surely won't be disappointed. Every steak on the menu is aged in a Himalyan salt chamber and is sourced from Shorthown, Hereford and Aberdeen Angus cows. Collectively, they are known as Glenarm Might-Marbled Steak but under that umbrella there's rib-eye, rib on the bone, club steak, the Shoreditch strip joint, sirloin and Porterhouse to choose from. The cheapest of these dishes in £23.50, while the most expensive is the Shoreditch strip joint sharing platter at £135.
Not only do we now have to ask how you'll be having your steak, but we'd also love to know where you'll be feasting. Are you down for a budget Beef & Brew, up for experience at Heliot or ready to break the bank at Tramshed? Let us know in the comments below.