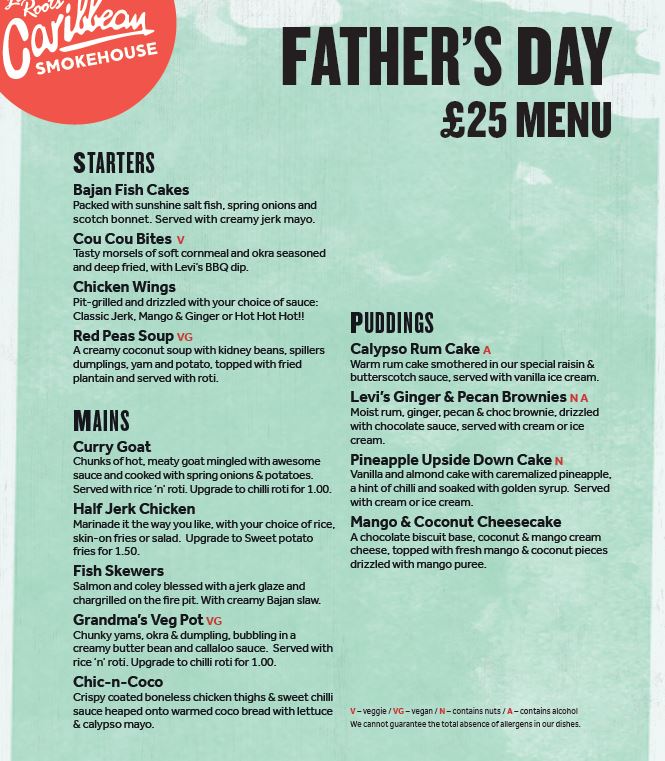 Levi Roots' Caribbean Smokehouse offers a special menu for Father's Day, together with carnival vibes and jerk flavours of the Caribbean. Inspired by traditional Caribbean cooking, both the food and the cocktail menus boast a collection of modern twists on the island cuisines served in a unique, casual environment in the heart of Stratford.
Customers can begin their Caribbean journey with the brand new Little Plates of Paradise including Fried Fish & Bammies, white fish coated in jerk buttermilk batter, with pepper, onion, traditional Jamaican fried cassava patties; and Cou Cou Bites, tasty morsels of soft cornmeal and okra seasoned and deep fried, with Levi's dip.
Follow the starters with a main from a bunch of delicious dishes, including the Levi's Smokehouse Platter for those who love sharing. The perfect summer mash-up consists of half BBQ jerk chicken, smoked lamb sausage, mango & ginger chicken wings, beefy BBQ burnt ends, fried cinnamon festivals, cassava chips, corn on the cob, creamy Bajan slaw and juicy watermelon.
If you prefer having your own plate, then choose from the more traditional Curry Goat and Guyanese Fish Curry, or tuck into the epic Star Bwoy – a slow cooked beef short rib topped with beefy BBQ burnt ends in a toasted brioche bun with lettuce, tomato and pickle mayo and soused onions.
"My Summer menu brings lots of new and diverse flavours inspired by my recent travels across the Islands. I wanted to introduce more variety to the menu – all authentically Caribbean, but delivered in my own Smokehouse style. The new dishes bring some serious flavour and spice to the menu bringing a bit of reggae and the Caribbean to everyone," said Levi Roots about the new menu additions.
The cocktail menu makes sure it transports anyone on the coast of Jamaica, with The Painkiller, made with Pusser's Navy Rum, the national cocktail of the Virgin Islands. Opt for Levi's Guinness Punch for a spin on the classic, where the expert bartenders mix stout with condensed milk, vanilla, over proofed rum and finish it off with a sprinkle of nutmeg.