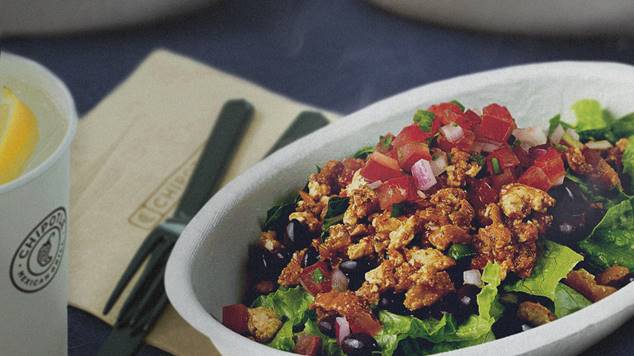 Chipotle has launched a new braised tofu perfect for vegans and non-vegans alike looking for an exciting new taste. The protein option can be found at all six of its London restaurants, including Soho, Baker Street, Islington and The City.
Made with onions, garlic, cumin and paprika, all simmered in chopped tomatoes with a sprinkle of oregano, the new slow-cooked, deliciously tender braised tofu will be available in burritos, tacos, burrito bowls and salads and can be easily customized to suit any training regime, dietary requirement, or personal taste with other signature ingredients, including white or brown coriander-lime rice, pinto beans, salsas and guacamole.
"We are changing the way people think about and eat fast food. Braised tofu is a very different menu item not just for Chipotle, but for any fast food or fast casual restaurant. It was really conceived with vegetarians and vegans in mind, but it's so delicious that we believe it will have a broad appeal on taste alone. We are proud to be able to serve those looking to avoid meat, or lower their meat intake, with a substantial protein alternative," said Jacob Sumner, operations director, Chipotle in Europe.
The Vegan Boost is a new set meal item; a low calorie, gluten free salad which features braised tofu, black beans, fresh tomato salsa and romaine lettuce, at just 305 calories and priced at just £7.
Steve Ells, Founder, started Chipotle with the idea that food served fast did not have to be a typical fast food experience. Today, Chipotle continues to offer a focused menu of burritos, tacos, burrito bowls, and salads made from fresh, high-quality raw ingredients, prepared using classic cooking methods and served in an interactive style allowing people to get exactly what they want. Chipotle seeks out extraordinary ingredients that are not only fresh, but that are raised responsibly, with respect for the animals, land, and people who produce them.