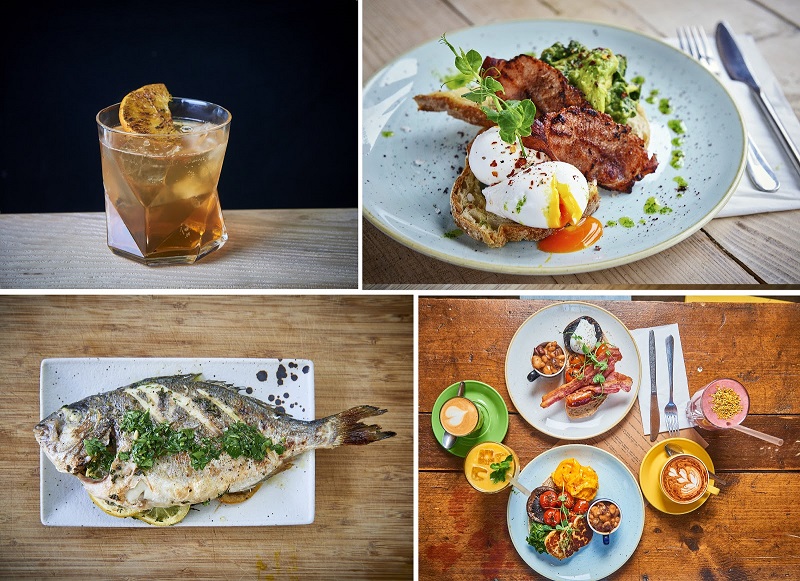 Brother Marcus, renowned for its award winning brunch, will be opening a second, larger site in Islington this June. With a brand new evening menu, the restaurant will be serving Mediterranean inspired small plates with a focus on tradition Cretan flavours, taken from family recipes. Located near the Angel station, the venue will be available for brunch, dinner and cocktails.
The evening menu was designed for sharing and it is divided into four sections: earth, land, sea and snacks, with an emphasis on vegetarian and vegan dishes. Snacks include fried feta with honey and sesame; homemade crisps with oregano and lemon zest salt and daily home-baked Lagana bread. From the sea, there is a grilled octopus on a bed of fava puree with pink peppercorn vierge and charcoal oil, while from the Earth there is chargrilled aubergine with mint, chilli, lemon zest tahini and pomegranate seeds and stuffed courgette flower with lemon, thyme, goats curd and pine nut piperade. The land brings cracked pork belly with a Metaxa and date glaze with apple labneh and walnuts. For anyone that has room after all that choose from either honey bombs with cinnamon syrup and sesame or sticky toffee and Metaxa pudding with dates and cream.
Winner of Time Out Love London Awards 2018, Brother Marcus' famous brunch will be coming to Angel, featuring the Step Sister, sweet potato, courgette and feta fritters with mashed avocado and spinach; crispy kale and turmeric yogurt topped with a poached egg.
The cocktail menu will incorporate Mediterranean ingredients, bringing fresh and delicate flavours to some old school cocktails. Choose from eye opening combinations including Balkan Whip of rye whiskey, ouzo, red apple and egg white, and Smoke and Honey with mezcal, lime and Greek honey water. The Brother Marcus boys will be offering a list of wines from around the world, including some Greek wines, and bottled beers.
The interior will be a warm and friendly environment with wooden inbuilt banquet seating sitting below falling foliage intertwined in a steel grid. There will also be a semi-private dining room that seats 12 for those looking to have their own parties.
This summer, Brother Marcus is set to transport you to the beaches of Santorini and the winding cobbled streets of Mykonos straight from the streets of London.