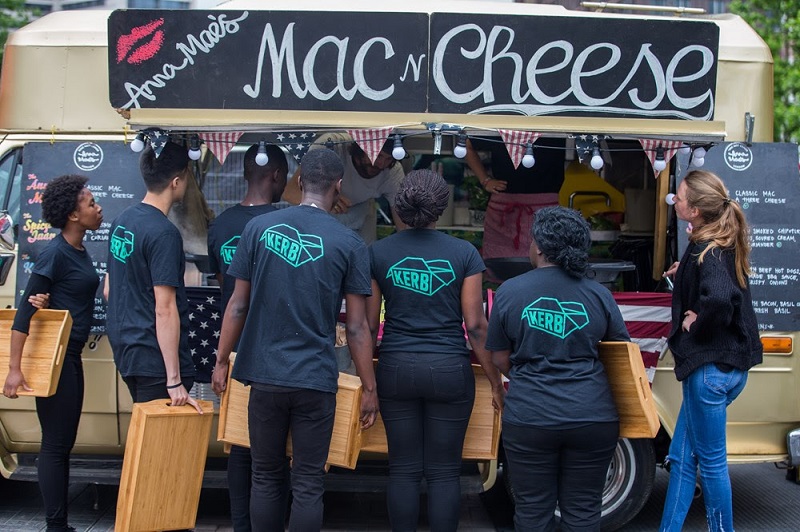 KERB Caters, street food pioneers, have announced a new partnership with UK charity Street Child, which will see 15p from every meal bought at one of the KERB's private events donated towards helping children in some of the world's poorest countries get off the streets and into school.
Street Child has supported over 15,000 families since 2009 to set up or expand their own business and now, with the support of KERB, they will reach even more people. Together they will be able to educate and empower vulnerable families to set up their very own street food businesses.
KERB Caters generated almost £1 million for its traders across 150 private events in 2017, and now a portion of this revenue will go towards supporting parents in West Africa in setting up their own food businesses to help them pay for school uniforms, books and pens for their children.
KERB Caters are the UK's leading street food business, with access to over 90 street food traders and offering full-service, onsite event management from start to finish – including pre and post event consultancy and unrivalled knowledge and experience about street food, London spaces, and how small businesses work.
Building their commitment to environmental sustainability, KERB have also made the decision to ban ALL plastics across their private events including bottled water and plastic cutlery, making them the only events company to do so inside heritage venues such as Natural History Museum and Somerset House. Instead, KERB Caters now use compostable serviceware made from compostable material and are partnering with waste removal partners wherever possible.
Street Child UK is a charity helping some of the world's poorest and most vulnerable children to live in safety and go to school. The charity was founded by Tom Dannatt in December 2008 with one project, for a hundred children. Less than a decade later the charity has made significant contributions to the lives of more than 120,000 children across Sierra Leone, Liberia, Nepal and Nigeria.