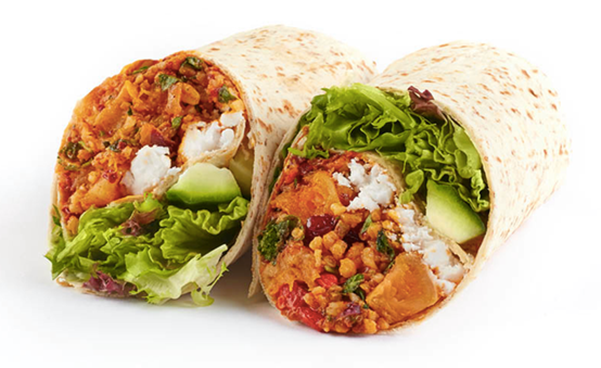 Crussh Fit Food & Juice Bars has launched the high street's first vegan feta 'cheese' as part of a wrap.  The Butternut, harissa & vegan 'feta' wrap (£3.99) is now available at all 35 stores across London.
The launch is part of the brand's 'Powered by Plants' campaign, an initiative that sees eight new vegan products launch across all Crussh branches, celebrating plants in all their glory.  Highlights include Red pepper & corn chowder (£3.75), Lemon tart pot (£2.75) Banana & coconut cacao spread bagel(£2.50) and freshly pressed Power Greens Juice (from £4.00).
The healthy food and juice chain also announced that it has turned its Soho store (Broadwick Street) 100% plant-based for the entire month of January as part of Veganuary, boasting over 70 vegan recipes.  Turning one store completely plant-based will allow the healthy food & juice chain to see how consumers respond to a fully vegan Crussh, and whether this may be a sustainable business model for the future.
Already a destination for vegans, Crussh stores across London and the South East boast a food & drink range that is already over 45% plant-based (an increase from 22% in Jan 2017), currently selling over 50 vegan products at all of its sites, including best-sellers Jackfruit Tinga Fit Bowl, served with sweet potato mash, guacamole & fresh slaw and an Avocado, red pepper & cashew nut tapenade wrap. Over 70% of the Crussh food range is vegetarian.
Always pioneering in the health & wellness market, Crussh, London's original green juice retailer, was first to introduce dairy-free porridge to the high street, launched back in early 2000s, and, most recently, was the first launch a vegan 'cheese' toastie, in Jan 2018. Crussh currently offers the broadest range of alternative milks on the high street, at all of its locations – soya, almond, coconut and oat.