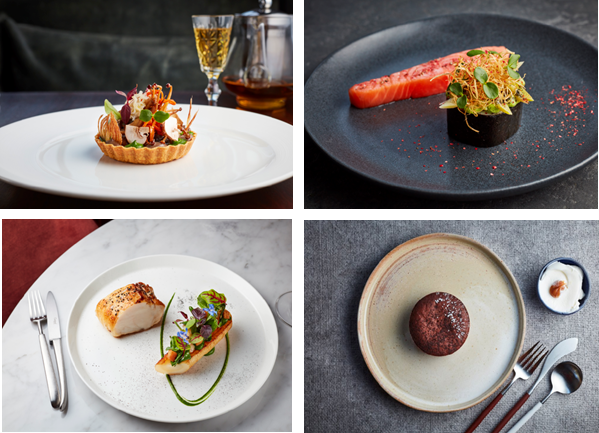 As the seasons change, so does the menu at Emily Roux and Diego Ferrari's restaurant Caractère in Notting Hill. Fresh, exciting and perfectly cooked ingredients are expertly curated by this husband and wife super team.
On the basis of its namesake, 'Caractère', the menu is divided into six character traits with up to three dishes to choose from in each section: Curious – Small Plates; Subtle – Small Plates; Delicate – Fish; Robust – Meat; Strong – Cheese; Greedy – Dessert and each dish is a celebration of the French and Italian food Emily and Diego treasure.
Dive in to Roast diver scallop, Jerusalem artichokes, amaranth, smoked velouté. From the 'Subtle' section, Roast mushroom tartelette, parsley puree, chopped black winter truffle, consommé ; or Dry aged duck, stuffed red onion, salsify, hazelnut and red wine jus from 'Robust'. There's always an excellent option to go onto the cheese board but for those who want to get straight onto the sweet dessert or 'Greedy' why not go for Molten chocolate tart, pecan praline, salted caramel and mascarpone ice cream?
To view the full menu, please click here
How to Order
Be Adventurous with Our Tasting Menu: Choose a dish from each trait – £80 pp or add matched wines for an additional £75 pp
Spontaneous Lunch Menu (available mid-week only) including starter, main and dessert £39 pp (includes coffee and water)
Go A La Carte – Select whichever dishes you like from across the menu