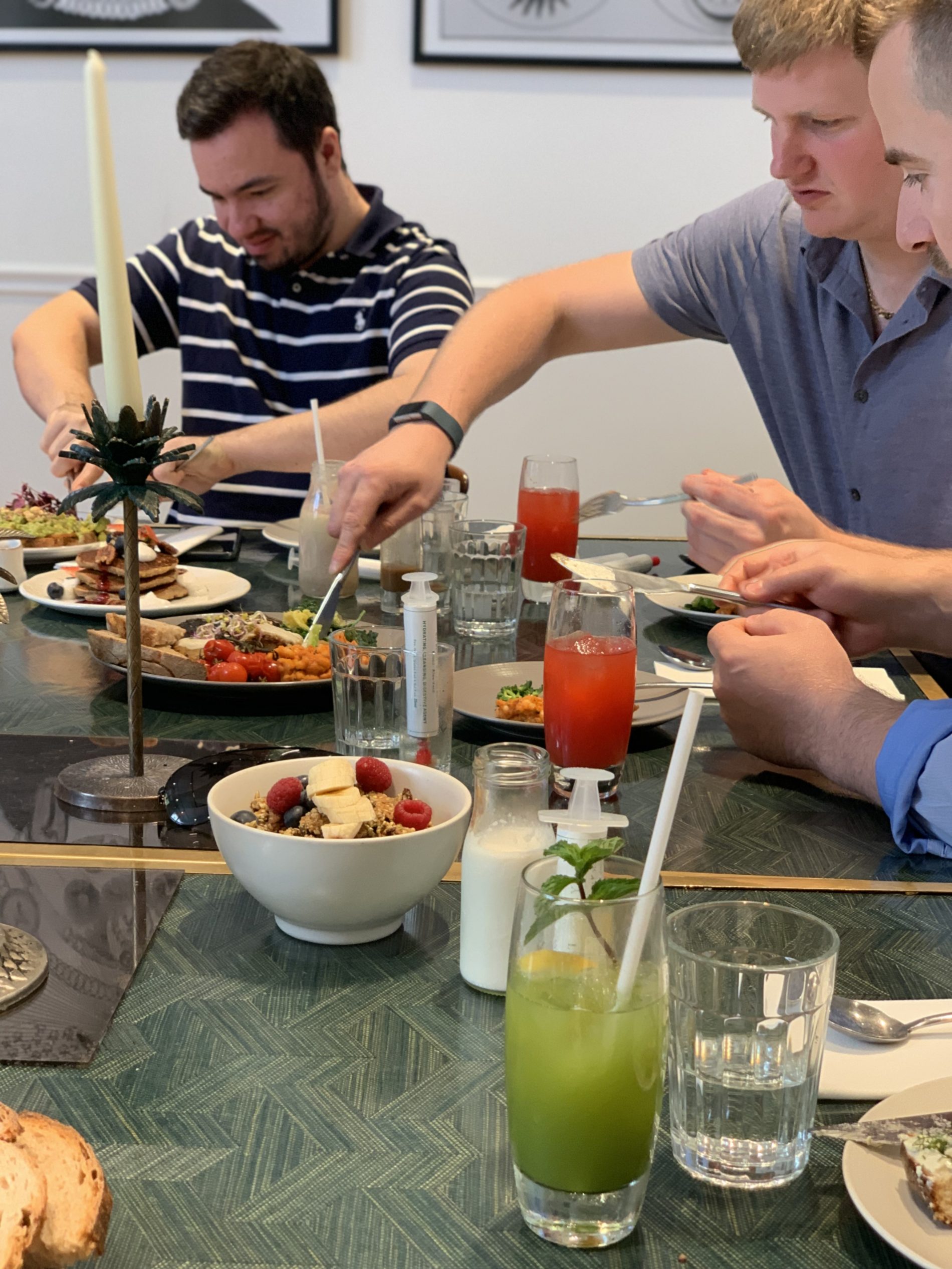 The University Caterers Organisation (TUCO) has held its first 'On trend: vegan and vegetarian' study tour. A group of eleven hospitality and catering professionals assembled in London and went on to visit six eateries specialising in vegan and vegetarian food and beverages.
Organised by the award-winning TUCO Academy and in collaboration with Vegetarian Express, the brand-new study tour was designed and created to meet specific demands from university students. The tour proposed to share knowledge and a taste of different vegan and vegetarian dishes to support caterers with the emerging trend.
Sarah Mcloughlin, head of academy at TUCO said:
"We are delighted to have worked with Vegetarian Express to launch our first vegan and vegetarian study tour. The Academy is always looking for ways to support TUCO members with up to date information on food trends and how they can be delivered in their institutions. Delegates on the tour were given the opportunity to taste a wide variety of dishes, from street food to formal dining in this increasingly in-demand food choice and they have returned to work inspired with new ideas for their menus. We're looking forward to offering this tour again in London and Manchester."
William Matier, founder and new business development director at Vegetarian Express led the tour and was supported by Jane Eve, TUCO Procurement head of contracts.
Matier said:
"Most chefs already recognise the ever-growing demand for plant-based food and understand the commercial drivers for their business in improving their plant-based offering for their customers. The real magic for me is seeing chef's eyes open over the course of the two days to the scale of the possibilities for plant-based dishes; becoming genuinely excited by the fact it is first and foremost, great tasting food.
He adds, "There are few sectors where demand for plant-based food is as explosive as in Universities. So, we're absolutely thrilled to be able to offer our expertise, and unrivalled plant-based range to TUCO chefs."
On the first day, the group experienced four restaurants boasting a large variety of vegan and vegetarian food and beverages. The first stop was to The Tempeh Man, which is located on Leather Lane Market in London and serves every Thursday and Friday at lunchtime. The delegates on the tour had the opportunity to taste its authentic homemade Indonesian tempeh.
They then went on to visit three other locations. These included The Athenian, which offered freshly made souvlaki prepared in the healthiest, most authentic way possible, and Mooshies which specialises in plant-based burgers. Mooshies offer four burgers made from a range of vegetables and have been reinvented to give vegans a real burger experience. The last eatery they visited was Mildreds Kings Cross, a restaurant serving fresh and colourful international vegetarian food. There, delegates experienced a tasty variety of meat-free homely dishes.
Rob Doidge, trading head chef at University of Exeter complimented the tour experience by saying:
"The vast choice of vegan food in London was quite breath-taking and the TUCO tour gave us the chance to experience some excellent options. This not only gave us the chance to broaden our horizons in this area of cuisine, it also gave us the chance to meet other caterers from other universities to discuss their viewpoints and the way they cater for their students."
On the second day, the study tour comprised of two eateries for delegates to experience. The day started at Farmacy restaurant in Notting Hill. Farmacy promotes plant-based, organic eating and a chemical-free approach to increase health and wellness for both us and the planet. During the dining experience, delegates tasted a wide range of its breakfast menu which included dishes such as protein 'omelette', a chickpea pancake filled with roasted butternut squash, avocado, seasonal greens and harissa, served with a smoked paprika dressing, and Farmacy benedict, which is a recreation of the traditional eggs Benedict but a vegan version made with a toasted seeded muffin with marinated Portobello mushrooms and seasonal greens topped with guacamole and Farmacy hollandaise. Delegates also had a taste of its organic beverages and its 'syringe shots'. These are all made with fresh organic ingredients such as activated charcoal, raw coconut water, ginger, turmeric, cayenne and lemon.
Following this, delegates visited a grocery store which sells organic produce to see the variety of produce available in retail outlets, and TUCO closed the tour at Temple of Seitan in Camden. The fast food restaurant offered delicious fake-meat alternatives such as 'Chick'n and patty burgers' and 'Chick'n strips', all made from wheat gluten. All delegates thoroughly enjoyed the food tasting throughout the tour.
TUCO Study Tours and many of its Development Days are created in response to specific demands from TUCO members and aim to focus on food and drink trends that have been identified particularly in the TUCO Global Food and Beverage Trends Report. The insightful research project is carried out by TUCO and the Food People, and recognise the international nature of universities and colleges in the U.K.