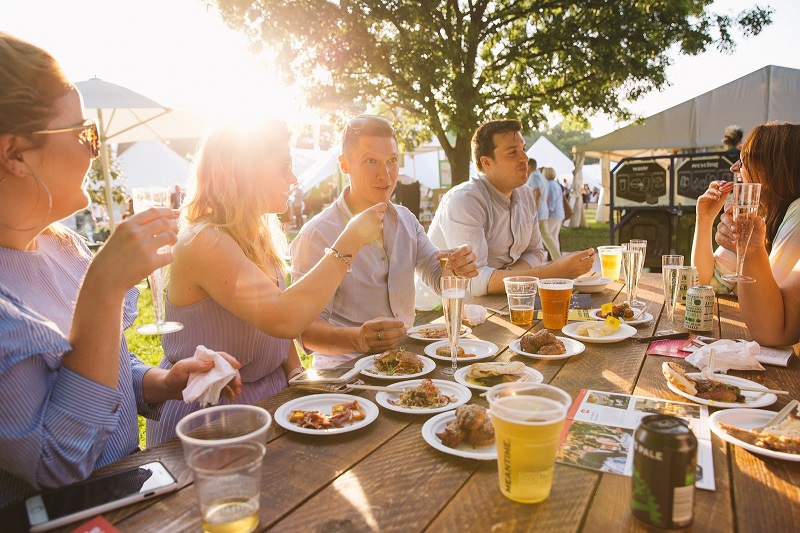 Taste of London, the capital's ultimate culinary celebration, will be delighting the public with the world's best chefs, the latest and greatest most exciting restaurants, the best gourmet producers to Regent's Park, and unique culinary experiences. Taking place from the 13th until the 17th of June, this year's edition is set to be the best one so far.
Over the five day duration of the festival, 40 of the most exciting restaurants from London's thriving scene can be found in Regent's Park. First timers at the festival include Amalfi-inspired Italian Sorella, Mexican taco restaurant Breddos Tacos and Mexican Taqueria El Pastor, Portuguese sensation Bar Douro, West African Ikoyi.
The Fire Pit will welcome an amazing line-up of chefs demonstrating their skill in unlocking incredible flavour over fire. For the Opening Night of the festival, open flame cooking vanguard Niklas Ekstedt (Ekstedt, Sweden) is set to co-host the feature alongside festival favourite DJ BBQ. Other chefs that will cook over the fire are Josh Katz (Berber & Q), Lee Tiernan (Black Axe Mangal), Pip Lacey (Hicce), Leandro Carreira (Londrino), Oliver Gladwin (Rabbit/The Shed), Andy Oliver (Som Saa) and David Carter(SMOKESTAK).
The impressive restaurant line-up includes: Japanese inspired London mainstay ROKA, Anglo-indian showstopper Kricket, seasonal and inventive dishes from Salon, Sri Lankan Soho hot spot Hopper's, modern French restaurant Gascon, and Duddell's Cantonese and dim sum dishes from Hong Kong will offer a version of their Michelin-starred cuisine to the festival. Taiwanese restaurant BAO will be bringing their famous buns too, alongside a first from the Shard's Hutong offering Northern Chinese cuisine, next to stylish Italian dishes from Mayfair restaurant Sartoria.
Tickets will go on sale on the 6th of March and can be purchased from here: www.tasteoflondon.co.uk.