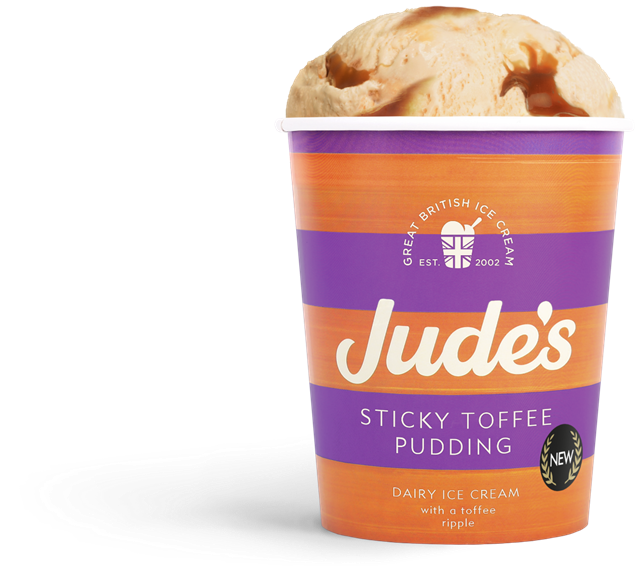 Jude's will be launching the ice cream equivalent of Britain's favourite pudding this winter. Britain is well known for their love of puddings, and this winter, Jude's will be launching arguably the best pudding as a new ice cream flavor. Sticky Toffee Pudding will be coming to a Sainsbury's near you this winter, with Jude's using a caramel ice cream as a base before packing with extra swirls of gooey sticky toffee pudding.
Ideal for any pudding lover, Jude's Sticky Toffee Pudding ice cream will be available exclusively at Sainsbury's from the 5th of November. The ice cream flavour has been inspired by memories curled up next to a roaring fire enjoying the nation's favourite, decadent winter treat. In order to reimagine the treat, Jude's has used real sticky toffee pudding in order to replicate the "cookie dough" effect in order to offer the ultimate experience for ice cream and pudding lovers.
Jude's is going from strength to strength with their seasonal award winning flavours of ice cream made in Britain. The company started in a Hampshire dairy barn, using the milk from local cows to create amazing ice cream. Now the milk for their products is supplied by a herd of 220 Holstein crossed with Friesian cattle on Matterly Farm, and Jude's uses the best possible ingredients for their delicious flavour combinations. The company prides itself on constant development of new flavours and collaborations in order to deliver sensational products for their customers to enjoy.
As well as creating amazing ice creams that have managed to win more than 40 Great Taste Awards, company also makes sure that they give back. Jude's donates 10% of all of their profits to charities that work with children and young people. This charitable ethos is another great reason to try out Jude's range of products.