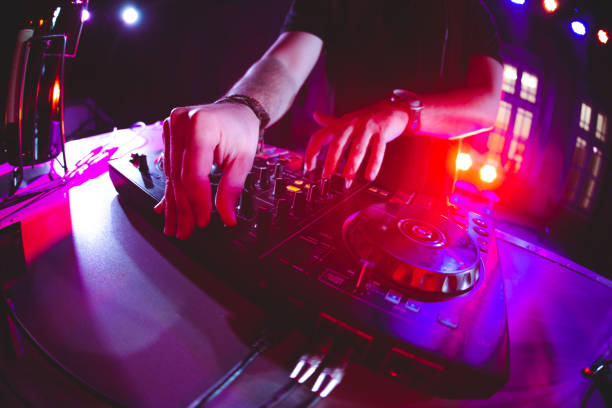 It's always a good idea to start your wedding planning early, simply because of the sheer quantity of things you need to organise. From the venue, catering and reception party through to the cars, wedding dress, suits, flowers and much, much more! One of the elements that you will need to organise is the entertainment, and this usually takes the form of a live band or, more often than not, a DJ.
And choosing a wedding DJ is perhaps more important than you might initially think – after all, a DJ is a DJ, right? Well, that's where you'd be wrong. Why not take a look at the 10 things below that you should consider when choosing a wedding DJ.
1 – Do your research
Google is a good place to start when choosing a wedding DJ. Look for someone who is local to you, otherwise they might start charging you for travel costs, which will bump up your final price.
2 – Consider their style, experience, passion & enthusiasm
Not all DJs have the same style of music that they 'specialise' in. An Indian wedding DJ will be different in music style to a traditional wedding DJ, and this needs to be considered. And certainly, not all DJ's have the same experience – some are just starting out and others are well established. You might find that newbies to the industry are slightly cheaper, but be mindful that it's often the case of 'you get what you pay for'. Finally, their levels of passion and enthusiasm should never be underestimated – you will get a feel for this from the initial discussions. The chances are that if they are energised at this stage, then they will carry the same energy through to their DJ set at your wedding – something you really want them to do.
3 – Ask if you can visit them at a booking
And whilst Google and Facebook reviews are all well and good, nothing quite beats seeing the DJ in action a few months before your wedding. Ask them if they are happy for you to pay a visit to one of their sets that they have already got booked in for another client in the local area. You're not going there to dance the night away at someone else's wedding, more so to get a feel for the quality of DJ you are considering hiring.
4 – Check if they are recommended by the venue
Your chosen wedding venue may have a list of preferred contractors who regularly supply weddings at that particular venue. This might be catering equipment hire, wedding mobile bar hire or florists, for instance, as well as DJ's. If the venue (and, therefore, other couples) are happy with the preferred DJ, this is a great starting point, though you should also ensure that you carry out the above points to check for yourself!
5 – Ask if they will double as an MC
DJ's, by their very nature, are usually the centre of attention, and so why not ask them to carry out the Master of Ceremonies duties as well? The 'MC' is someone who ensures that the day goes smoothly, and that the guests are where they are supposed to be. It's the person who announces the cutting of the cake by the couple or the first dance, and so on. This could potentially save you some cost, and would be a great way to ensure that the DJ is engaged with your wedding event.
6 – Check they bring all the equipment!
Whilst you might think this is obvious, it's always worth asking the question! Will the DJ bring their own amps, disco lighting and so on? And, as importantly, do they have some back-up equipment if something breaks! And don't forget the dance floor hire – this is something that your wedding venue may already have, but if not, then do a Google search for dance floor hire near you and find event hire companies in the area who can help. Mobile dance floor for events is usually possible through hiring small interlocking panels which clip together to form the dance floor size you need.
7 – Certification
Whilst we're on the subject of DJ equipment, whilst this is a really boring point, you will need to ask them if they have PAT (Portable Appliance Testing) for their electrical equipment, as well as Public Liability Insurance. Your DJ should be able to provide you with certificates for this, which will probably also be required by your wedding venue. Note that if they are on a preferred supplier list at your wedding venue, then your venue will almost certainly already have this information.
8 – Ask if they take requests!
Everyone loves to boogie at a wedding, and even more so if their favourite tune is playing. It's important that DJ's are happy to play requests, in addition to their normal 'set'. It's also a nice touch when the couple – when sending out their wedding invitations – ask for their guests favourite tracks to be sent in with the RSVPs. That way, you can ensure that at least some guests will be dancing to every song being played by the DJ!
9 – Ensure they are flexible on timings
Whilst this might seem a small issue, it's essential that the DJ isn't setting the equipment up at the front of your wedding reception hall, in the middle of your wedding breakfast. And, likewise, at the end of their set, they don't start immediately dismantling all the equipment in a rush to get out. Guests don't want to see this, so make sure your DJ is aware of this.
10 – Agree the price & sign a contract
Once you are happy with all the above points and are confident that you have chosen the best DJ for your wedding, then you can agree the price and sign the contract. Never be afraid to ask for their best price – every penny you can save on this will help towards your overall wedding budget!
Ultimately, the choice of a wedding DJ is very much down to individual preference. Ask around your friends and couples who have recently got married for recommendations about who they used. Do your research online and check out online reviews for everything relating to your wedding, including the DJ, cars, florists, mobile bar hire, dance floors and much more. Ask your wedding venue if they can recommend anyone. All these will help guide you along the way, as part of the above checklist.
All that remains now is for us to wish you good luck in your search, and congratulations in advance for your big day!