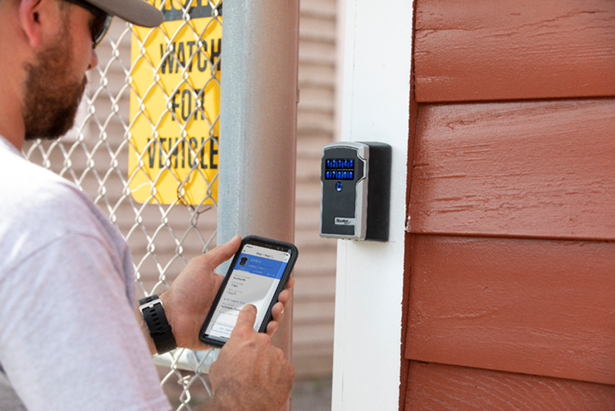 Master Lock, the global leader in security, has today launched an innovative business security management software called Vault Enterprise in Europe. The software, in combination with Master Lock's range of Bluetooth enabled hardware, provides business owners who manage many locks and many users with a convenient way to control access, oversee products and improve accountability. The Vault Enterprise innovation eliminates the cost, security risk and complexity of physical key management.
Security is always a concern within the workplace, especially in industries that use valuable equipment. In fact, many businesses struggle to control who has access to the padlocks and key lock boxes they have in their systems. In response to this, Master Lock is changing the way businesses securely manage access to multiple security products. This new offering integrates easy-to-use software with Bluetooth-enabled security devices to streamline access management. Essentially, security managers can track and share access of multiple Bluetooth padlocks/lock boxes all via one simply smartphone app.
Master Lock's Vault Enterprise seamlessly integrates both a newly developed web platform plus its smartphone app to connect with the company's own manufactured Bluetooth-enabled security devices, including the Bluetooth Smart Padlock (4400EURENT and 4401EURLHENT) and Select Access Smart Bluetooth Key Lock Box (5441EURENT).
The new system eliminates the security risk of confusing physical key management amongst a large team. The smart, simple and secure Vault Enterprise software increases accountability as administrators can monitor who can access the locks and for what periods of the day, making security easy to manage and oversee across the whole workplace.
Innovative features include:
• Efficiently manage access to ensure the right users have the right access
• Easily monitor access with robust data and audit trails
• Simplify security set-up with bulk user and lock uploads
• Assured back-up entry method using manual, directional or numeric code
• Automatically map lock and lock box locations via smartphone
• Control the security of 256-bit, military-grade encryption
The trusted Vault Enterprise software has already been rolled out across America in hospitals, oil & gas, telecoms, real estate, and small businesses. Master Lock's Vault Enterprise has no hidden long-term contracts, monthly fees of shared access fees.
Master Lock's 90-plus years of security expertise means users can rely on a software that has been perfected and designed from the ground up by a team of dedicated security professionals at the brand's headquarters in Wisconsin, USA.
For more information, visit the Master Lock website or connect with us via Facebook, Twitter, Pinterest or YouTube.