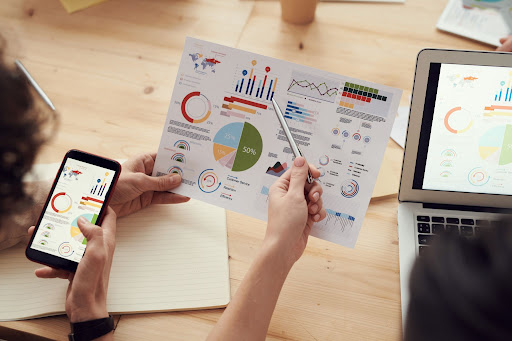 In today's data-driven world, Tableau has become popular as one of the most effective business intelligence and data visualization platforms. Because of its capacity to perform large data analyses, it has become the best choice among top developers and most clients. In any company, allowing data to pass without being analyzed can be a disadvantage of the company.
So, Tableau provides effective data visual analytics by many such methods like- building dashboards and reports, data discovery, static or interactive data visualization, self-service BI, statistical analytics, and forecasting reports, for collecting and analyzing all of the data the company creates. Tableau Software's data visualization solutions provide a clear way for your company to transform large volumes of data into actionable information.
So What is Tableau? Let's know.
Introduction to Tableau
Tableau is a powerful and fastest-growing data visualization and analysis tool that is commonly used for Business Intelligence. It assists anyone in seeing and comprehending their data and also helps in the creation of interactive graphs and charts in the form of dashboards and worksheets to get business insights. In Tableau, you can connect to any database and create your visualizations by just dragging and dropping and can share with a single click. It is the ease of use that makes Tableau a tool worth spending time on and professionals all across the industry are opting for Tableau course certifications to master the tool and apply it to their businesses.
Data visualization is crucial in any business's decision-making process. Tableau's broad ecosystem assists Data Visualization in Business Intelligence. Tableau offers many products in which Tableau Desktop, Tableau Server, and Tableau Online are all available free for a 14-day trial.
Tableau Desktop: In Tableau, this is where the entire development process takes place. That's why this is the crucial component for many Tableau developers. It offers self-service for data visualization and data analytics to anyone in the company.
Tableau Server: It is the primary component for Tableau administrators. At the server level, complete security, automation, and integration, along with many other functions will be done. It offers on-premise data sharing and collaboration for big businesses that are controlled manually and under corporate standards and restrictions.
Tableau Reader: It is a free Tableau application. It's used to share a Tableau desktop visualization with others.
Tableau Double: Tableau double is a free tool that allows users to share their visualizations with the entire world.
Tableau Online: It offers a cloud-based and cloud-managed collaboration and sharing server, in which you can execute rapid-fire business intelligence.
Tableau Mobile: Table Mobile is available starting with Tableau 9.0. It allows users to access Tableau desktop visuals from their mobile devices.
Features of Tableau
Another reason how Tableau makes data visualization and data analytics easy are because of its features. Tableau features have created a revolution in the data analytics industry. It has many features that are easy to use which attract users. It offers a variety of visualization approaches for presenting data effectively and engagingly – which are Charts, Dashboards, Tables, Graphs, Infographics, Maps, etc. And all these visual analyses are done in one click.
It has interactive dashboards which show rich visualizations. The dashboards are the best way to get an insight into the data.
Tableau can easily deal with all types of big data and also visualize it. So that any organization with a huge amount of data from multiple sources can use the Tableau tool. With the tableau tool, we can create more appealing data visualizations that assist the user in making decisions. The data visualization using the dashboard can be made live on the platform in tableau. You can also broadcast the outcomes in real-time. Tableau can be used through various platforms like desktop, iPad, or even mobile phone.
You can check out this Tableau training video to learn more:
Tableau Training for Beginners | Tableau Tutorial | Intellipaat
Why is Tableau the Best Tool for Data Visualization and Data Analytics?
Tableau is a powerful tool for efficiently creating dynamic data visualisations. It can process a lot more information and perform operations on large datasets quickly. Tableau allows users to quickly build graphics and swap between kinds to get the design that accurately reflects their message.
The user interface is very well structured, allowing for quick customization of the view. Allows users to manage a large amount of data here. It is capable of producing visuals for massive amounts of data without malfunctioning. It allows organisations to execute quite complex data visualisation in a very user-friendly, drag-and-drop approach. Tableau's data visualisation is incredibly interactive.
The visual analytics platform of Tableau enables data analysis and interaction almost trivial. This makes sifting through large amounts of data a breeze. Tableau may be used by businesses to investigate and discover trends quickly. R may be used to replicate and analyse the tendencies. Users can make numerous charts to gather useful information. It improves the use of big data to find previously undiscovered patterns in datasets. The visualisations can also be embedded on a user's webpage.
Conclusion
Collecting and analyzing all of the information a company creates may appear to be a near-impossible effort at times, but it is critical to your ultimate effectiveness in today's data-driven age. Tableau Software's data visualisation solutions provide a clear way for your company to integrate large volumes of data into actionable information. Enabling data to transmit without being analysed puts your company at a competitive vulnerable position from which it may never recoup.