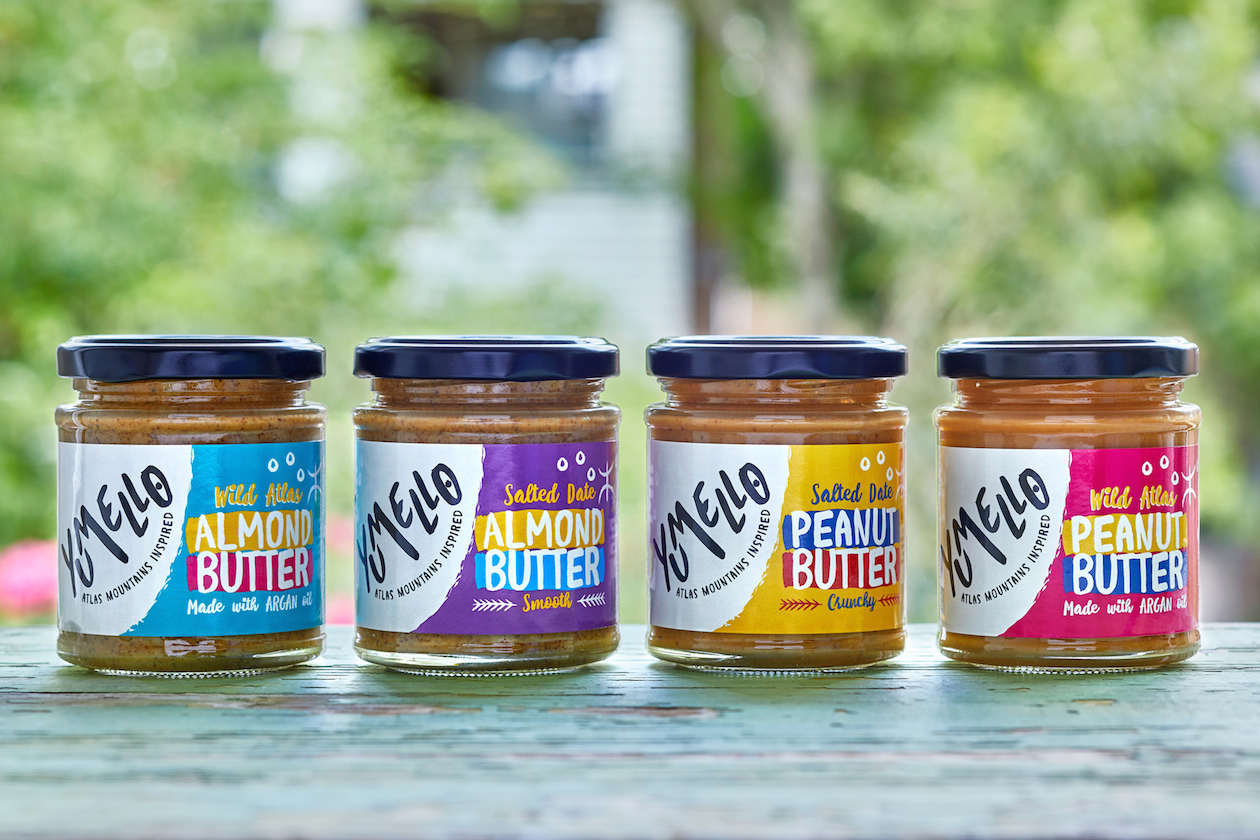 Yumello (www.yumello.com), the Bristol-based startup brand is devoted to bringing the vibrant flavours of the Atlas Mountains to the kitchens of Britain. January 2019 saw the small team launch a range of four nut butters packed with the lively ingredients and colours of North Africa. Shoppers will now be able to find Smooth Salted Date Almond Butter and Salted Date Crunchy Peanut Butter, as well as Wild Atlas Almond Butter and Wild Atlas Peanut Butter made with Moroccan Argan Oil (RRP £2.85-£4.95 per 170g jar); launched to Ocado in March 2019, they are also available to cafés, delis and newsagents from wholesalers Tree of Life and Diverse Fine Foods.
Founders Esther and Omar Elhajji met whilst in Omar's home of the Atlas Mountains, Esther travelled to Morocco from Barcelona to volunteer with a business harnessing the powers of Argan Oil for both its cosmetic and nutritional qualities. Big food lovers, the couple were inspired to bring their love of Berber flavours, spices and quirks to the UK. It's these fierce, disorderly and bold flavours that come together, creating food that sings and celebrates the Berber people's adventurous soul.
With their range of four expertly crafted nut butters, there's something to suit every taste. Salted Date Almond Butter is seductively rich and smooth with a luscious caramel flavour. The Salted Date Peanut Butter packs a punch of sweet and salty scrumptiousness and a whole lot of crunch. Wild Atlas Peanut Butter blends moreish roasted peanuts with exotic cold-pressed argan oil and a sprinkling of sea salt (bliss!). Wild Atlas Almond Butter is silky and indulgent with a velvety blend of almonds and cold-pressed argan oil.
Unlike many nut butter producers who use palm oil, Yumello's use of argan oil is central to the brand's ethos, it tastes great, evokes a spirit of travel, celebrates the farmers and land its grown on and, as a bonus, it has many great health benefits. Argan oil celebrates the Berber people's inventiveness – a natural product sourced from the kernels of the Argania spinosa tree (a species native to Morocco) it is rich in essential fatty acids, including omega-3 and-6 which arerenowned for their positive impact on inflammation andheart health and Vitamin E, which is required for healthy skin, hair and eyes as well as having powerful antioxidant properties. What also appeals to Esther and Omar is that the production of argan oil is socially responsible, benefitting the Berber women of Morocco and their families.
Suitable for young and old, as well as those on a vegan diet, Yumello nut butters are wonderfully versatile; drizzle smooth Almond Butter over cous cous, roast veg and crepes, roll Salted Date Almond Butter into your energy balls, slather smooth Peanut Butter onto celery or an apple before heading to the gym or pack your kids off to school with crunchy Salted Date Peanut Butter sandwiches. Or, as Yumello's social media followers are fond of doing, just spoon your nut butters straight from the jar.
Key to the Yumello journey is that Esther and Omar want to bring new and disruptive provenance and vivid style to the world of nut butters. Not afraid of celebrating indulgence, Yumello bring punchy colours and flavours, inspired by North African cuisine, to a competitive supermarket aisle, delivering a spirit of adventure with every spoonful.
Yumello can be found in Harvey Nichols, Revital, Eat 17, Not on the High Street, The Grocery, Panzer's Deli and in cafés and delis around the country and the rest of Europe, but watch this space, it's just the beginning, so grab a spoon and tuck in!