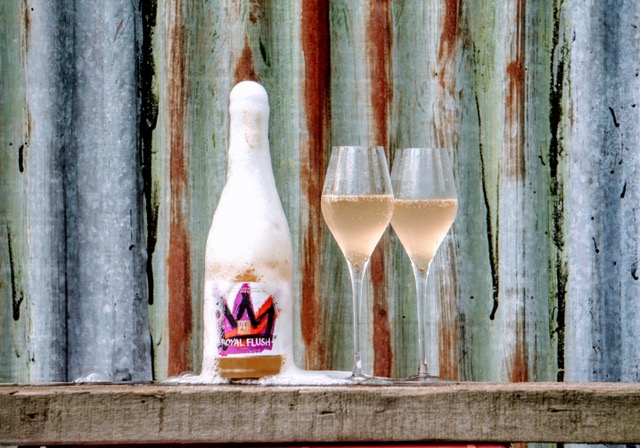 Non-alcoholic,drinks company REAL lead the movement for the "sober curious" to provide the only true alternative to sparkling wine with their category defining, award winning range – now served from a sophisticated cork-and-cage 750ml glass bottle and embossed with their new avant-garde branding. REAL's Sparkling Fermented Teas have all the complexity, depth of flavour and length of a quality sparkling wine – with naturally occurring notes of zesty citrus, tart fruits, and aromatic herbs but none of the alcohol.
Born out of a desire to create a grown-up non-alcoholic alternative that could compete with a fine wine, REAL have developed and refined a product that meets the needs of this exciting and ever-growing sector. Fermented as a sparkling wine from exquisite loose-leaf teas REAL's carefully crafted production process offers a flavour complexity without the need to add further flavourings. This gives it a flavour profile akin to wine, balances acidity with length, body and mouthfeel, a point favoured by chefs and sommeliers as it makes a great non-alcoholic pairing for food. Here they have a pioneering non-alcoholic beverage to delight drinkers and non-drinkers alike, designed to be served in a flute, served with food and poured to share.
REAL's modern approach to bottling in the non-alcoholic category reflects their ethos and passion across the arts, technology, innovation and sober curious movement. Visually, this is conveyed through their fresh branding – a juxtaposition of the simplicity and freedom of expression found in primal art with the intricate and exquisite detail which is layered over it.
Comparable to the process of winemaking and the use of different grapes to garner multi-dimensional flavour, the REAL team headed up by Founder, David Begg works closely with Tea Master Will Battle, to research hundreds of different teas to understand which would deliver the best results. With no added flavours or ingredients beyond tea, sugar and their proprietary culture, the complex character of REAL's Fermented Sparkling Tea results from the use of superior quality loose-leaf tea in a highly controlled process, only achievable with the level of knowledge and precision known in the world of wine making. As an added benefit, this carefully managed process is entirely natural and only produces a small amount of sugars, resulting in a healthy drink with extraordinary flavour.
REAL's signature pour, Royal Flush, is made from a first flush Darjeeling tea, known as the 'Champagne of Teas.' The first two tips of tea, picked as they emerge in the bloom of spring, are carefully dried to tease out all of its delicate character.  Offering notes of rhubarb and gooseberry and rounding off to white fruits and a touch of blackcurrant, the delicate floral acidity and relatively short finish make Royal Flush fresh and bright, comparable to a well-made sparkling wine.
REAL Royal Flush has won the award for Best No & Low Wine or Wine Alternative in the Imbibe No & Low Taste Awards 2020. The first award of its kind, the challenger brand entered into the Non-Alcoholic Wine category and was voted the overall category winner, with an additional specially created accolade – Sommeliers' Choice No & Low Award – the judges were so impressed by the product.
Similar in character to a Sauvignon Blanc, Dry Dragonis produced with Dragonwell, a pan-roasted green tea from the area around Longjing Village,China. Fresh leaves are brushed around a piping hot wok to stop the natural oxidation process early, a method which reveals more complex, nutty and straw-like flavours than other green teas. Much like a winemaker would ferment green-skinned grapes, REAL ferment the tea resulting in a drink with notes of citrus and fresh apples, grounded in a definite vegetal, green tea back note and a longer, fuller-bodied finish.
REAL Sparkling Fermented Tea – proud to gift, proud to drink, proud to share.