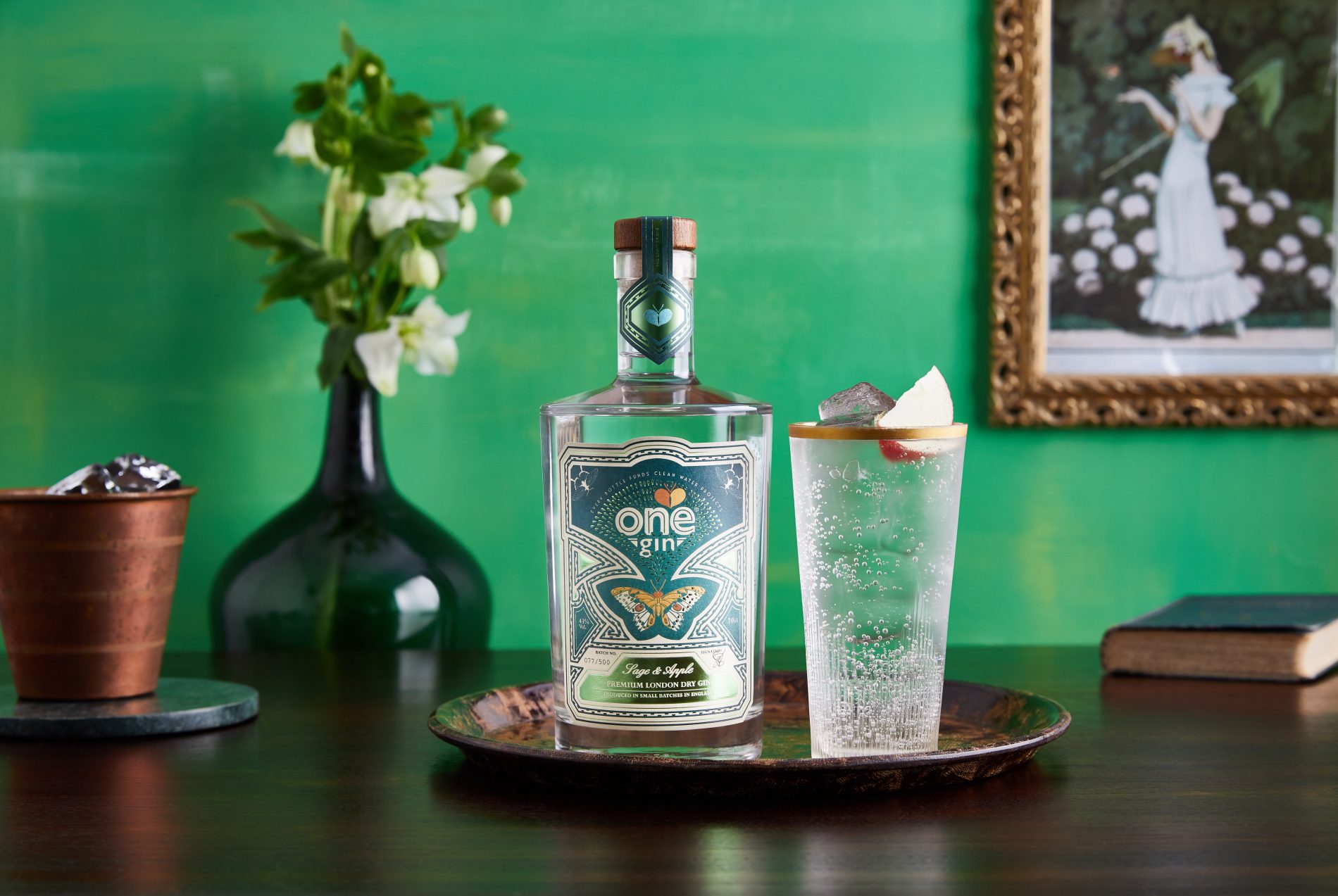 Following a successful debut with Craft Gin Club last spring and increasing on-trade interest, this month sees One Gin's Sage & Apple expression launch into grocery retail with a national listing in Tesco.
Originally a spin-off of ethical bottled water brand One Water, One Gin donates 10% of its profit to fund life-changing water projects in the world's poorest communities. One's vision is a world in which everyone has access to clean safe water forever. The brand's premise is that you can't change the world in one day, but you can change lives, One day at a time, One bottle at a time.
It is a shocking fact that over 785 million people around the world still don't have access to safe, clean water and the arrival of Covid-19 further highlights how critical clean, safe water and hygiene are, as millions of people endure this crisis without that basic right.
One Sage & Apple Gin
IWSC Gold award-winning One Gin launched back in 2017, uniquely distilled with fresh English sage and with a humanitarian cause at its heart. With a desire to add a fruitier expression to the fold, the team introduced One Sage & Apple Gin last spring. Picking up a Silver award in the Gin Masters, it debuted exclusively through Craft Gin Club, the UK's largest gin subscription club, and was one of their most successful gins to date. John Burke, Co-Founder of Craft Gin Club, commented that "More than 100,000 gin lovers around the UK tasted the gin that month and the feedback was incredible. The listing with Tesco is a real testament to One Sage and Apple Gin's delicious and unique flavour".
Ian Spooner, Co-Founder at One Gin says, "From a flying start thanks to Craft Gin Club, this last year has demonstrated a huge appetite for our orchard fresh twist on One Gin. It is a wonderfully crisp, fragrant spirit and a perfect balance of juniper, crisp russet apple and fresh English sage. It responds to the trend towards fruitier gins, but maintains a unique freshness. We are hugely grateful to Tesco for helping us to share this with a wider audience and further support our cause of delivering safe, clean water to the world's poorest communities.
One Sage & Apple Gin goes sale in Tesco with an RSP of £38. One Gin donates a minimum of 10% of their profit to The One Foundation (UK Registered Charity No.1118810), to help fund water utility infrastructures in poor communities, ensuring universal access to safe, clean water. So far, the One brand has raised over £20m for life-changing water projects, changing the lives of over 3.8 million people, mainly in sub-Saharan Africa.
One Gin is vegetarian, vegan and kosher.
Tasting Notes:
One Sage & Apple Gin has an overall aromatic nose of fresh and candied apple, freshly cut wood and juniper, with hints of gooseberry and orange marmalade. This leads to a palate of fresh apple, orange peel and soft juniper, mixed spice and Turkish delight.
Perfect serve:
Pour a large measure of One Sage & Apple Gin into a glass filled with ice, and top with a premium tonic water. Garnish with fresh slices of apple and a sage leaf or two. Or for a deliciously fresh apple shot, serve neat directly from the freezer.