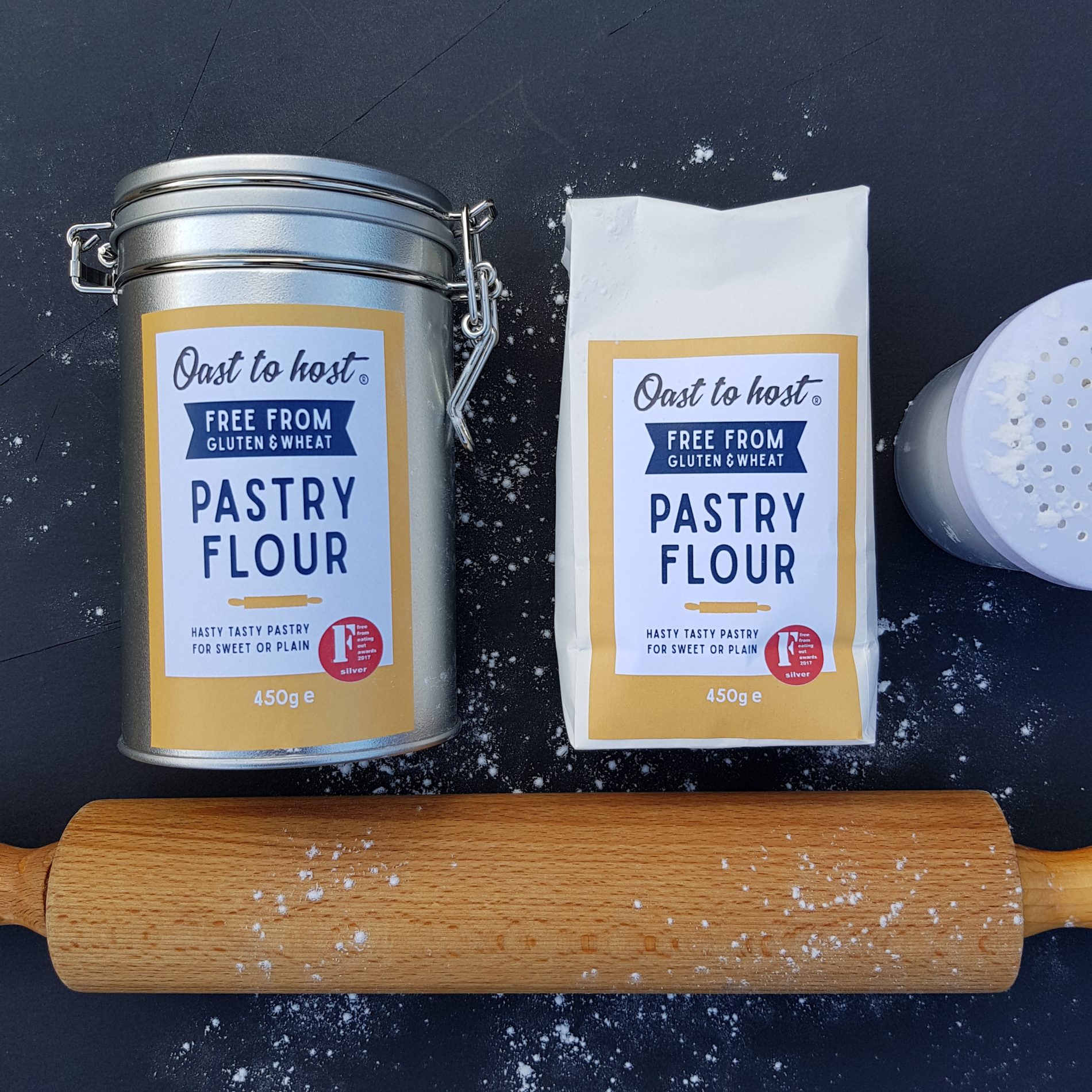 Oast to Host, the gluten & wheat free bakery brand, has launched two new flours designed to create perfect pastry and versatile cake sponge.
The two flour mixes are completely gluten free, wheat free and vegetarian. When it comes to working with gluten free flours, this range will change your mind forever.
1. Oast to Host Pastry Flour: The multi award-winning pastry flour is so easy to use, roll and bake which makes it perfect for beginners or experts. The result is impossible to tell apart from ordinary pastry. The flour blend is extremely versatile as it can be made into sweet, plain or dairy free shortcrust, puff pastry or shortbread.
To make Puff Pastry – the puff pastry (see the website for recipe) is an exciting development which delivers a light crisp layered pastry suitable for fabulous cheese straws, sausage rolls, pies and tatins.
To make Shortcrust – the shortcrust pastry (see the website for recipe) is crisp and buttery with a great texture.  It's perfect for blind baking and will create a superb base for your filling, enhancing the eating experience.
2. Oast to Host Cake Flour creates a really moist light sponge which is perfect for sticky toffee pudding, scones, blinis, biscuits and of course, cakes.
"Gluten free pastry is notoriously tricky to get right using the usual wheat replacement flours. Co-founder Claire and I have spent years iterating the recipe to get it absolutely perfect. It has been a joy that so many professional and celebrity chefs, together with home cooks have come back to us with their positive feedback. We weren't planning to launch our flours for retail until we were approached by a major supermarket, we know the customer demand is there and it's time for us to share our secret!" Comments Oast to Host co-founder Sally Black.
The range is available in environmentally friendly paper based recyclable packaging
The flour range is available online RRP £4.50 for 450g (minimum online order 2) or a smaller bag RRP £2.33 for 195g(minimum online order 3) from www.oasttohost.com.