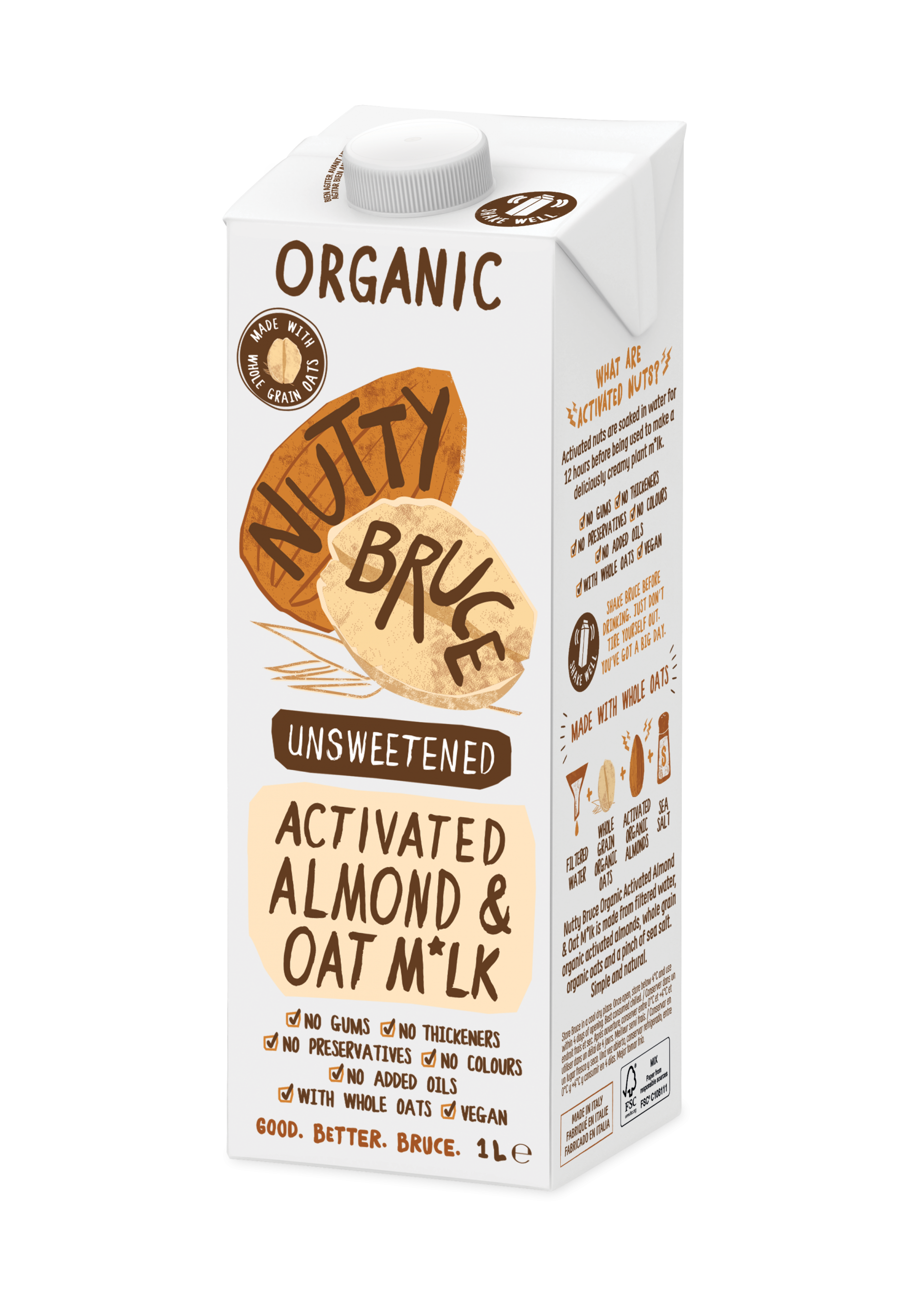 Nutty Bruce, a plant-based brand new to the UK that gives people a short-cut to wellness by creating nutritious, delicious and convenient products, has partnered with M&S Food to make activated nut m*lks available nationwide in the UK for the first time.
The brand will launch in store with two one litre SKUs: Activated Almond M*lk and Activated Almond & Oat M*lk (RRP: £2.25/1l).
Each of its SKUs contains a high content of almonds, (the highest being Activated Almond M*lk, containing 5% almonds), and the whole range is made using organic whole activated almonds. It is claimed that activated nuts are closer to being alive, allowing for the nutrients within the nut to be digested more easily.
Nutty Bruce hails from Australia, where it is one of the leading plant m*lks, having captured 34% market share within the almond milk segment in Australian Grocery*. It believes that its range is set to shake up the way that Brits have been enjoying their plant milk. 
Securing nationwide distribution is central to Nutty Bruce's strategy to grow the brand and disrupt the UK's burgeoning plant-based m*lk market, which is valued at £220.4 million. With almost a quarter (23%2) of Brits drinking plant-based m*lk there is growing demand for variety in this nascent category. 
Chris Brougham, Buyer Liquid Dairy & Eggs at M&S Food says: "We are really excited to be partnering with Nutty Bruce to launch two organic products – both of which offer something different to the M&S Food customer that we haven't had before. Nutty Bruce are brand new to the UK and their product innovation and quality make them a perfect partner for M&S Food. We hope our customers like the products as much as we do!"
April Preston, Director of Product Development at M&S says: "We are really excited to have secured the Nutty Bruce brand for our customers, we have a great range of Made Without and dairy alternative products available, and these new lines will perfectly complement that selection by offering our first organic nut milk and also by containing gut friendly qualities due to the unique production process. Nutty Bruce are brand new to the UK and we hope our customers like the products as much as we do!"
Dom Dalton, General Manager at Soulfresh says: "We're thrilled to have secured this partnership with M&S Food. For the first time, activated nut m*lk will be available to UK consumers nationwide, supporting Nutty Bruce in its mission to shake up the plant m*lk category by offering consumers innovation and choice."
Unlike other plant milks, Nutty Bruce contains absolutely no nasties. That means no thickeners, gums, preservatives, colours, stabilisers, nut pastes or added oils. Oils and gums are traditionally added to give plant milks body, but Nutty Bruce's real, organic ingredients and unique activation process ensures a creamy, thick and delicious m*lk, every time, without the need for anything artificial.