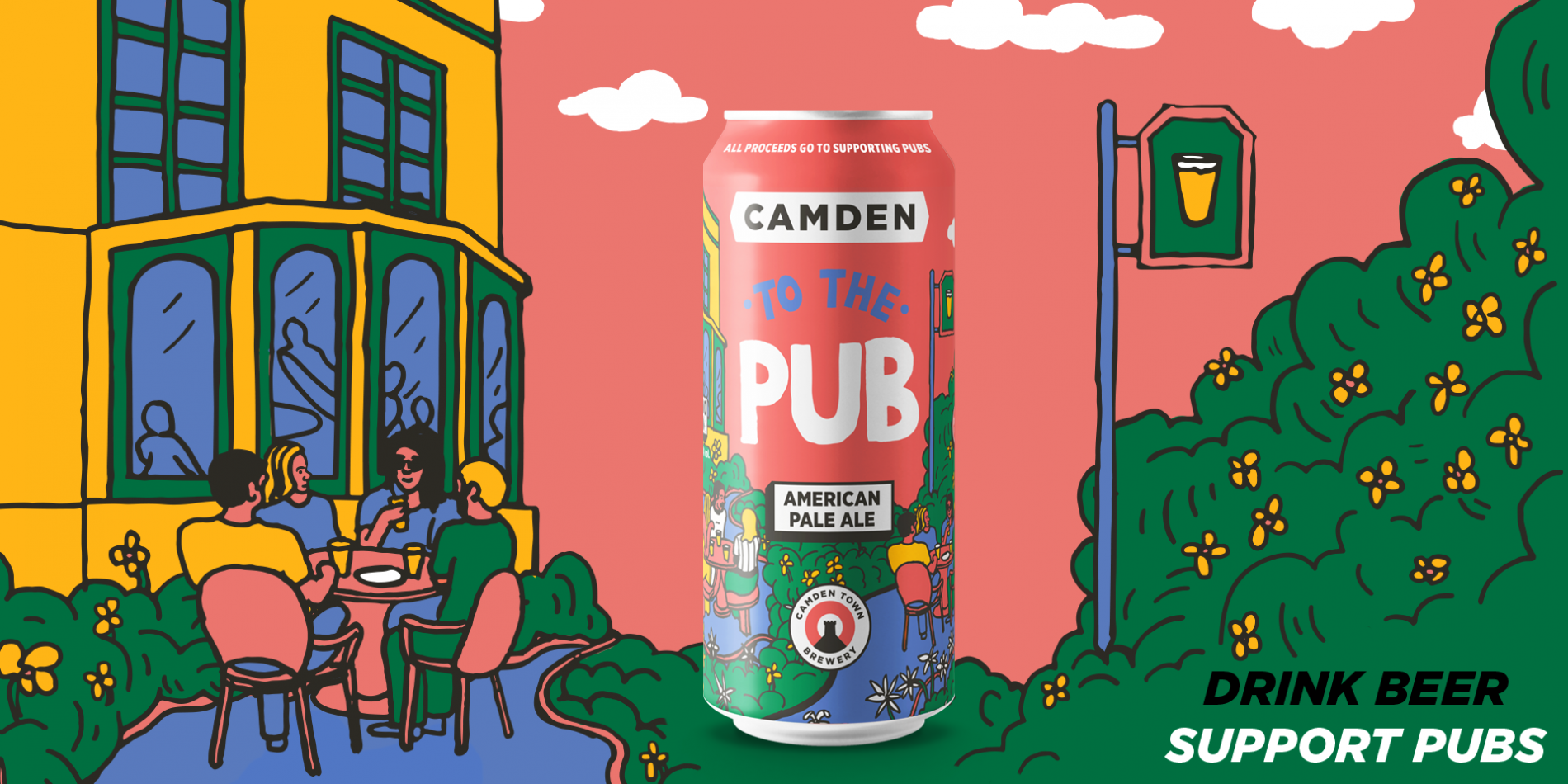 After a rough few months of change and uncertainty, Camden Town Brewey wants to help pubs get pouring again, with what they do best – fresh beer. That's why they've made To The Pub American Pale Ale; a new one-off beer, brewed to support and celebrate the industry.
When pubs officially reopen, they will be giving 260,000 pints of To The Pub to customers for free, so they can make a higher margin on every pint and get more cash in the till to help them get back on their feet as quickly as possible.
But before then, they're kicking off the campaign by launching To The Pub in 500ml cans, available to buy from the Camden webshop from Friday 26th June, and at selected retailers and convenience from July. They've experienced a healthy growth of the business in the off-trade and the webshop during the lockdown, so they wanted to leverage those channels as a way to support the on-trade. All the proceeds from these 'To The Pub' cans will be used to contribute towards funding production of the kegs they'll be giving to pubs.
To The Pub will launch on tap when pubs and bars are back open, and consumers can continue to show their support by enjoying a pint at their local participating pub. Camden wants to make sure that people going back to pubs can experience a great tasting fresh pint of beer, while helping out the industry. So, for any pubs who would like to participate, get in touch and they'll be glad to help you get pouring again. They'll be supporting with To The Pub POS, including t-shirts, beer mats & tap badges.
This is their first large scale through the channel campaign and they're really excited to help one channel with the other.
To The Pub is a 4.0% double dry-hopped American Pale Ale, unfiltered and brewed with clean Cali ale yeast. Camden Brewery added Simcoe Cyro hops and new experimental hop, Idaho 7, later in the brewing process by double-dry hopping to get those big, resiny stone fruit flavours true to the style. The design celebrates the pub life that we all love and miss and has been created by their 2020 seasonal illustrator Gaurab Thakali.
Jasper Cuppaidge, Founder of Camden Town Brewery says: "Never would I have thought that the industry that's brought me so much, would need so much help to survive. It needs all of us, from brewers to beer drinkers, to help this industry get back to stable ground. By drinking To The Pub, whether it's a 6-pack ordered online, a can you picked up at the shop, or enjoying as a pint in the pub, you'll be giving back to the hospitality industry when they need it most."
Adam Keary, Managing Director of Camden Town Brewery says: "The on trade is extremely important to our business, making up 85% of our total volume, and we want to do all we can to support our customers. Since lockdown, we have seen a shift to e-commerce & the off trade, and with pubs re-opening soon, we wanted to use the success we've seen in those channels to support the on trade".
Following the success of our Heroes Thank You Lager, recently launched to support healthcare frontline workers, they are excited to create another movement and use their fresh beer as a force for good to support another great cause, this time around the hospitality industry.