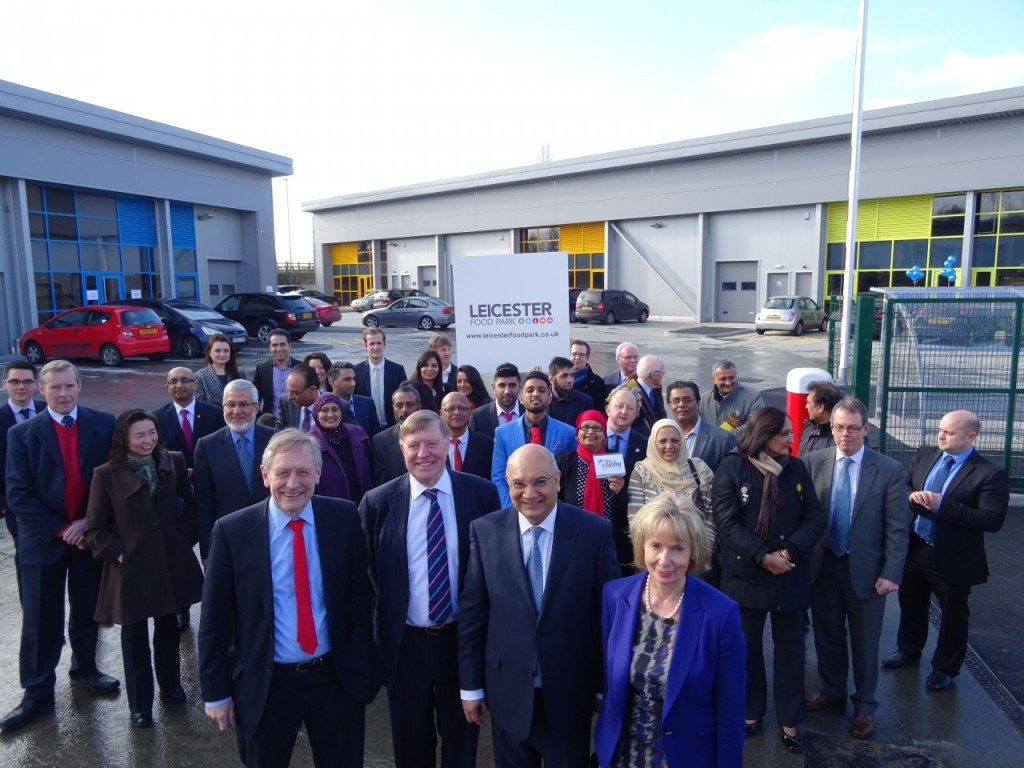 A major new food and drink business park which opened for business last year has won a prestigious regional design award. The Leicester Food Park, which since opening has housed 15 food businesses and created more than 80 jobs, took the title of best commercial project in the RICS (Royal Institution of Charter Surveyors) Awards 2016 East Midlands.
The £5.8m food park development was built in 2014 with £3.4m of European Regional Development Fund (ERDF) money, along with £2.4m of Leicester City Council funding.
More than 150 solar panels were installed on the roofs of the buildings to meet the requirement to use renewable energy at the site.
The RICS Awards have been held for more than 10 years and recognises the best 'built environment' projects. Leicester Food Park will now go forward to the RICS Awards Grand Final 2016 held in London in October, where it will compete against other regional winners for the overall title of National Project of the Year.
Leicester City Mayor Peter Soulsby said: "The food park has proved to be very popular with a huge amount of interest before it had even opened from companies interested in setting up there. The designs and materials used in this development were carefully chosen to be sustainable and energy efficient, so it is good to see this recognised buy these awards."
Many of the units at the park were let before it was formally opened, in February 2015, and it is currently fully occupied.
Current tenants include luxury wedding, private party and corporate events company Stones Events; Colombian coffee merchant Shelton's Imports; instant tea manufacturer Royaltea; Moroccan olive oil products manufacturer Alassala; Indian cheese (paneer) manufacturer Ukay Khoa; ice cream and sorbet maker Bawdon Lodge; Chinese meat and poultry producer RJC Trading and sliced and filleted chicken producer The Meat Shoppe.
The site is managed on behalf of the council by East Midlands Chamber (Derbyshire, Nottinghamshire, Leicestershire) and the Food and Drink Forum.
Chamber Chief Executive Scott Knowles said: "This award caps off a highly successful first year for Leicester Food Park. The food and drink sector in Leicester is extremely vibrant and has a strong capacity to grow. This fabulous facility has demonstrated over the past year they key role it can play in helping the sector to develop, by giving start-up firms the opportunity to take on their own premises and existing firms the ability to upscale."
Food and Drink Forum's Commercial Manager Andrew Collinson, added: "The RICS award won by Leicester Food Park is well deserved. The park has set the standard for demonstrating how high quality infrastructure can support the growth of food and drink businesses. It will provide a fantastic platform for Leicester's industry to flourish over the coming years and help put Leicester on the food and drink map."
Leicester Food Park project manager Mike Dalzell added: "It is very pleasing to see that the RICS awards have recognised that architectural quality comes in many forms. The new units at Leicester Food Park may not have the sort of fancy glass and steel features that tends to win awards, but clearly the judges have picked up on the excellence of the design, the efficiency of the layout and the superb quality of the finishes. It is no surprise that companies have been falling over themselves to take up the space."