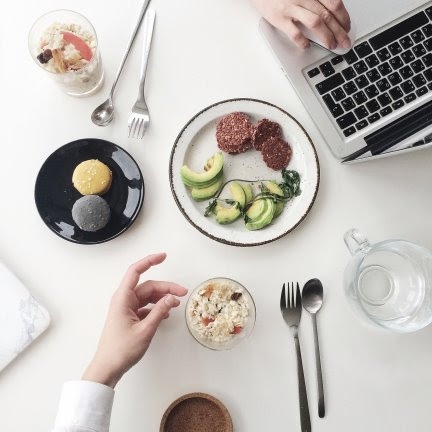 Keeping your energy levels up and eating well amidst a hectic workday is no small feat, and it's even more difficult when you're too exhausted to meal prep or too busy even leave your desk for a proper lunch break!
However, fueling your body with the right foods can help you stay focused, keep your mind clear and even boost your mood, all very important things when getting through all of your daily tasks. Here are a few tips to help you eat your way to success.
Eat a filling breakfast
Breakfast is often skipped on the rush hour journey to the office, but they don't call it the most important meal of the day for nothing! Foregoing breakfast can negatively impact your mood and affect cognitive functioning. Additionally, skipping breakfast can actually cause weight gain, as it increases cravings for sugary and fatty foods, in addition to making us eat way more than you normally would.
Go for a bowl of Nairn's Porridge Oats (RRP £2.00, Sainsbury's), as oats slowly release energy into the bloodstream, which keeps blood sugar and mood stable. Oats are also high in fibre and full of complex carbohydrates to keep you full all the way to lunch! Try topping your porridge with blueberries, as they're full of antioxidants to maintain brain function and improve memory.
Avoid the afternoon slump
London's Leading Nutritionist, Lily Soutter (www.lilysoutternutrition.com) says "Sometimes afternoon drowsiness can simply be down to eating too much at lunchtime. If you struggle with that post lunch slump, opt for a lighter lunch and be mindful of the portions size especially when it comes to carbohydrate and fat. Remember to follow the food plate guide for optimal energy."
Try a light and nutritious meal from itsu – they have a range of dishes for under £5, so you can eat beautiful without breaking the bank! The salmon & avocado rolls contains 500mg of omega 3 and the salmon also contains 24% [36.6mcg] of your reference daily intake of iodine, and is high in vitamin B6 which helps to keep you energised all afternoon long (RRP £4.99, itsu stores nationwide). Walking to your local itsu to grab lunch will give you a nice breath of fresh air as well!
Snack smart
It can be easy to reach for a bag of crisps when snack cravings hit, but selecting tasty snacks with a higher nutritional value can help you ease your craving without sacrificing any health benefits.
Try mixing fruit, veg or wholegrain crackers with a dip or topping of your choice. For example, hummus and carrots, apples and peanut butter, cheese and oatcakes, the list is endless!
Destress – treat yourself
Lastly, you deserve a treat for working so hard! Work can be stressful and anxiety inducing, so reward yourself with a bar of dark chocolate from Ombar. Made with raw, organic Ecuadorian cacao and only natural coconut sugars, Ombar is a deliciously creamy and indulgent chocolate packed full of flavanols and antioxidants. Plus, according to nutritionist Cassanda Barns: 'Cacao is high in magneisum, which helps to calm the nervous system, and contains a natural chemical called phenylethylamine (PEA) that's associated with good mood. So, for the best stress-busting effects, go for a high cacao, lower sugar dark chocolate, like Ombar's 72% Raw Cacao Bar" (RRP £2.10, Ocado). And if you indulge, you won't feel so tempted to snack or have unhealthy habits, like smoking. While there are plenty of Eliquid brands out there to help smokers make the swap, destressing with a naughty bit of chocolate will sort you out!