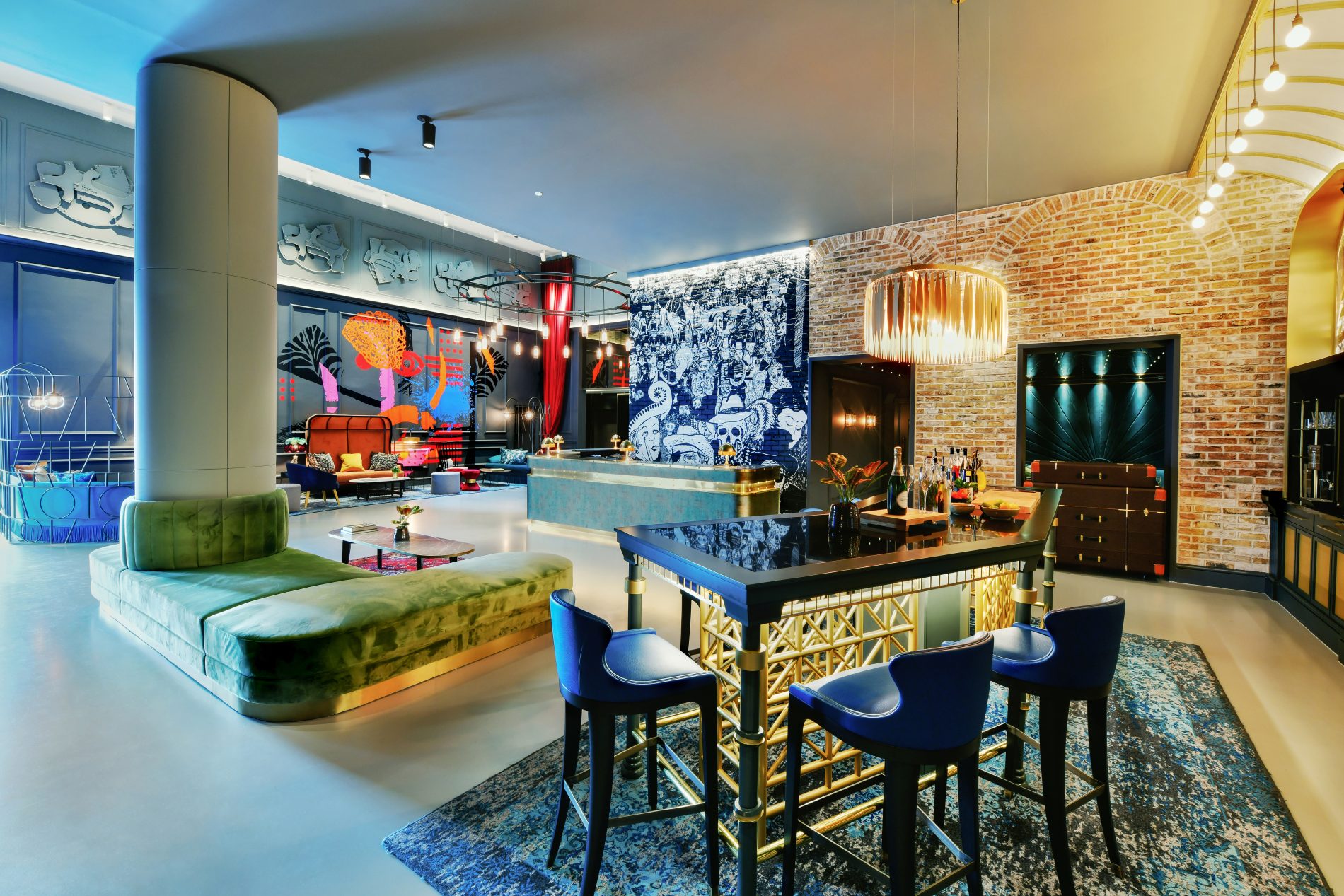 Five-star lifestyle hotel Andaz London Liverpool Street appointed Ara Design International to redesign and revamp its lobby lounge experience. Inspired by the building's history and Victorian heritage as well as the ever-evolving, artistic vibe of East London, the creative and vibrant space has been unveiled.

Originally built as the Great Eastern hotel, as one of the main railway hotels adjacent to Liverpool Street station, the refurbishment of this focal point in the hotel takes visitors on a 'train journey' through the old British Empire interpreted through the avant-garde local area. The entrance is inspired by the ornate aesthetic of a traditional Victorian station waiting room, with encaustic tiling, and a station bench.

The central lobby is reminiscent of a Saloon carriage, with dramatic curtains adorning the walls, and a reception desk detailed with rivets and metal banding. The exclusive back area of the Lounge takes on the identity of a Royal carriage, with stacked vintage trunks serving as a DJ stand and upholstered seating, reminiscent of Victorian carriage style seating.

The new lobby also features artwork that reflects the creativity of the neighborhood, including work by artist group Le Gun from the Royal College of Art, which provide a 'Instagram moment' for hotel guests and locals.

Mario Flanagan, General Manager at Andaz London Liverpool Street says, "I am delighted by the new design of the hotel lounge, which really encapsulates the East London neighbourhood, whilst also paying homage to the building's history and Victorian roots. The lounge will upgrade the entire hotel experience, setting the scene for our guests' stays starting with a strong arrival and aiming to create a vibrant social hub at the heart of the hotel for our guests and locals alike."

Harry Gregory, Director of Ara Design International says, "We were delighted to be appointed as the designers for the refurbishment of Andaz London Liverpool Street's new lounge. With this being Hyatt's first Andaz brand property, we understood the importance of creating a space which combines the heritage of the building whilst encapsulating the neighbourhood of the hotel's area. We are pleased with the results and believe the space will be received extremely well by all."

The striking lounge has an all day bar, serving coffees and evening cocktails, a DJ booth and relaxing seating arrangements providing a space for guests to meet, work or socialise away from the hustle of the city. The area will also serve as a space for pop-ups, a calendar of events and immersive experiences.