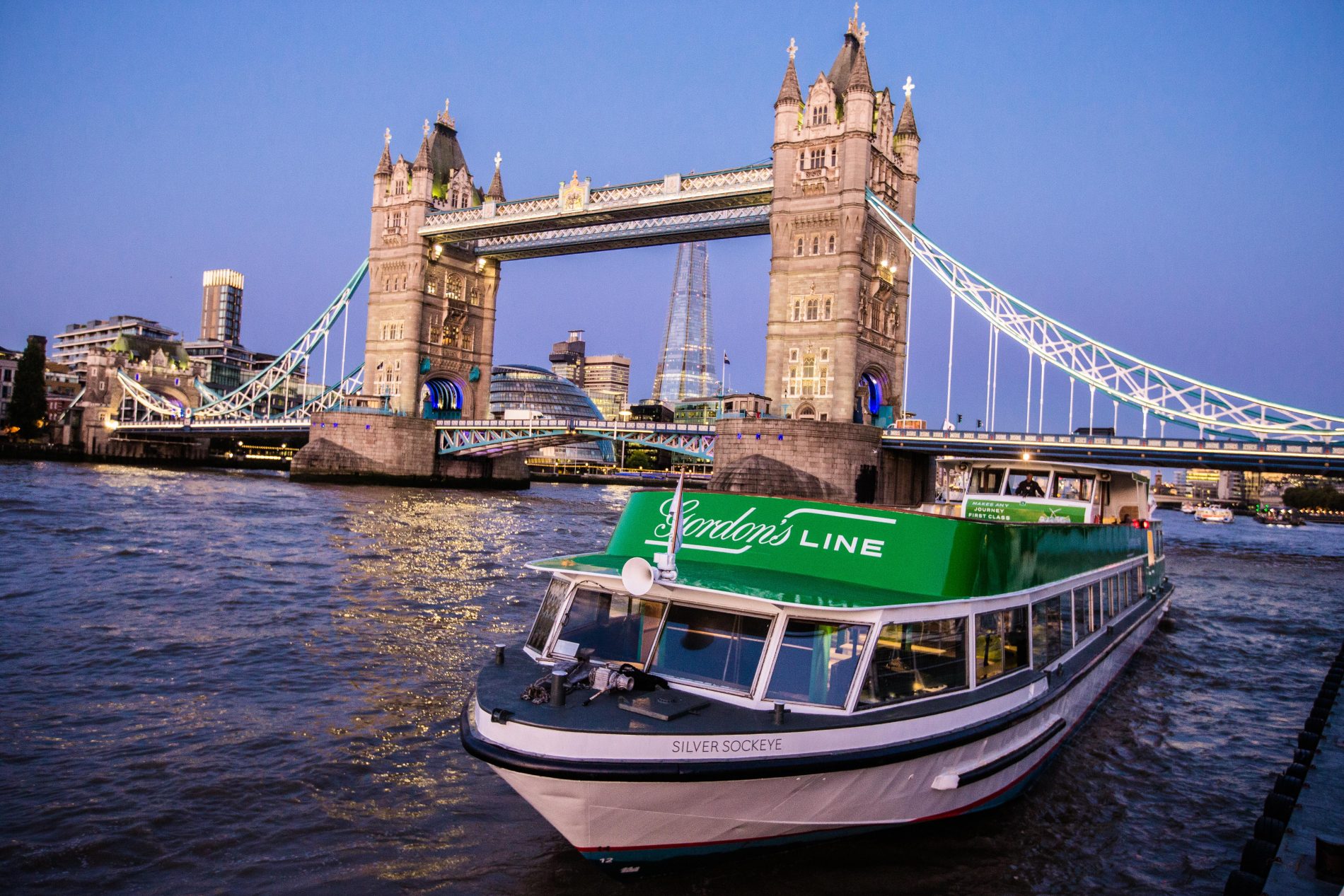 ALTERNATIVE RIVER ROUTE AIMS TO HELP WORKERS STOP AND ENJOY THE JOURNEY HOME
Almost half of Brits (47%) admit to being bored of their commute. Whether it's driving, using public transport or walking – they're tired of doing the same route every day.
When asked what they disliked about their commute, respondents reported a mix of reasons, including: the delays on public transport (23%), the hot and stuffy atmosphere (18%) and the anti-social aspect (22% of people don't speak at all on their journey home). With this in mind, one in ten (10%) commuters are eager to opt for a different route, even if it takes them longer.
In a bid to help Londoners take a moment to stop and enjoy their journey home, the team responsible for Gordon's, the world's best-selling gin brand(1), are debuting the Gordon's Line Thames boat on Thursday 3 October and Friday 4 October 2019. Offering a commute down the river like no other, the route will run for two days only. Collecting passengers at piers down the river, the Gordon's Line hopes to help workers enjoy their commute home.
To ensure guests can take a moment and enjoy this journey, the Gordon's Line will be bringing the most-loved commuting activities that are usually enjoyed alone, to life. Guests can put their headphones away and enjoy listening to music or getting immersed in a podcast (voted the favourite travelling past-time by 28% of commuters) 'in real life' and in the company of colleagues and friends.
In between pier stops, passengers will be privy to a 40-minute live recording of the Nobody Panic podcast, as well as live music from saxophone player, The Sax Man. Guests will also be offered comfortable seating, light refreshments and a complimentary Gordon's & Tonic onboard.
Knowing that almost a fifth of Brits (18%) treasure the scenery on their commute, the Gordon's Line will also allow passengers to take in London's most scenic backdrops, travelling from Canary Wharf to Vauxhall, passing The Tower of London, Tower Bridge, the Shard, the London Eye and Westminster along the way.
Jessica Lace, Head of Gordon's, commented: "Brits are battling against the Autumn showers and darkening evenings whilst trying their best to get the last seat on the tube but, it's not all doom and gloom. The Gordon's Line is taking the best bits of commuting and bringing them to life to create an experience that will help Londoners enjoy their journey home. After a busy day, what could be better than swapping the normal commute for an enjoyable boat ride, a live podcast and some live music, all in the company of friends or colleagues."
The Gordon's Line will set off from Canary Wharf and travel along the Thames, making stops at key London stations, before docking at St George's Wharf Pier at Vauxhall. The service will then travel back East to St Katherine's Pier, ready to dock for the night. You can book a £5 ticket for the Gordon's Line journey online athttps://thegordonsline.seetickets.com (terms and conditions apply and can be found on the website). There will also be limited spaces available on the day at Canary Wharf and St Katherine's Pier.
The Gordon's Line: Thursday 3 and Friday 4 October
| | |
| --- | --- |
| TIME | LOCATION |
| Boarding between: 16:15 – 16:30 | Canary Wharf Pier |
| Boarding between: 17:15 – 17:45 | St Katherine's Pier |
| Boarding between: 18:00 – 18:10 | London Bridge Pier |
| Boarding between: 19:00 – 19:15 | Festival Pier |
| Boarding between: 20:00 – 20:15 | St George's Wharf Pier, Vauxhall |
| Drop off: 20:50 | St Katherine's Pier |