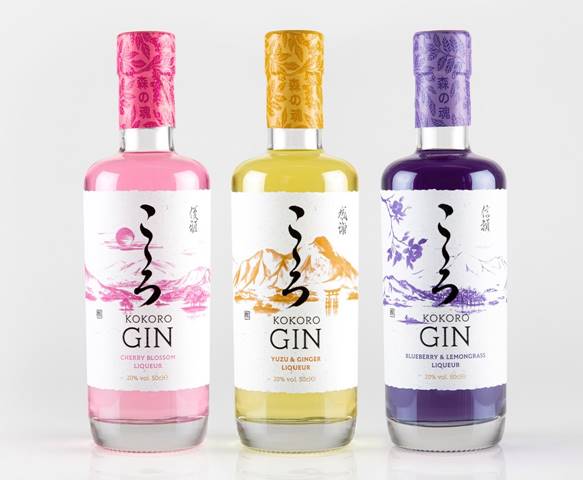 Kokoro London Dry Gin – a gift from the 'heart' for Mother's Day (Sunday 22nd March).
Kokoro, which means 'heart – the centre or the soul of something', is the perfect gift to show your mum how much you care.
The Kokoro Gin Liqueur gift set includes three authentic, natural flavours from Japan: Kokoro Blueberry & Lemongrass, Kokoro Yuzu & Ginger and Kokoro Cherry Blossom.
The bottles feature Japanese writing, known as Kanji, with a different word on each bottle taken from Hanakotoba – the Japanese language of flowers. 
Kokoro blueberry represents trust, yuzu appreciation and cherry blossom elegance.
Kokoro Blueberry & Lemongrass Liqueur
Blueberries are a relatively new addition to Japan, first cultivated in the 1950's. Kokoro Blueberry & Lemongrass Liqueur is made using the finest blueberries from Nagano Prefecture. They are large and sweet, and people travel to the region specifically to spend the day blueberry picking.
Kokoro Yuzu & Ginger Liqueur 
Yuzu is a Japanese citrus fruit that tastes like a cross between a lime and a grapefruit; deliciously sweet and tart.
Kokoro Cherry Blossom Liqueur 
Cherry Blossom, Sakura in Japanese, has a uniquely floral flavour and the softest hint of sweet cherry.
The Kokoro Liqueurs gift set is available to purchase online from kokorogin.com for £36.00 with 3x 20cl expressions (20% ABV).
The Kokoro Gin Liqueurs are also available as individual bottles from John Lewis for £20.50 for 50cl (20% ABV).