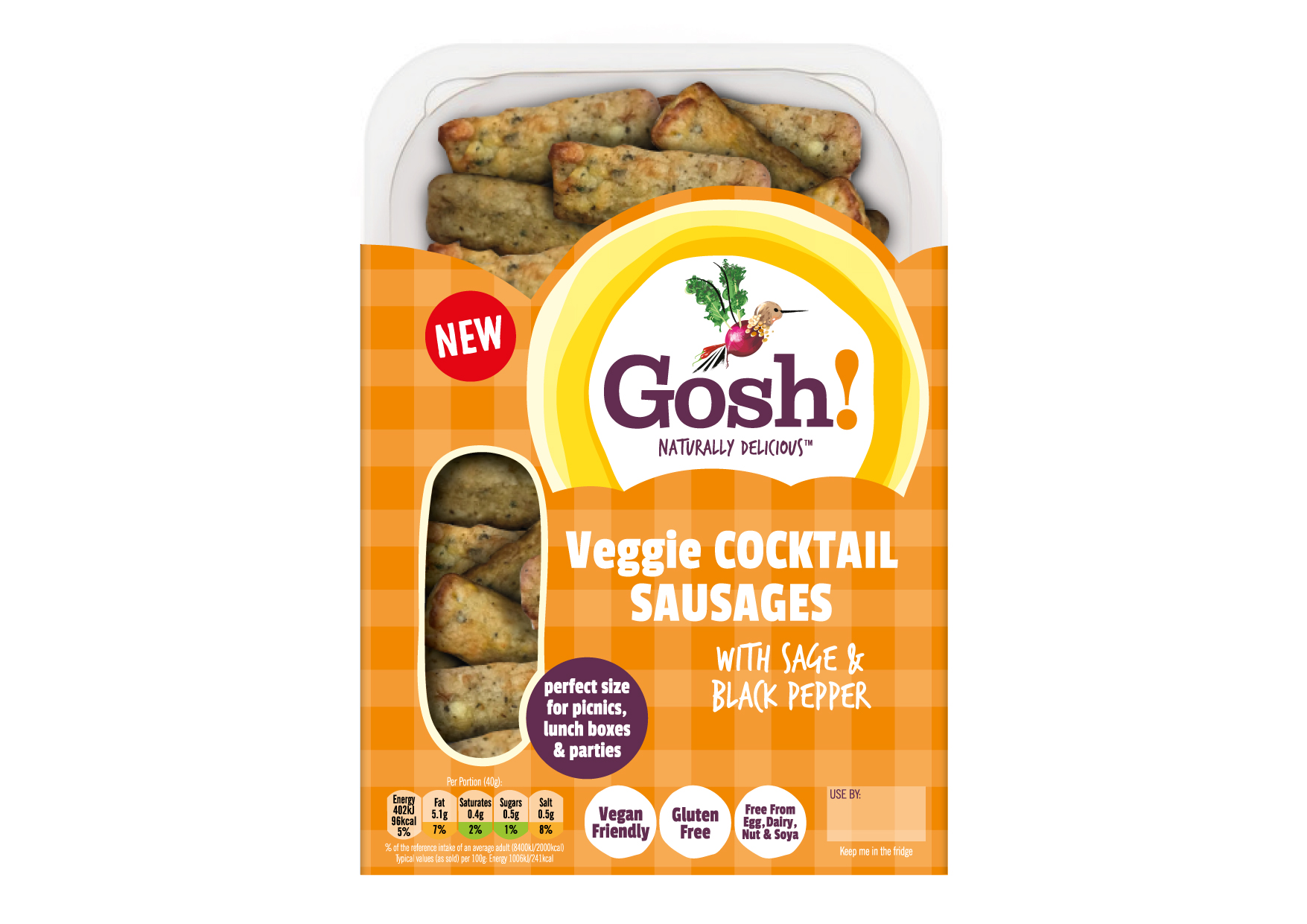 Deliciously natural, plant-based brand Gosh! has just launched the all new Veggie Cocktail Sausages. These snacking suitable sausages are being stocked in Morrisons on 11th November and Booths on 18th for RSP £1.99. Following Mintel research which concluded that 66% of adults snack on a daily basis, Gosh! created these plant-based pickers as a healthy savoury snack option.
Jenny Robertson, Brand Manager says: "We know that 95% of adults snack and the market is flooded with sweet snacking options like cereal bars, protein bars, sweets and chocolate. However, healthy, plant-based snacking options are very limited, especially for those on a restricted diet. Many snack products are also high in saturated fats and full of unhealthy ingredients. We know that many consumers are looking for products made from natural ingredients and great quality, and we identified the gap in the market to launch our Gosh! Cocktail Sausages.  With nothing in the ingredients that you wouldn't recognise, these versatile morsels are filling, moreish and delicious!"
Gosh!'s range can be enjoyed as a cold convenient snack or heated up as part of a delicious and nutritious meal. Starting from just £1.99 the bites, burgers and sausages are the tastiest and healthiest way to eat meat-free. The whole Gosh! range is as transparent as glass with absolutely nothing hidden and everything on show – which is why the range is fully registered by the Vegetarian, Vegan, Coeliac and Kosher food societies.
Mintel 2019 research
95% of UK adults report to snack, with 66% on a daily basis
63% of adults try to eat healthily all the time
Naturalness has become an important quality that many consumers use to denote healthiness, driving demand for products with simple or kitchen cupboard ingredients
17% of all new snacking launches in 2018 had vegan claims, demonstrating the growing importance for this type of snack
Plant-based snacks +38% YOY (Kantar, 2018)
1/3rd of UK consumers are reducing their meat consumption (Kantar, 2018)