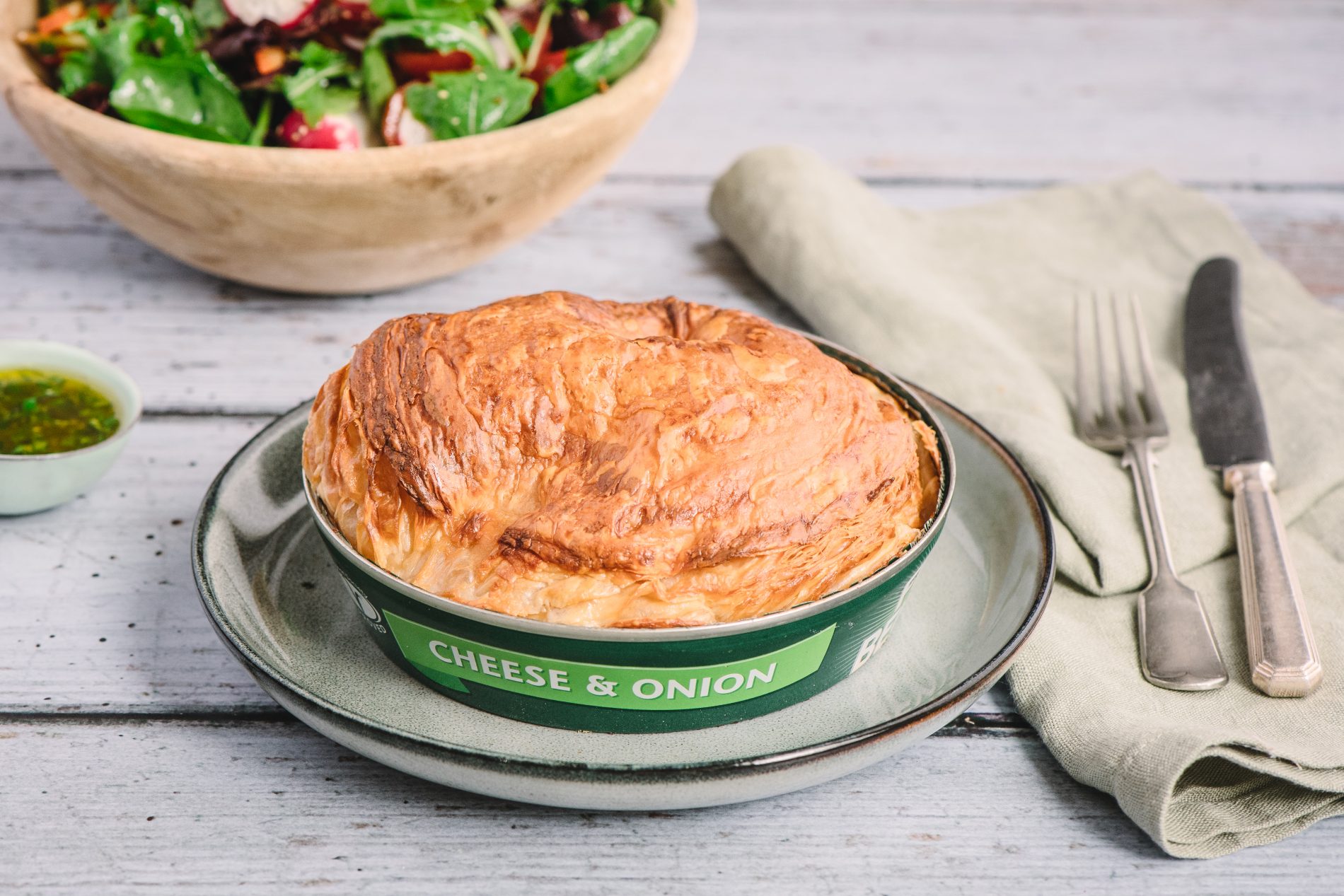 Fray Bentos are back with a-VEG-eance introducing its second ever veggie pie. Hot on the heels of the success of their first vegetarian offering, Britain's best loved pie brand has launched a new Cheese and Onion pie. 
The iconic brand, given the British pie seal of approval, has branched out into the veggie market having previously been famed for their tinned meaty goodness.
Their first foray into the market – the Vegetable Balti pie – was met with such approval the comfort food front runners have packed a punch with their second veggie pie.
Packed with a perfect filling of mature cheddar cheese and onion topped with deliciously light and tasty puff pastry, the tinned pie will hit the spot in just 30 minutes in the oven.
At just 378 calories a portion it is the perfect warming dish for student veggies or families in search of a quick and comforting dinner – and at just £1 a pie you can't go wrong.
Lorraine Rothwell, of Fray Bentos, says: "Buoyed by the successful launch of the Veg Balti pie in March which saw almost 30,000 tins fly off shelves in its first month, we have responded to customer demand by developing and launching this delicious cheese and onion pie.
"Our famous meaty filled pies are at the heart of what we do so our loyal fan base need not worry. But we're listening to the ever changing customer demand and making sure Fray Bentos is the number one choice for ALL pie lovers.
"The Cheese and Onion pie was a no brainer – it's the perfect option for people seeking the convenience and comfort of a pie without having to cook it from scratch."
The Fray Bentos Cheese and Onion pie is available in Asda, Morrisons and Waitrose stores nationwide for only £1.