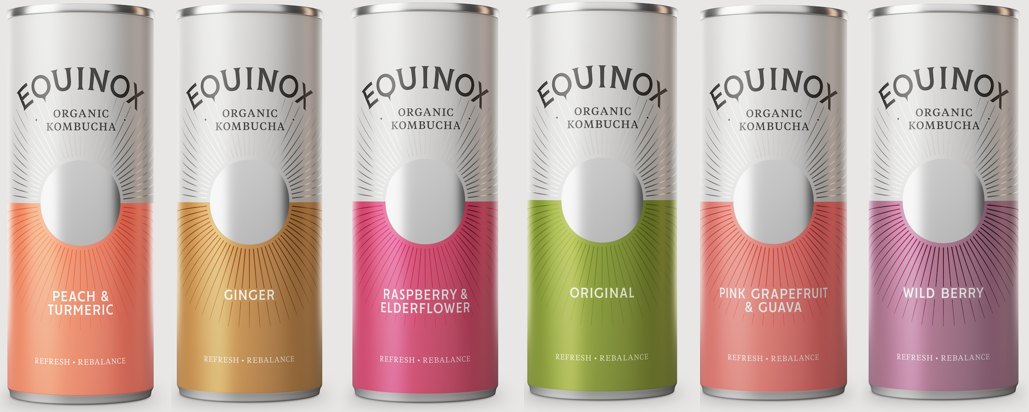 Lift your soft drinks game with Equinox Organic Kombucha – the exciting gut boosting drink that's impossible to resist. Craft brewed the traditional way in the Calder Valley UK, Equinox Organic Kombucha is a thirst thrill for your palate – with a range of flavours suitable for Kombucha novices all the way to the veterans.
The perfect alternative to sugary soft drinks or alcohol, Equinox's low sugar organic Kombucha is unpasteurised, raw and vegan, with no 'nasties' added in – just a bit of fizz at the end of the craft brewing process. Full of naturally occurring vitamins, acids and beneficial bacteria, known to promote a healthy gut and digestion.
Equinox Kombucha comes in six delicious flavours,  including new blends Peach & Tumeric and Espresso Coffee, the first of its kind in the UK. A bold, seductive blend with an uplifting Kombucha fizz, this unique blend really packs a punch. Made with Equinox's specially made coffee Kombucha culture and Arabica Coffee beans, the can is filled with the same benefits as traditional Kombucha with a natural re-energising coffee lift. Expanding Equinox's tea-based Kombucha range, a new spicy alternative, Peach & Turmeric, delights the taste buds with earthy flavours of turmeric melting into fresh and juicy white peach sweetness.
Available in both cans and 35% recycled bottles, the current range comprises of Original, Wild Berry, Pink Grapefruit & Guava, Ginger, Raspberry & Elderflower and brand new flavours – fruity Peach & Turmeric and Espresso Coffee. 
Equinox Organic Kombucha is available at www.equinoxkombucha.com
Cans are priced at £1.60 and Bottles at £1.80. Espresso Coffee is priced at £1.60 (can only)
Certain flavours are currently stocked in Waitrose, Whole Foods and Planet Organic.