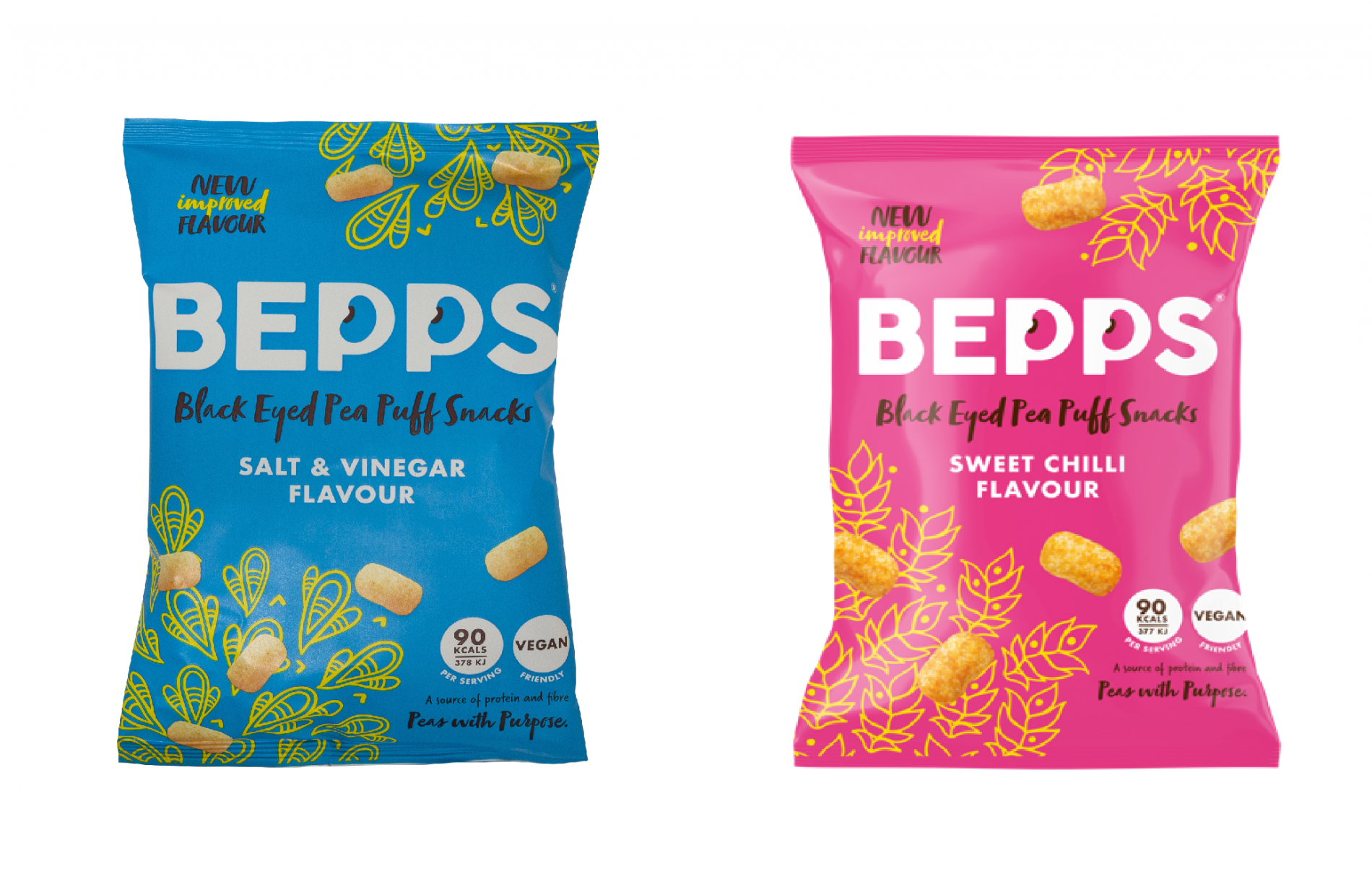 BEPPS, a proudly plant-based British brand, that provides flavourful and nutrient-rich alternatives to traditional crisps in classic beloved flavours, has launched its new family-friendly 70g sharing bags into Asda stores nationwide.
The all-natural, light and crispy puffs are a delicious, plant-based source of protein and fibre with half the calories of a traditional packet of crisps. A unique snack innovation, BEPPS Puffed range is a wholesome blend of fava beans and black-eyed peas which pack a nutritional and flavourful punch.
The new range is available into two mouth-watering flavours; Sweet Chilli and Salt & Vinegar, and each serving contains just 90 calories. The puffs are vegan and coeliac friendly and are free from gluten, GMO and MSG.
BEPPS Sweet Chilli PUFFS (RRP: £1.80/70g sharing bag): Impossible to resist, these puffs combine the warmth of chilli with a delicious sweetness, combining ginger, cayenne, aniseed, white pepper and garlic. A new and appetising way to put a little extra spring into your snack time.
BEPPS Salt & Vinegar PUFFS (RRP: £1.80/70g sharing bag): An innovative take on a traditional snack favourite, these puffs are deliciously sharp, tangy and naturally packed full of plant-based protein and fibre.
BEPPS is an endlessly versatile brand for the hungry, the healthy and the serious snack seekers. The range is designed for eating-on-the-go; after-school; al desko, while working from home; post-workout or for pre-dinner nibbles. Bepps are also the perfect lunch box treat, after school snack and reward for good behaviour. The products are loved by kids for their delicious taste and light texture and loved by parents for being free from GMO and MSG and higher in protein and fibre and lower in fat content per 100g than many other peas-based snacks and crisps available on the market.