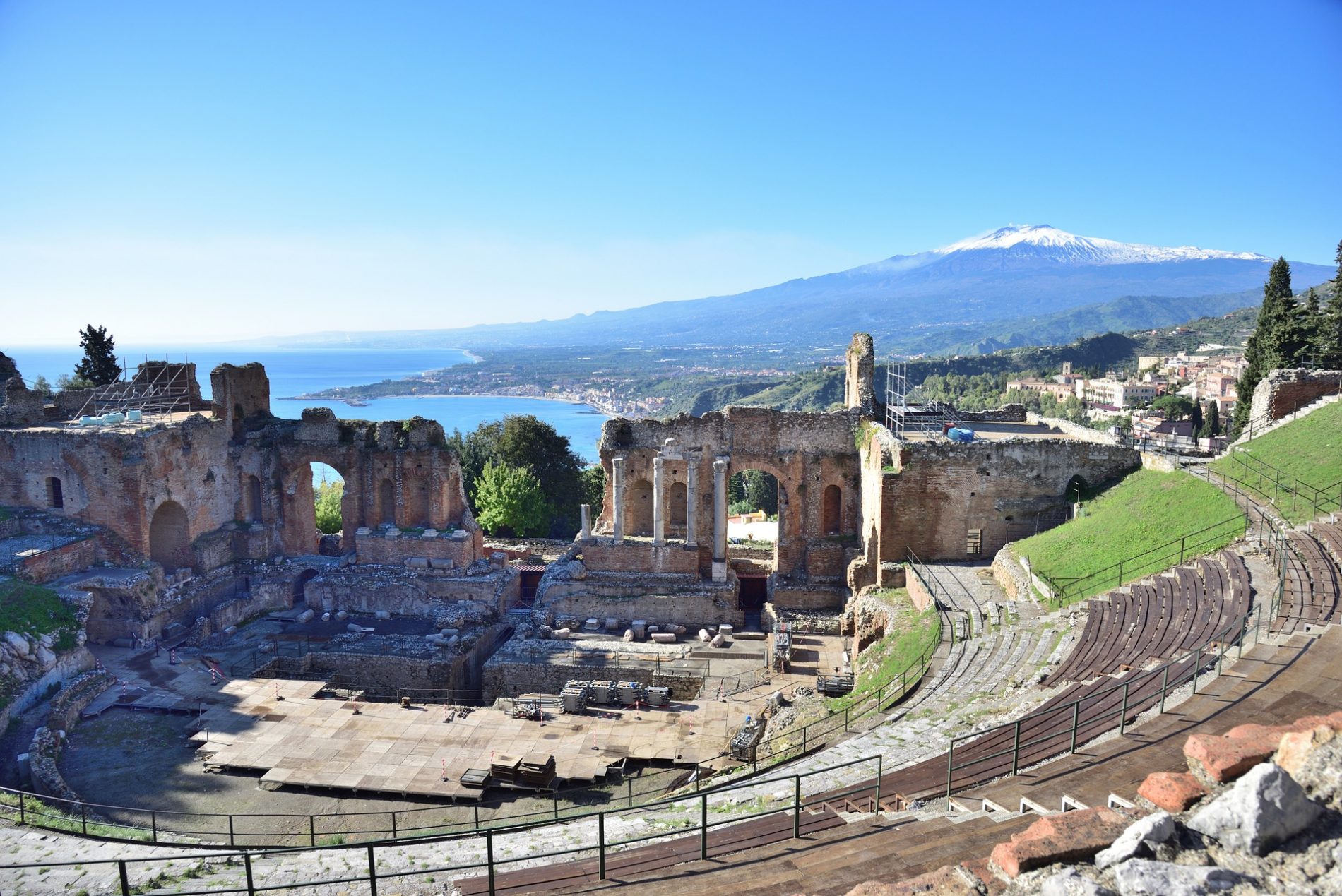 If you have been to Italy, you have probably been to Florence, Rome or Venice. But there is a lot more than the big hits, and it would be a mistake to ignore whatever else the Belpaese has to offer. Just off the toe of Italy's boot is Sicily, the Mediterranean's largest island, boasting everything from idyllic beaches and monumental architecture to fine wines, delicious food and a rich, multicultural history.
An absolute must-see on Sicily's eastern coast is the bijou town of Taormina, the Pearl of the Ionian Sea, with its impressively preserved Greek Amphitheatre dating back to the 3rd century B.C. 
Spectacularly perched on the side of a mountain, Taormina is arguably the most glamorous town in Sicily, with winding streets and charming squares lined with art galleries, upmarket boutiques, fine restaurants and beautifully restored mediaeval buildings. 
Founded in the 4th century B.C., this beautiful town carved into the Monte Tauro hillside flourished under the Ancient Greeks and Romans, and has been luring Victorian Brits, royals, writers and intellectuals since the days of the 18th-century Grand Tour. D. H. Lawrence found the atmosphere conducive to creativity and started writing Lady Chatterley's Lover while living in Taormina. Ernest Hemingway said that this picturesque hilltop town is so pretty "it hurts to look", and Goethe once called it "a patch of paradise".
And it's not hard to see why. 
Top attractions in Taormina
Spectacularly suspended between sea and sky, the posh Sicilian resort town of Taormina is accessible by a short but memorable cable car trip from Mazzarò, or a rather more energetic walk up some 700 steps – perfect if you've got a big lunch to work off.
Although in size it would be considered a small town, Taormina offers a huge amount to see and do, with something for everyone to enjoy.
Greek Theatre
Taormina's best-known attraction is a beautifully preserved, horse-shoe-shaped Greek Amphitheatre perched atop steep cliffs plunging over 800 feet down to the bright cerulean-coloured Ionian Sea, with the magnificent Mount Etna providing a dramatic backdrop. Europe's highest and most active volcano, Etna erupted in February, sending up high fountains of lava and wowing onlookers. 
The second largest Greek theatre in Sicily after the one in Siracusa, the Teatro Greco is still used today as a venue for theatrical performances, classical operas, film festivals and rock concerts – big names who have played here include Kasabian, Duran Duran, Sting and Bruce Springsteen. How many other 1800-year-old buildings in the world are still in use as they were originally intended?
Corso Umberto
If you fancy giving your credit card a workout, head to Corso Umberto, Taormina's main cobbled boulevard, lined with luxury boutiques, antiques shops and Michelin-starred restaurants.
Running through the historic centre between Porta Messina to the north-east and Porta Catania to the south-west, Corso Umberto is mostly pedestrianized and ideal for window-shopping and strolling at a languorous ice cream-eating pace, admiring the belle époque palaces and Baroque churches. 
Piazza IX Aprile
Halfway along Corso Umberto is Piazza IX Aprile, a focal point for visitors, with a panoramic terrace overlooking the Bay of Naxos down below, with the smoky crest of Mount Etna towering above the clouds at the edge of the horizon. The town's main square, Piazza IX Aprile is the perfect place to take truly remarkable photographs, especially at sunset.
Enjoy people-watching while seated at one of the many cafés lining its perimeter, lingering over a Sicilian granita, a dense mixture of sugar, water and thin flakes of ice blended with crushed fresh fruit, usually served with whipped cream on top.
Isola Bella
Reachable on foot via a narrow sandbar from the mainland, Isola Bella (literally Beautiful Island) has become one of Sicily's most photographed beauty spots. This UNESCO-protected nature reserve set in Taormina's W-shaped bay is crisscrossed by trails with awe-inspiring views of the deep-blue and cobalt-emerald still waters.
Administered by the WWF, this tiny island was once home to English conservationist Florence Trevelyan, who embellished it by cultivating rare, exotic plants.
Villa Comunale 
Created by the above mentioned eccentric Englishwoman Florence Trevelyan in the late 19th century, the lush garden at Villa Comunale is a splendidly-kept, hillside oasis of tranquillity offering a fascinating mixture of tropical plants, Victorian architectural follies and sweeping views of the Sicilian coastline and the ever-steaming Mount Etna in the distance. It would be hard to beat the views from this pretty and peaceful English-style garden at Villa Comunale on a clear day.
So why not rent a holiday villa in the surrounding area? Renting a self-catering vacation home is a much safer choice than staying in a hotel/resort right now. Luxury holiday rentals in Sicily are in high demand, as their very nature makes them perfect for proper social distancing from other people. 
You can choose from a wide array of spectacular rental properties. One of the island's leading holiday rental agencies is Select Sicily, with an ever-growing portfolio of deluxe villas in secluded locations. Visit the company's website to learn more about the magical hilltop town of Taormina and start planning your exclusive villa experience.