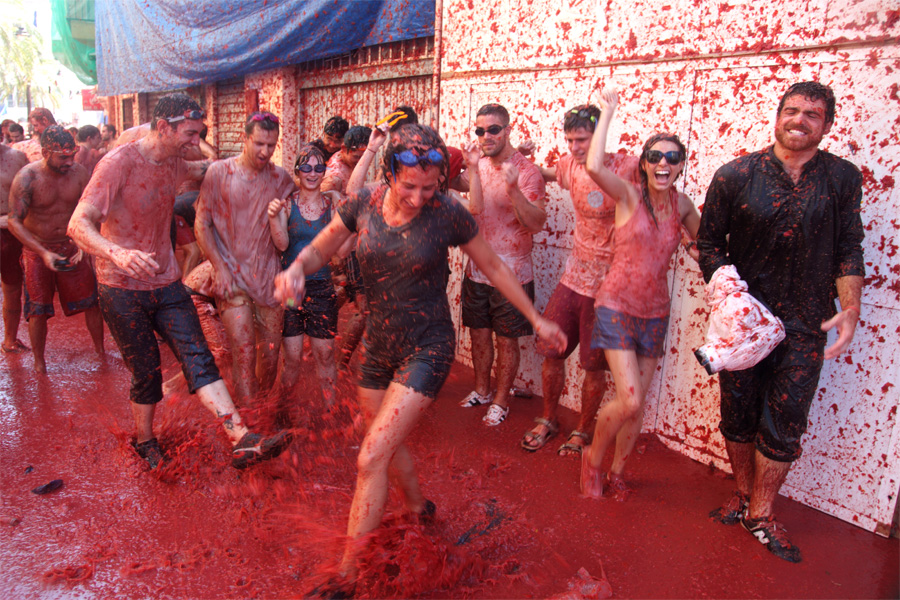 The annual Tomatina festival in Bunol, eastern Spain, took place on the 30th August, with thousands of people pelting one another with tons of ripe tomatoes.
The event is now paid entry, but was originally inspired by a food fight which took place between local children in 1945, during a parade. Initially authorities tried to ban what quickly became and annual battle, but in 1959 they gave in, and it became and institution.
Since then, it has grown hugely in popularity, becoming almost iconic as the world's largest food fight, and thousands of tourists and locals make their way to the town in Spain's tomato-growing region every year, donning swimming goggles to protect their eyes from the showers of red pulp.
It takes place every year on the last Wednesday in August. It is the highlight of a week-long festival in honour of the town's patron, San Luis Bertan. The centre of the action is the Plaza Del Pueblo, but with so many people, the whole town is filled with red by the end of the hour.
The red, mushy mess is hosed off within minutes of the hour-long fight ending, and the acidity of the tomatoes actually cleans the town's streets. Shop fronts and anything which isn't tomato proof are covered by sheets of plastic.
This year, the town – which has only around 2000 inhabitants usually – was crammed with around 22,000 people taking part, with six trucks bringing in160 tons of ripe tomatoes for participants to throw at each other over the course of the hour.
Photographs of the bizarre scenes show men and women drenched in red juice, laying in puddles of tomato pulp inches deep, grabbing handfuls of the ripe fruits to throw, and rubbing them in each others hair. Others stand on the balconies, raining the scarlet ammunition on the crowds below.