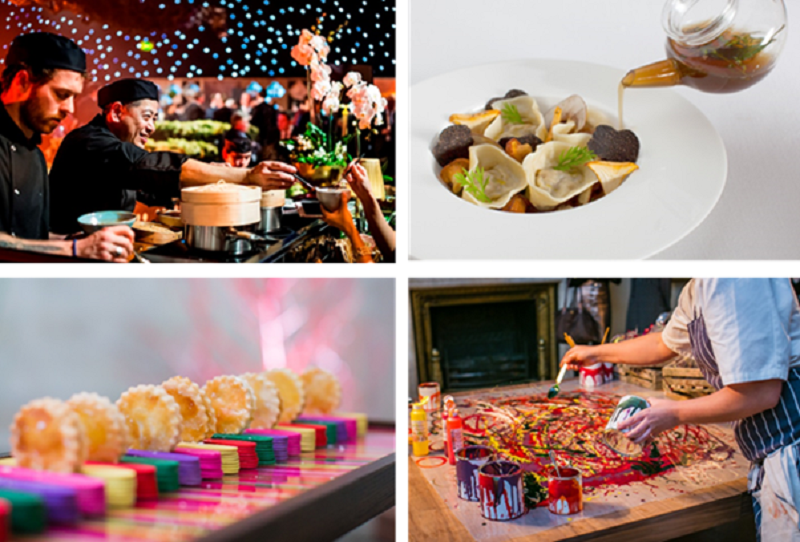 London's leading luxury catering company and winner of the 2017 Country Life Canape of the Year award, Rocket Food, has announced its commitment to positively impact the environment and the community. Rachel Warren's, Head of Creative, goal is to reduce the company's waste without compromising on creativity.
Rachel discovered Floral Angels, a voluntary organisation who brings recycled flowers to those in need, such as women's refugee associations and elderly homes; therefore helping to bring joy and improve wellbeing amongst those less fortunate. This was the perfect opportunity to upcycle surplus flowers after Rocket Food events, so they started collaborating and since November, Rocket Food has donated up to £4,000 worth of flowers, which would otherwise go to waste.
"The food industry in general produces an enormous amount of waste, therefore it's imperative for us to take conscious steps in reducing it wherever we can – and it's a bonus if we can make others happy along the way," said Caroline Hall, Co-founder of Rocket Food.
The company has also supported the Ace of Clubs, a local charity on St Alphonsus Road, providing those in desperate circumstances with safe shelter, food, warmth, clothing, laundry and showers. The team at Ace of Clubs is skilled and focused in linking people with a wide range of services including accommodation, welfare, rehab, training, healthcare and many others. In 2017, Ace of Clubs was provided 20,000 meals, helping 92 people off the streets and into accommodation and 36 people into rehabilitation from addiction.
To further enhance its commitment towards sustainability, the team at Rocket Food has gone eco, making small changes such as issuing personalised ceramic mugs for hot drinks with the ambition to phase out all paper cups. Staff are encouraged to bring their own water bottles; no plastic bottles are provided at events and they have replaced plastic straws with a paper variety.
Moreover, when planning for events, Rocket Food is conscious about its carbon footprint and ethical choices of its customers: "Rocket as a whole has put initiatives into place in efforts to reduce carbon footprint and providing vegan menu options has been one of them. 10-15 % of our client base request vegan choices for canapés and dinners, these dietary options were always something our chefs created on an ad hoc basis but now that it's become a popular request, we have incorporated vegan dishes into our Spring-Summer 2018 menus. Our hero dish is the Miso Glazed Aubergine, quinoa salad and coriander shoots and our clients' favourite vegan canapé is the Pickled Mouli and herb bundle," said Caroline.