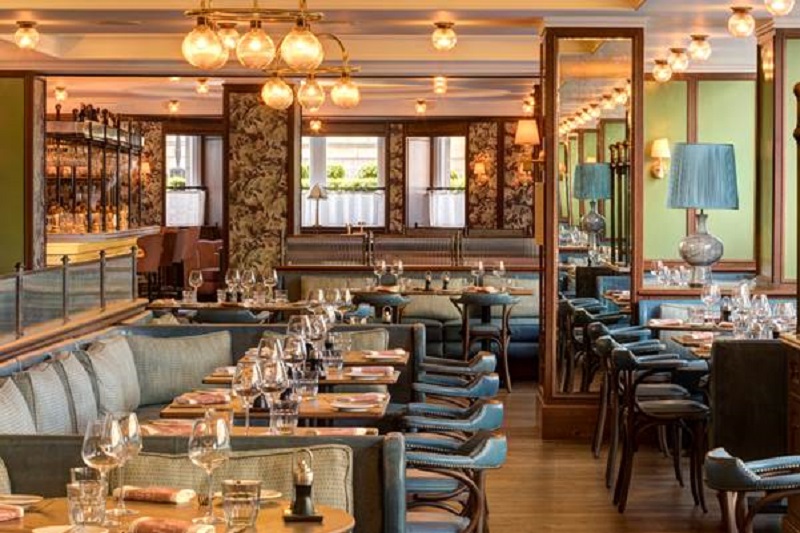 The Balmoral, a Rocco Forte Hotel in Edinburgh, is opening today its Brasserie Prince by Alain Roux, which will match the very best of Scottish produce with classic French cooking. The colourful and vibrant interiors similarly showcase a strong partnership between internationally celebrated Martin Brudnizki Design Studio and Olga Polizzi, Rocco Forte Hotels' Director of Building & Design and sister to Sir Rocco Forte.
Alain Roux takes up the position of Signature Chef at Brasserie Price, a chef that currently retains three Michelin stars at The Waterside Inn, the only restaurant in the world outside France to have upheld this accolade for more than 30 years.
"This exciting new brasserie will be defined by a seasonally changing menu rooted in French bistro dishes, irresistibly simple, delicious food. We will be led by the fantastic array of Scottish ingredients and flavours to include beautiful seafood platters and tasty sharing plates at the bar. I want to serve the dishes that I love to cook myself at home and seek out with family and friends when we go out to eat. It will be a menu informed by my French heritage but totally inspired by Scotland," said Alain Roux.
Catering for 210, the restaurant and bar will be serving breakfast, lunch and dinner, as well as light bites and sharing plates at the bar and seafood from the raw bar. Brasserie Prince by Alain Roux will bring to life dished from throughout France and Scotland to showcase the diversity in cooking and produce from both countries.
Guests can expect a seasonal menu that will include hearty dishes featuring the highest quality produce, from Scottish côte de boeuf to Plateaux de fruits de mer. Diners may also choose from the daily 'Grand-Mère's Specials' which will encapsulate this unique alliance of cooking. These daily specials will include Boudin noir aux deux pommes, a rich dish of black pudding with caramelised apple and potato purée and Côtelettes d'agneu, lamb cutlets with couscous, sorrel and mint sauce.
The ultimate goal of the new restaurant is to establish The Balmoral as a culinary destination in the heart of Edinburgh, joining the hotel's Michelin-starred Number One restaurant.