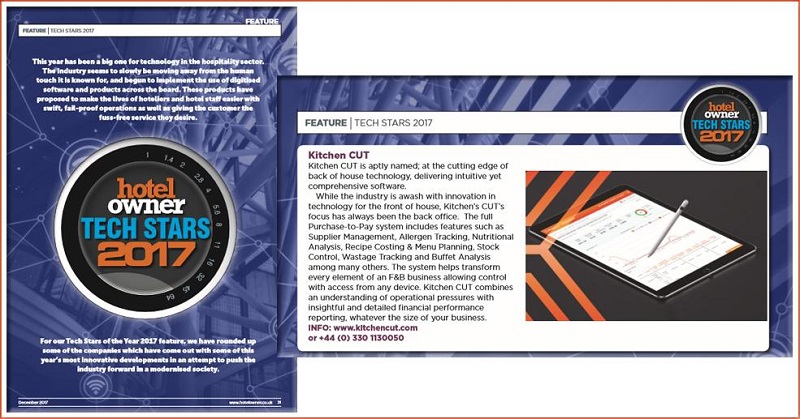 Kitchen CUT has been named as one of the companies to have released this year's most innovative developments in the hospitality industry
Henley on Thames, UK, December 6, 2017  Christmas has come early this year for the team at Kitchen CUT who were this week named as one of Hotel Owner's Tech Stars of 2017.
In an industry where technological innovations are transforming hospitality operations, Kitchen CUT, the complete Food and Beverage management system for the hospitality industry, is delighted to have been identified as one of the rising stars of 2017; a fitting end to a year that has seen the company grow from strength to strength adding global clients to its impressive portfolio.  As a leading title with industry-vital statistics, and informed comment from the sector's leading figures, Hotel Owner is well placed to review the software that's available for business operators, therefore to have been selected is a great achievement.
The article highlighted the fact that:
'The industry seems to slowly be moving away from the human touch it is known for, and begun to implement the use of digitised software and products across the board. These products have proposed to make the lives of hoteliers and hotel staff easier with swift, fail-proof operations as well as giving the customer the  fuss-free service they desire.
For our Tech Stars of the Year 2017 feature, we have rounded up some of the companies which have come out with some of this year's most innovative developments in an attempt to push the industry forward in a modernised society."
Designed by internationally renowned chef, John Wood, Kitchen CUT was created to share his insight, experience, and success from over 35 years in the industry.  Speaking of their latest accolade, John said,
"To be recognised as one of the Tech Stars of 2017 is a great achievement and a testament to the hard work of the whole team.  I've always been passionate about giving back to the industry I have been a part of for over 35 years; the use of technology in hospitality is becoming more and more important, however, whilst there has been a lot of development happening for front of house operations, there has been very little development and a distinct lack of cloud based systems for back of house.  Kitchen CUT typically cuts around 30% of a chef's admin time, freeing them up to develop recipes, talk to customers and manage their kitchen team."
Kitchen CUT helps to transform every element of an F&B business allowing control wherever you are, with access from any device.   The full Purchase-to-Pay system includes features such as Supplier Management, Allergen Tracking, Nutritional Analysis, Recipe Costing & Menu Planning, Stock Control, Wastage Tracking and Buffet Analysis among many others.  Kitchen CUT combines an understanding of operational pressures with insightful and detailed financial performance reporting, whatever the size of your business – from a single unit, to a multi-site operation that spans different regions or even countries.