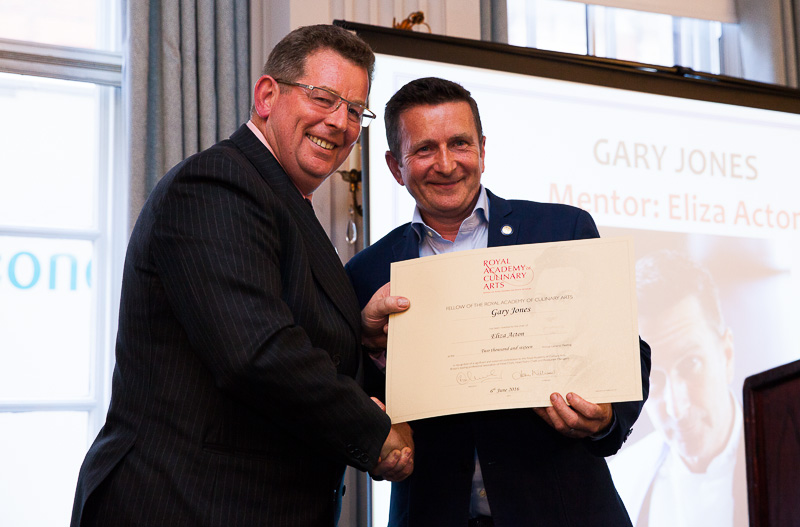 Another four members of the Royal Academy of Culinary Arts have been named Fellows at this year's Annual General Meeting which took place on Monday. Honoured members include Gary Jones, Executive Head Chef at Le Manoir aux Quat'Saisons and Sarah Hartnett, Head Pastry Chef the Sheraton Park Lane hotel.
With its original inception dating back more than thirty years (beginning as simply the Academy of Culinary Arts), the Royal Academy of Culinary Arts is the UK's leading trade association for the restaurant industry and celebrates the talents of Britain's best head chefs, managers and suppliers. Concerned only with the most exceptional at their craft, the Royal Academy of Art ultimately aims to raise the profile of fine dining and improve awareness of food, provenance, culinary skills and hospitality service. These core ambitions are realised in various ways including training and networking opportunities as well as the Annual General Meeting.
This year's Annual General Meeting was held at Grosvenor House and welcomed more than 90 members of the association who met to reflect on successes of 2015 and early 2016 as well as look ahead to the future. Amongst the successes highlighted was the popularity of the Royal Academy of Culinary Arts' apprenticeship programme. The association recruited four apprentices over 2015/2016 and is accepting another promising youngster very shortly.
The Annual Awards of Excellence holds firm place on the agenda each year and, Monday's assembly was no different. The ceremony not only bestows accolades on those performing at the highest level but also mandates that they evidence their prowess. Over a series of culinary competitions over the past few months, hundreds of chefs were narrowed down to just 59, before competing in the finals in May and June 2016.
Despite a big year for the Academy's members, the Annual General Meeting always finds time to elect a number of senior Academy members to become Fellows. Fellows are selected on the basis on making a significant contribution to the association and its educational and networking events. The aim of Investitures is both the recognise the important role of members with the Academy's activities and recall the importance work that was carried out at the association's founding.
As well as Gary Jones and Sarah Hartnett, Jason Atherton, Chef Patron of Pollen Street Social and Hywell Jones, Executive Chef at Lucknam Park Hotel also became Fellows at this year's Annual General Meeting.