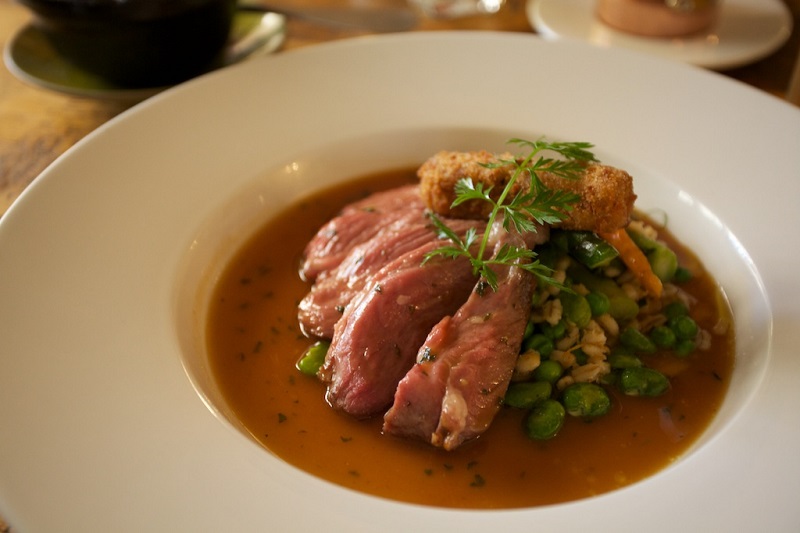 Yesterday marked the official opening of Tuyo, a new restaurant open in Broadway Market in Hackney. The restaurant will be serving a selection of Mediterranean and Levantine small plates.
Tuyo is the latest restaurant to be opened by the Gallipoli restaurant group, a family-owned business which includes La Farola in Islington, Gallipoli and El Ganso, also in Hackney. Tuyo is a part of this restaurant group but is considered to be separate from its sister companies due to its incorporation of wider Mediterranean cuisine in their menu.
The Chef at Tuyo, Ricardo Pimentel has designed a menu that offers guests a range of small bites, or Pinchos to share among family and friends. Chef Ricardo has previously worked in as a part of the Salt Yard Group of restaurants and has a great deal of experience that will no doubt help Tuyo become a successful restaurant.
The restaurant is located alongside the canal in Broadway Market and has been styled with bright decor that draws in the natural light, the open kitchen in the restaurant is a feature, located close to the entrance, almost so guests are greeted by those cooking for them as they enter the bright interior space. The restaurant also has a selection of hanging baskets filled with vibrant plants to add splashes of colour to the white walled restaurant and to contrast against the light wood furniture. In one of the side rooms there is a blue bar which serves a collection of different cocktails that are tailored for Tuyo, to compliment the flavours that feature on the food menu.
The pinchos on offer at the restaurant includes enticing dishes such as  Harissa Lamb Rump which is served with a pisto and black olive couscous and a pistachio and harissa dressing. The main menu continues the Mediterranean flavours, adding more of a Turkish twist with dishes such as Burrata, black beans and a confit of mixed peppers served with sourdough croutons.