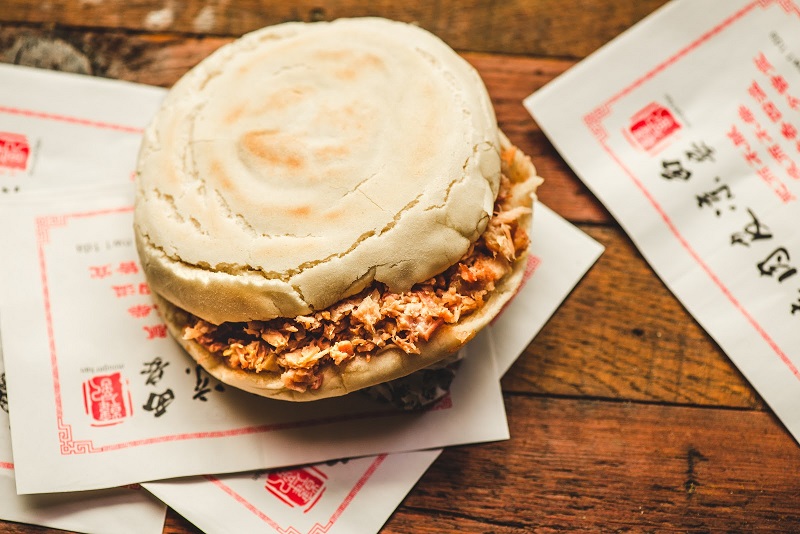 The 'Murger' is recognised as the world's oldest sandwich or burger and is not available at Murger HanHan in Mayfair. The restaurant has three varieties of it on offer, including the Pork Murger with slow cooked pork served in flat bread and priced at £5, the Pork Murger with Lean Pork cooked with lean pork and priced at £6 and Spicy Beef Murger with Peppers & Cumin, priced at £6.50.
The Murger originated during the Qin dynasty (221 BC to 206 BC) of Shanxi Province, home of both the legendary Terracotta Warriors and the family who owns Murger HanHan, London's first authentic Xi'an restaurant. It is a pan-baked flatbread filled with spiced pork belly slow-cooked in a soup containing over 20 spices and seasonings.
Just like a burger, it is picked up in one or two hand and eaten whole, never cut into half. The first bite starts with a crunchy 'crust' followed by a little doughiness on the inside of the flatbread before the juicy and succulent slow-cooked meat. Extras such as chilli, vegetables, or any other condiments are not customary because the flavour of the meat is very rich and satisfying.
The dish is made daily using a secret recipe that has been passed down through generations. Diners will not only experience a flavoursome Murger, but also a taste of history that has been enjoyed by millions of Shanxi habitants spanning centuries.
Another dish that is a 'must try' is the Murger Soup, a traditional soup that contains the Murger chopped into small bite-size pieces. There is also a stir-fried soup that uses a slightly different dough than the classic Murger that does not contact yeast, creating a crispier texture in the soup similar to croutons.
Murger HanHan is located in Mayfair, a 3 minutes' walk from Piccadilly Circus. The restaurant is beautifully decorated and their large portions and low prices make it an exceptional value for money.