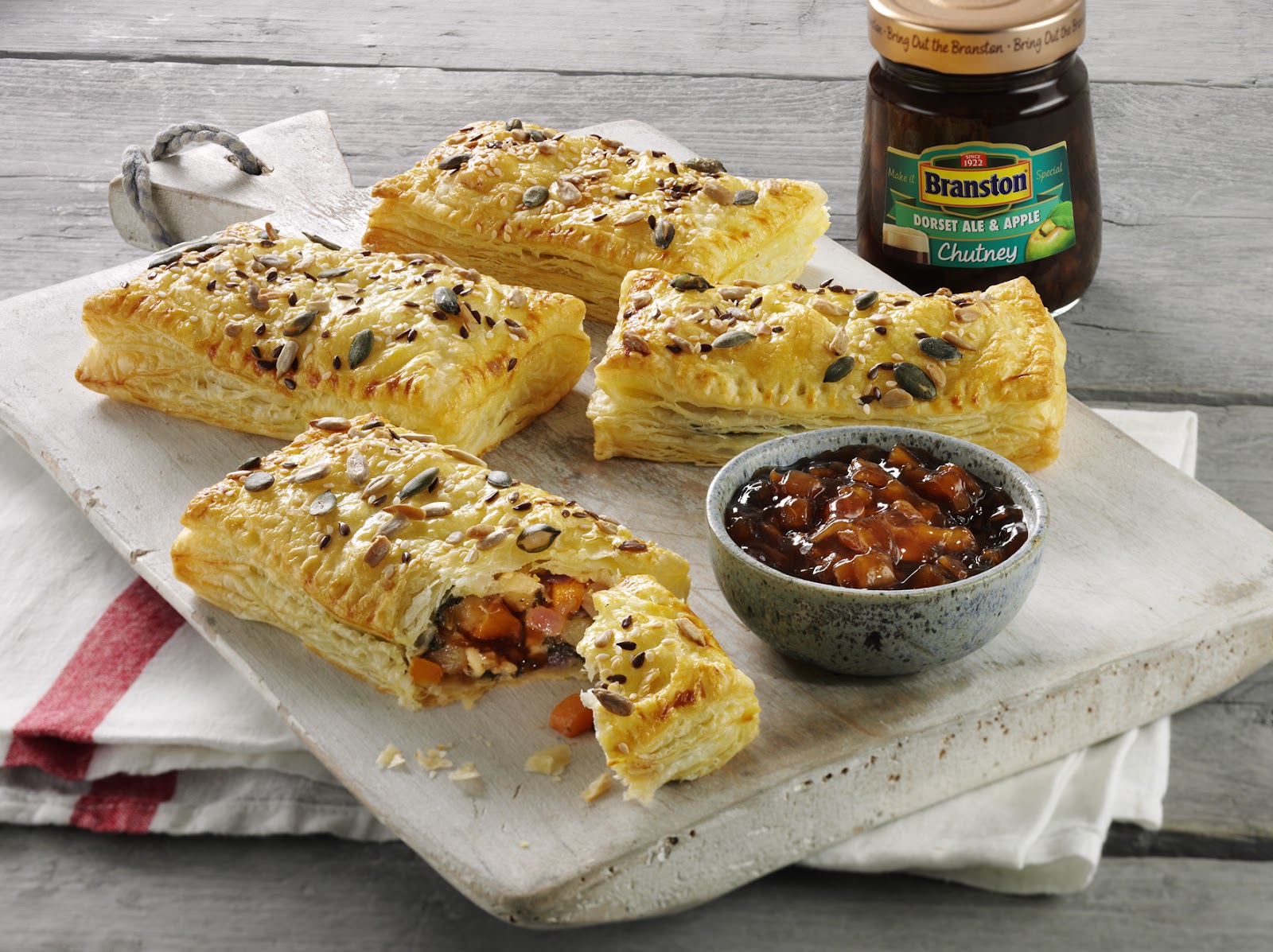 Branston, the nation's favourite pickle brand, has added a new chutney to its range – Dorset Ale & Apple Chutney. Available in ASDA stores for an RRP of £1.40, the new chutney is crafted with brown ale brewed in the heart of Dorset, sweet and tangy onions and British apples. It's the perfect conserve to add some zing to a cheese snack or an al-fresco picnic.
As this chutney works so well with beer, swap the wine for beer to accompany your next cheeseboard, pair Branston's Dorset Ale & Apple Chutney with a classic Cheddar and crackers or add it to a cheese sandwich, and brace your taste buds for a delicious new flavour combination. Branston has also prepared a perfect recipe for Veggie Cheese and Branston Dorset Ale and Apple Chutney Puffs to go with its new product.
Recipe
Makes 10
Ingredients
1tbsp sunflower oil

1 carrot, peeled and diced small

1 parsnip, peeled and diced small

1 red onion, peeled and diced small

1 potato (about 150g), peeled and diced small

2tsp fresh thyme

75g spinach, roughly chopped

8tbsp Branston Dorset Ale and Apple Chutney

100g reduced fat mature cheddar cheese, cut into small cubes

2 320g sheets ready rolled puff pastry

1 egg, beaten, for brushing

2tbsp mixed seeds

Extra Branston Dorset Ale & Apple Chutney, to serve
Method
Heat the oil in a large saucepan and add the carrot, parsnip and onion and fry over a medium-high heat for 3-4 mins. Reduce the heat to medium, cover and cook for 5 minutes stirring occasionally, until tender. Add the spinach and thyme to the pan and cook for a further 2 minutes until the spinach has cooked down. Remove from the heat and cool for at least 15 minutes.

Heat the oven to Mark 5/190C. Line two baking trays with parchment. Unroll the pastry on a work surface and cut each into 10 equal pieces.

Mix Branston Dorset Ale and Apple Chutney and cheese into the filling. Place half of the pastry pieces on to the prepared trays and brush a 1cm border of beaten egg around each one.

Carefully pile the filling in the middle of each pastry piece. Place the second piece of pastry on top of each and carefully press the edges together. Use a fork to seal the edges together firmly, giving a 1cm fluted border.

Slice a small air hole or two into the top of each pasty, and brush with the egg. Scatter with the seeds and bake for 20-25 minutes until deep golden and the pastry is crisp. Serve hot, warm or cooled.