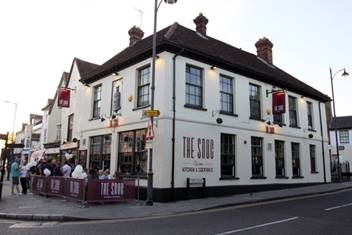 The Snug, the family of popular neighbourhood style bars and kitchens, has reported strong trading figures for the first quarter, with like for like sales growth of over 12% year on year.
The first quarter saw The Snug celebrate its 10th year anniversary, with an update to all branding, and refurbishments across most sites, to bring all venues in line with the new re-vamped look. High Wycombe and Cambridge sites will be updated later this summer.
This first quarter has been a strong one for The Snug, as they opened the new Snug in Ware, following an initial period trading as a pop up. The bar was fully refurbished and opened to the public in June, making a total of seven bars in total for the group.
Team member turnover has been halved, in just one quarter, by focusing on bespoke training and exciting incentives. Successful team members have been rewarded with holiday vouchers, festival tickets and gig tickets, creating a working environment with great morale amongst team members.
The Snug also received recognition this year for its innovative crowd-pleasing cocktail menu, winning the 'Best Cocktail Menu' in the Hertfordshire Food and Drink awards in June, rounding off a strong first quarter.
Giles Fry, owner of The Snug says, 'Guest feedback is becoming ever more important to us as a business and this first quarter we've utilised the feedback we've had to react accordingly and change guests of The Snug into full blown fans, which has helped us to achieve higher sales across the period.
'The next quarter will see us continue to focus on growth across the sites we already own, bringing in more customers with our consistently strong customer service and our much loved comfort food and cocktail offerings.'
The Snug currently has seven sites across the South of England in Hertford, Hitchin, St Albans, Ware, High Wycombe, Cambridge Lensfield Road and Cambridge Grafton.