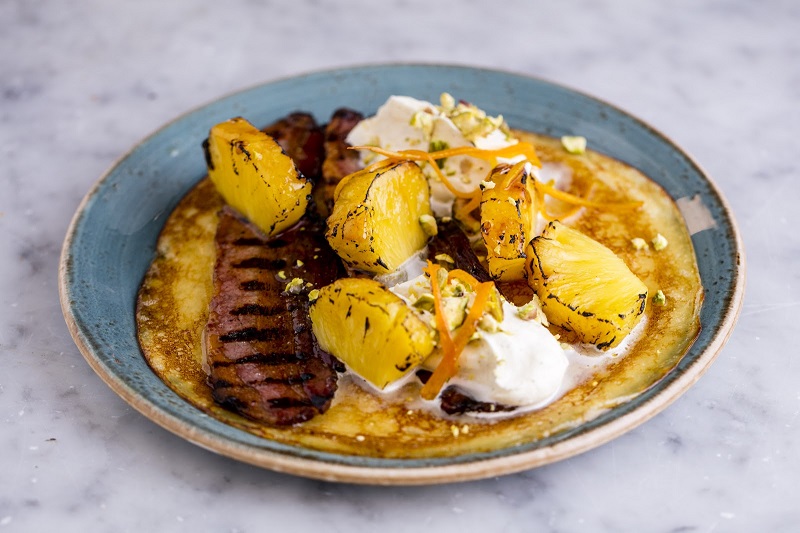 The pineapple has become Britain's fastest selling fruit, overtaking the avocado as the Hawaiian pizza is making a comeback. Its sales have risen 15% in a year, as shoppers have started to user its sweet flavour in curries, barbecues and cocktails. To make sure you have the full pineapple experience, here are the best dishes across London that you should definitely try.
Pineapple and Pancetta Pancakes for Brunch at Radici
Radici, the north London hot-spot, has recently launched a new bottomless weekend brunch that explores the current popularity of pineapple. The Grilled pineapple and pancetta pancakes with, mascarpone, honey and orange are a fun take on prosciutto and melon and Canadian bacon pancakes all rolled into one, and have become an instant favourite in the restaurant.
Pineapple carpaccio at the new Bluebird Café, White City
Bluebird Café, the sister restaurant of the iconic Chelsea original, officially opens its doors at the Television Centre this Wednesday 11th April. Its menu will include a Pineapple carpaccio with black coconut sorbet and lemon balm, £7.25.
A squeeze of pineapple juice works wonders for dough
The Modernist Bread team found that adding a drop or two of pineapple juice to the dough, or any fruit with the enzyme that dissolves protein, such as kiwi, pineapple and papaya, can turn braiding the bread into a breeze.
Yeotown Kitchen
London's first mindfulness café serves up a range of delicious smoothies and yeotinis packed with pineapple goodness, all named after character strengths. From grace to enthusiasm to resilience, each of these refreshing smoothies is the perfect accompaniment while enjoying one of the 5-minute guided mindfulness meditation sessions.
The 'St Paul's' cocktail at Social 24, City Social
On Thursday 12th April, Jason Atherton's Michelin-starred City Social will be renaming the bar to Social 24, with a new cocktail menu inspired by the beautiful backdrop provided by the bar's captivating panoramic views of the city. The 'St Pauls' (£12) is a colourful cocktail made with Absolute Elyx, pineapple, sage, chartreuse, communion wine and a wafer.