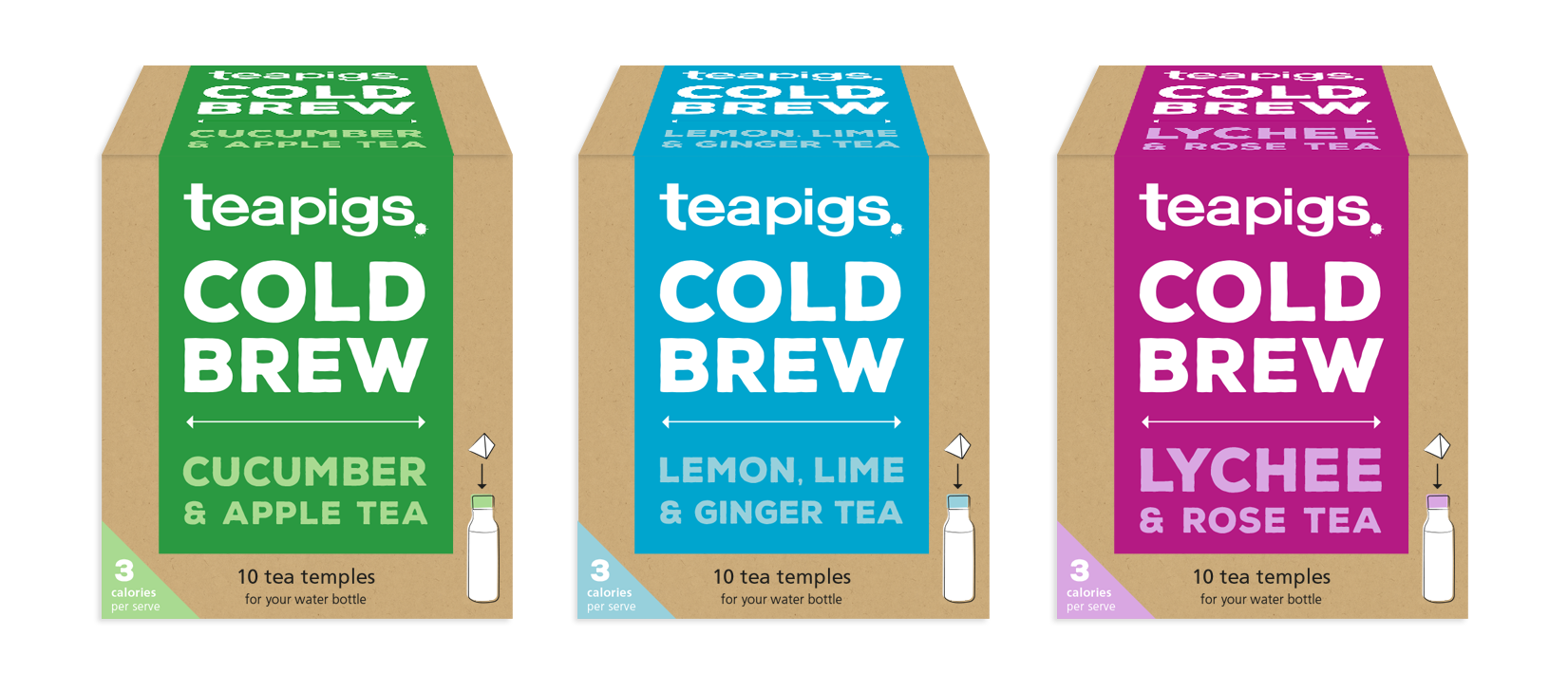 Teapigs has launched a new range of cold brew infusions, specially designed to brew quickly in cold water. The new range will be available online at teapigs.co.uk on the 3rd June.  
Teapigs cold brew is a dead simple, all-natural way to pep up your water this summer! Three super light and refreshing flavours that'll make glugging your way through your two litres a day a breeze.
Available in lychee & rose, cucumber & apple and lemon, lime & ginger; simply pop one in your water bottle before you head out the door and… well, that's it! No waiting for the kettle to boil, no added sugar, no sickly syrups.
LYCHEE & ROSE – The team at teapigs has taken on board your many, many requests for a rose tea, but as tea taster Louise was in a generous mood (and potentially midway through a lychee martini), they give you rose AND lychee. A gorgeously fruity yet floral combo to see you through all those long summer nights, bank holiday picnics and makeshift BBQs in the park.
how does it taste? Light, naturally sweet and a little flowery.
CUCUMBER & APPLE – Cucumber water is the absolute dream when it comes to cooling down in summer; but, for the days when you don't feel like carrying a cucumber around in your bag, teapigs has got you covered with its invigorating cucumber & apple cold brew infusion. It'll almost make your 8am commute feel like you're spending the day in a dreamy spa… granted, you might need a lot of imagination for that one.
how does it taste? Light, fruity with a refreshing hint of cucumber.
LEMON, LIME & GINGER – A true classic – lemongrass, lime and ginger unite to create this light, citrusy infusion with a gingery kick. If you're already a hard-core lemon & ginger fan, you're going to LOVE it cold brewed. Refreshing yet bold, and a fab all-natural alternative to squash.
how does it taste? Light, tangy and citrusy with a little gingery kick.