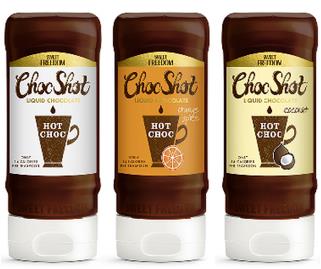 Fast growing Sweet Freedom brand has added two delicious new flavours to its hugely popular all natural liquid chocolate range: Choc Shot Orange Spice and Choc Shot Coconut. This following the launch 18 months ago of their original ground breaking Choc Shot product; a runaway success that is now stocked in all major supermarkets and health food stores nationally.
Choc Shot has fast become the new hot chocolate choice; simply stir into hot milk for a silky smooth hot chocolate with no powdery lumps! But the secret of its success is its versatility. Ideal for drizzling direct over fruit, porridge, pancakes, yoghurt and ice-cream, it's also perfect for adding to shakes and smoothies, replacing chocolate spread on toast and for healthier baking (use in place of cocoa and sugar in recipes) as well as for filling and topping cakes. Containing only natural ingredients, including Great Taste Award winning natural fruit syrup Sweet Freedom, Choc Shot is rapidly redefining how we consume one of our favourite foods.
Cocoa is a bitter ingredient that is commonly made sweeter with refined sugar or chemical sweeteners. Choc Shot replaces these unhealthy additions with Sweet Freedom made only from 100% natural fruit extracts, meeting the needs of consumers who are increasingly choosing to "eat smart" but who won't compromise on taste or convenience.
Tina Michelucci, co-founder of Choc Shot, said: "Our customers love chocolate, enjoy eating healthily and adore the versatility of liquid chocolate. Expanding the range of Choc Shot flavours was a natural progression for us and our latest Orange Spice (with cardamom) and Coconut versions were decided on, not just by us, but based on thousands of email requests from our customers. In fact we are already busy working on the next new flavour!"
At only 14 calories per teaspoon it's a firm favourite with dieters and having a low GI makes it a popular choice for diabetics. As well as being certified Vegan it also ticks all the Free From boxes being GM free, gluten free, dairy free, soya free, egg free and refined sugar free.