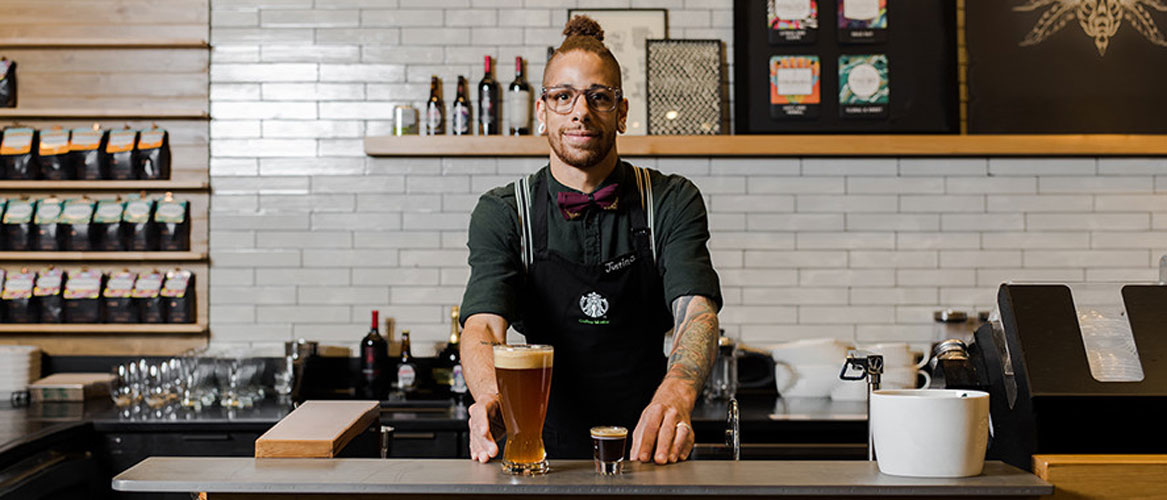 Starbucks has created an experimental IPA beer topped with a shot of espresso. Having taken the team a year to develop, the combination is the creation of coffee master Justin Burns-Beach. The idea for the new drink came from the mixing process behind Starbucks' Shakerato. During the process a mixture of espresso and syrup is shaken until it becomes frothy, which is the inspiration behind the cloud of micro-film which lies on top of the pint.
The beer is served with the cold-shaken espresso on the side in a shot glass, but Justin believes it should be poured in for the best affect.
"Mainly what I wanted was the foam to put on top to get that head on the beer but I didn't want to waste the espresso so that's when I decided to just pour it into the shot glass and have them both side by side," he said.
"Then it was like, what happens if you just pour in a little bit? Seeing the effect of that was just mind-blowing. The visual of it, watching another cloud develop was really exciting."
The drink is a refreshing combination of vanilla orange infused espresso with sharp and citrusy IPA. The drink will be available in select Starbucks locations across the country as part of the chain's 'evenings' menu.
However, women's health expert Jennifer Haythe, M.D, has suggested that "there is evidence that the combination can impair the drinker's judgment more than alcohol alone," and that the mix of caffeine and alcohol could be "very dangerous" as the "combination can lead to risky behaviors."
Recent research published in The Journals of Gerontology has suggested that drinking coffee every day could help fight off dementia. The study revealed that older women who have more coffee were less likely to experience cognitive impairment.