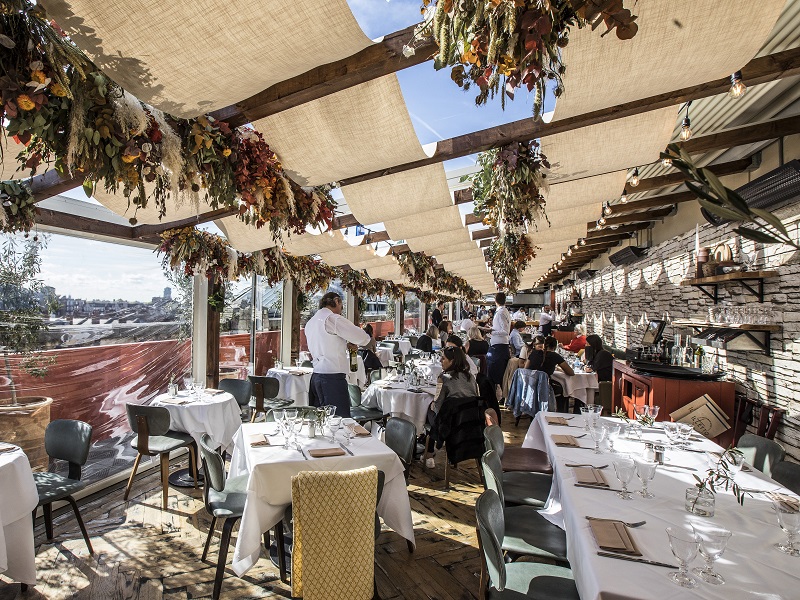 Selfridges has announced a collaboration with the well-known restaurateur Des McDonald. The collaboration has led to the launch of a new and modern Italian restaurant, Il Tetto. The restaurant will be opening for a year-long residency on the iconic Selfridges rooftop today, on Friday the 6th October.
Il Tetto is a stylish all-day dining Italian restaurant that will deliver a range of classic Italian dishes, crafted with a contemporary twist. The new rooftop resident has been inspired by the traditional trattorias found in Italy. Il Tetto is hoping to bring the taste of the rustic and casual cuisine available in Italy to the people of London at their rooftop restaurant.
The rooftop has been transformed to suite Il Tetto, with accents of burnt orange, Tuscan red and olive green used throughout the design of the restaurant. There is also terracotta pots that are filled with herbs dotted about the rooftop in order to bring the sense rural Italy in more than just taste to the London rooftop.
The Head Chef of Il Tetto, Luca Terraneo has, in the past, worked at L'Anima, and has created a menu that delivers authentic Italian dishes that uses well sourced and seasonal ingredients found across Italy. The restaurateur Des McDonald worked closely with Luca in order to make sure that the menus and the ingredients sourced were perfect for Il Tetto.
Il Tetto will be open from 11am every day and will offer brunch, lunch, afternoon tea and dinner every day of the week. The menu features Cicchetti, which are Venetian-style small plates, starters and pasta dishes and a selection of luxury pizzas served straight from the pizza oven that cater to all guests looking for a taste of something Italian.
The warm colours and comforting food will bring a hint of summer to the Rooftops of a winter ridden London, with diners able to enjoy hearty, comforting and warm Italian food in attempts to avoid the wintry chill. There will also be a menu of Hot-tails, including Etna which is a blend of Inzolia white wine, Ratafia, brandy, roasted cardamom, honey and fresh mint. Also available is an extensive wine menu offering the best beverages Italy has to offer as well as a selection of Negronis.