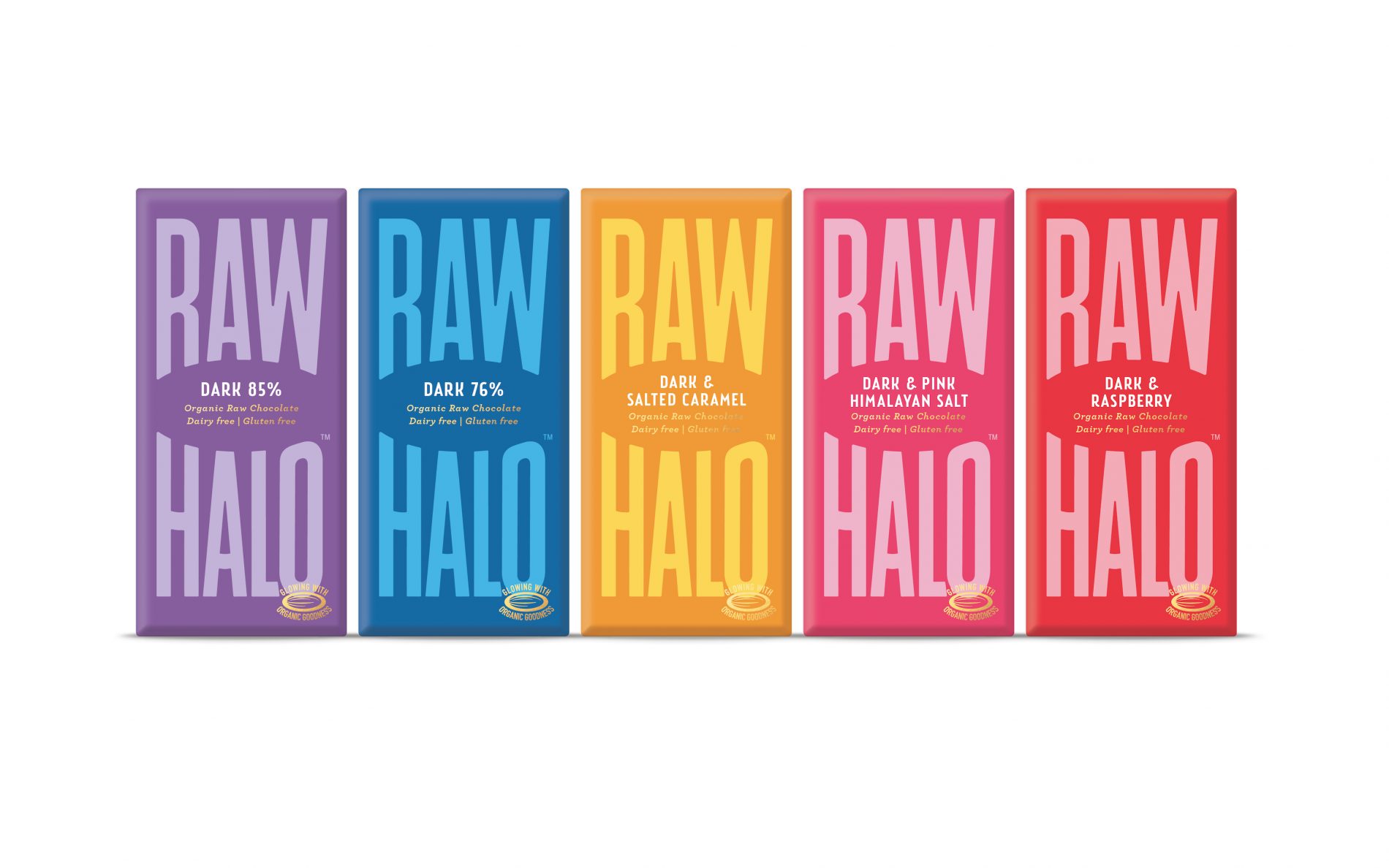 ORGANIC, RAW, DAIRY FREE CHOCOLATE BRAND LAUNCH DYNAMIC NEW-LOOK WITH SUSTAINABILITY FRONT OF MIND
Raw Halo (www.rawhalo.com) believe chocolate should make you feel good. That's why they make delicious vegan, raw chocolate bars from ethically sourced, plant-based ingredients, sweetened with coconut sugar and sustainably wrapped. Glowing with good vibes, they're perfect for a little everyday luxury. Founded in 2015 by Meg Haggar and Jonathan Chapman, 2019 sees Raw Halo launch a vibrant new look and entirely recyclable, plastic-free packaging, along with new flavours, formats and listings in Waitrose, Ocado and Holland & Barrett.
Raw Halo's chocolate comes with a glossy shine, satisfying snap and melt in the mouth smoothness in every single bite, now available in seven Dark and three Mylk varieties in three sizes to suit all occasions: as a 22g everyday indulgence, a 35g single-serve snack bar and a 70g bar for those times when sharing is necessary. The secret to Raw Halo's feel-good bars: their unique blends of organic plant-based ingredients, including rich and fruity single-origin cacao and coconut sugar with caramel notes, to create dreamy chocolate with dazzling flavour.
Raw Halo pushes raw chocolate to a new level in terms of taste, quality and ingredients – all without sacrificing on flavour. Unlike conventional chocolate, Raw Halo's cacao beans aren't roasted; instead, through careful temperature control, the raw cacao is minimally processed to retain the nutrients and flavour of the original cacao beans.
Newest in the range are the deeply rich 85% Dark Chocolate; Dark & Raspberry, with it's warm, comforting cacao and pops of bright freeze dried raspberry and Dark & Himalayan Pink Salt, with salt crystals that enhance the lightly sweetened chocolate. Now available in all three formats is the ever-popular Mylk & Vanilla, heightened by the creamy warmth of pure vanilla extract and classics such as after-dinner favourite, Dark & Mint and the best-selling Mylk & Salted Caramel.
Not only do Raw Halo want to make chocolate that is kind to our bodies, they also want it to be kind to the planet. Crucial to the development of the growing brand, the product is ethically sourced, ethically made and ethically minded. Raw Halo source their ingredients from small, organic farms that trade their product for a fair price and treat their communities well. They produce the chocolate in partnership with a social enterprise; a chocolate factory that helps its staff reach their full potential. Raw Halo's packaging is 100% sustainable and recyclable and entirely plastic free. 2019 also sees the launch of a new partnership with One Tree Planted: Raw Halo will plant one tree in Peru or Indonesia for every fifty bars sold, aiming to plant over 20,000 trees in the coming 12 months.
The new look and feel of the bars comes from a partnership with renowned food and drink experts, B&B Studio who devised the new pastel and jewel toned packaging, featuring a bold, large-format logo centered around a halo shape; inside of the thick paper envelope, the chocolate is cloaked in inviting, bespoke gold foil wrappers, creating a real moment of luxury for discerning taste-led consumers.
Meg says, "at Raw Halo, we believe in everyday luxuries that benefit mind, body and spirit. That's why our chocolate is designed to be better in every sense, for you and the planet. We've created a luxury chocolate bar that's healthier, more natural and better quality, making better-made and better-for-you the new benchmark for premium chocolate."
Stockists include rawhalo.com, Waitrose, Ocado, Holland & Barrett, Harrods, Whole Foods, As Nature Intended, Planet Organic and Daylesford's, as well as delis, health food stores and cafés nationwide.
RAW HALO BENEFITS
Raw Chocolate

Organic – Organic Farmers and Growers Certified

No artificial sweeteners or flavouring

Fully Recyclable/Zero-Plastic Packaging
For more information and ingredients please visit www.rawhalo.com
RRP –RRP £1.10 for a 22g bar, £1.99 for a 35g bar and £2.99 for a 70g bar
AWARDS
Great Taste Awards
Dark 76% – 1 Star
Mylk & Salted Caramel – 1 Star