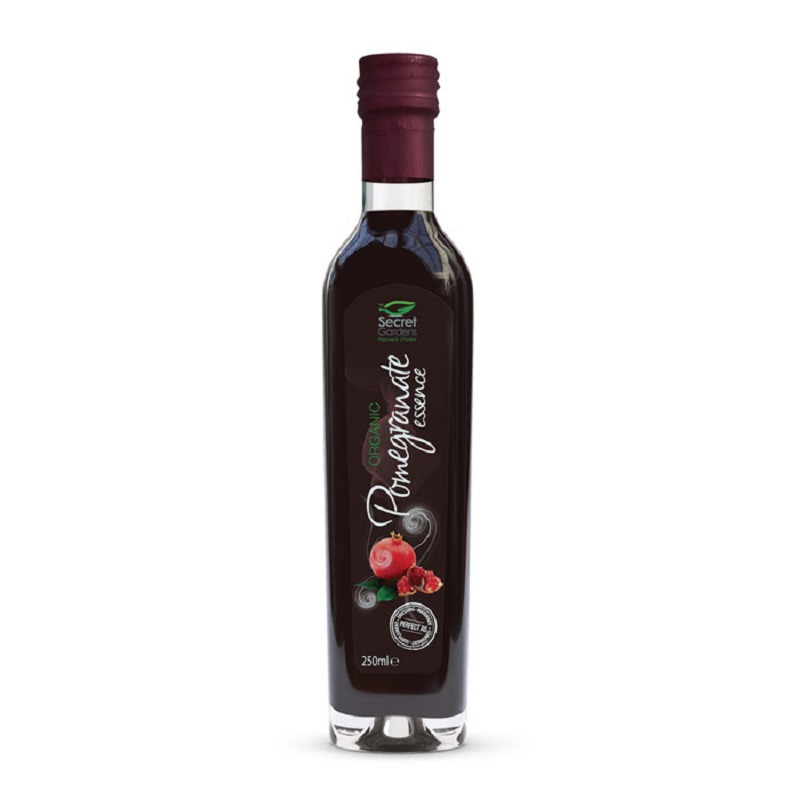 Planet Organic will be tingling our taste buds this month with the launch of the tasty Organic Pomegranate Essence by Secret Gardens that comprises the exotic tastes of the Mediterranean into a bottle. British people have the chance to enjoy the flavours of sun kissed organic pomegranate, brought to them from the Antakya region in Turkey.
The Antakya region is renowned for its rich soil and warm Mediterranean climate that creates distinctively delicious pomegranates, which burst with sweet taste and delightfully fragrant aroma. The fruits used in Pomegranate Essence are gently squeezed and simmered for hours on end, using a traditional Turkish recipe known as 'Nar Eksisi'. The result is a pure organic pomegranate extract that is tangy, sweet, and sour at the same time.
The Essence can be used for marinades, salads, sauces, dipping, and even as a health supplement. The pomegranate is well known for its high levels of flavonoids and polyphenols, which are potent antioxidants invaluable for health. It even has more antioxidants than red wine, green tea, and blueberries. Furthermore, it contains a compound called Punicalagin, which is responsible for its health benefits.
"Organic Pomegranate Essence tastes astonishing. The fruit is a staple in Mediterranean diets and now UK connoisseurs can experience the delightful taste and health benefits for themselves. Whether you drizzle it on a salad, use it as a marinade or whip up a show stopping dessert, its multi-purpose nature makes it a savvy kitchen purchase for amateur cooks and gourmet chefs alike," said Taner Ozsumer and Tuncay Yildiztas, Joint Founding Directors.
The Organic Pomegranate Essence is free from gluten, wheat, artificial colours, artificial flavours, and GM, making it suitable for those with special diets and health conditions. Additionally, it comes in an environmentally friendly glass bottle, which ensures the product stays fresh, flavoursome, and healthy throughout its shelf life.