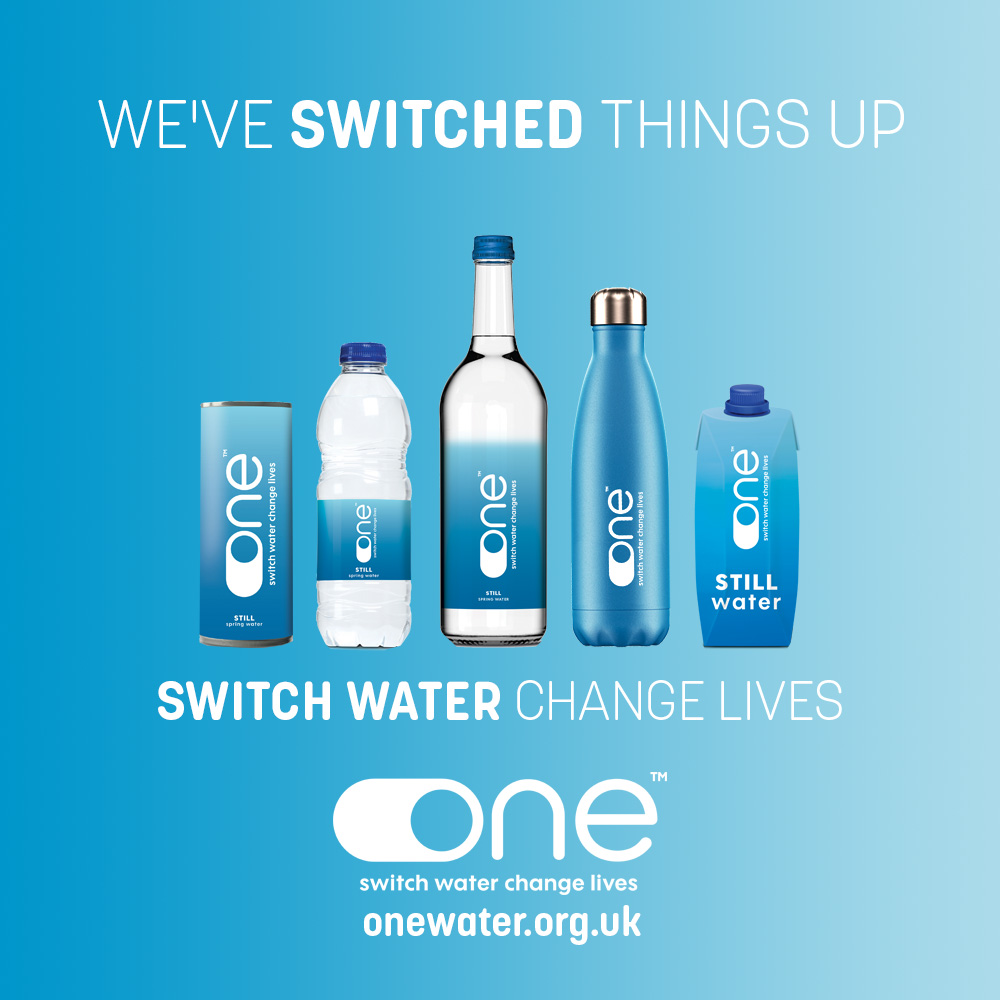 One Water reveals fresh new look and product line-up to boost the range for operators looking to meet customer demand for ethical water in a planet-friendly format.
One Water has unveiled a completely refreshed brand and design, as well as an all-new planet-friendly range of packaged waters in a selection of cartons, new cans and refillable bottles. There is also an enhanced selection of deliciously flavoured waters to ensure operators who stock One Water have an option to suit every customer.
The new branding introduces a 'switch' logo to illustrate the new tagline, 'Switch Water, Change Lives', to encapsulate what a switch to One Water means – helping provide clean water to millions across the world. All it takes is a simple switch to One.
One Water's new packaging range makes it easy for operators to show they're part of the green movement and meet the ethical demands of the modern consumer in a format that suits their business. Options include new 330ml cans of still and sparkling spring water, made from zero plastic and infinitely recyclable. There's also a new refillable option: a 500ml high-grade stainless steel bottle. One Water is the only brand to offer all these pack formats in one place, with unbiased information provided on each to help operators choose the right range for them.
The flavoured waters range has been reformulated to deliver great taste at only five calories a bottle, sweetened from a natural source and with zero sugar. Available in 500ml bottles, One Water offers three great flavours: strawberry, orange and peach, and lemon and lime.
Emily Frank, One Water's Marketing Director, commented: "The new look and product range bring One Water's formats and flavours right up-to-date for operators who want to make sure they've got their drinks offer right. Proceeds from the sale of One Water go directly towards The One Foundation's fight to end global water poverty. It's simple – switching water saves lives – and our dream is to make even greater impact on water poverty while minimising effects on the planet."
To find out more, please visit www.onewater.org.uk