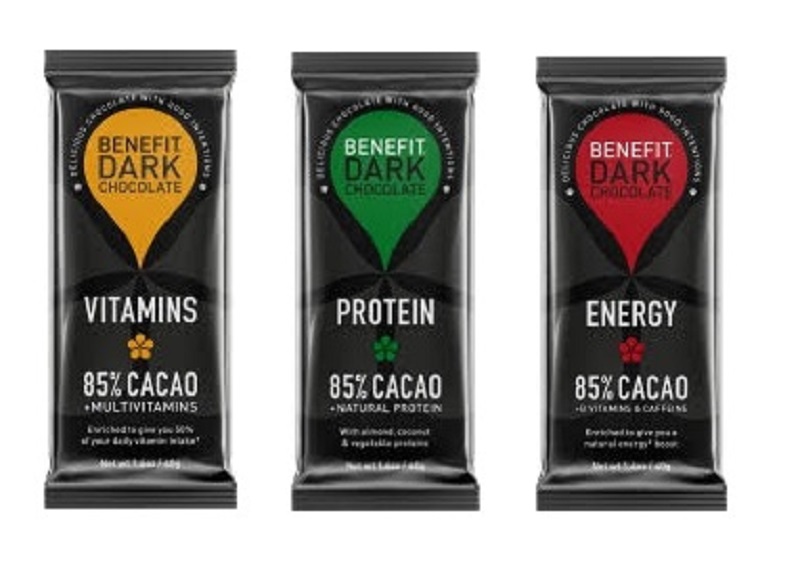 Lovely Fodder Ltd, a family owned UK company, is launching a range of vegan chocolates called Benefit Chocolate, following its success in 2017 with the Benefit Drinks, a range of vitamin enriched vegetable and fruit juices, and Benefit Shakes, dairy free shakes made with almond milk. The new bars of chocolate will combine the best ingredients, being functional and indulgent at the same time.
The chocolate is sourced directly from the CasaLuker Estate in Colombia, with Colombia known as the country with the best 'Fino de Aroma' Cacao beans in the world. The Benefit Dark Chocolate range avoids milk solids and is entirely vegan, due to the quality of the cacao.
Other benefits added to the chocolate bars include protein, which is enriched with almond butter, coconut, and pea protein, contributing to the maintenance of normal bones and muscle mass; vitamins that offer 50% of the recommended daily intake of 12 vitamins, contributing to the normal function of the immune system; and energy delivered by three key B vitamins – B5, B6, and B12.
What make these bars special is the quality and the amount of cacao in them, standing at 85% compared to 54%, which is the market average. Cacao is known for its number of natural health benefits, including high levels of antioxidants, high levels of flavanols, and fibre.
"We're really excited to bring another innovative product to market to sit alongside our Benefit Shakes and Drinks and see a great opportunity in delivering functionality, aligned with high grade cacao products. The beauty is that whilst also being suitable for consumers actively seeking 'better for you' products, the overriding quality of the raw materials means the range appeals to chocolate lovers looking for great taste too," said Gavin Cox, founder of the Benefit brand.
The 40g bars are available in cases of 15 with an RSP of £1.75 each.