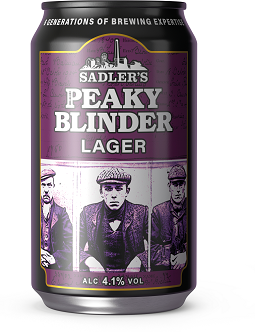 With Original Peaky Blinder Gang Making An Entrance On Pack
Sadler's Peaky Blinder Craft Lager is increasing its stature amongst the craft beer masses with the launch of 330ml cans and new-look 330ml bottles, each featuring real-life members of the original Peaky Blinder gang.
Expertly produced by Sadler's Brewing Co., a sixth-generation family-run business, the lager pays homage to Sadler's links to the original gang members through its brewing and licensee legacy in Birmingham. The Craft Lager doffs its proverbial flat cap to the early 1900's – a time just after the notorious street gang's zenith – when new ethnicities settled in the area bringing with them exciting new ingredients, flavours, aromas and distilling methods.
With a 4.1% ABV, Peaky Blinder Craft Lager is the perfect partner to a summer of sun, socialising and sports; Enjoy chilled on Saturday night with a bowl of spicy nachos, or at half time with friends.
Its pale gold colour is crafted from an exceptional blend of British hops and malt, boasting an appealing mixture of first gold, amarillo, goldings, challenger and cascade hops alongside lager malt and caramalt. The result is a crisp refreshing pale lager that balances the soft smooth bitterness of British hops with the uplifting pine and citrus notes of American Cascade.
Aster Sadler, Marketing Director at Sadler's Brewing Co., said: "We're incredibly proud of our brewing heritage in Birmingham and the Black Country, which spans over 150 years. It has inspired us in the creation of our award-winning beer range.
"The result of Black Country determination and hard graft, Sadler's Peaky Blinder Craft Lager brings a different in attitude to anything else in the market. We expect the new packs featuring the real-life Peaky Blinder gang members to be a hit with fans of excellent craft beer with a legitimate heritage."
330ml bottles and cans of Sadler's Peaky Blinder Craft Lager are available at www.sadlersales.co.uk.
330ml cans are currently on offer: 24 for £24 plus free shipping.