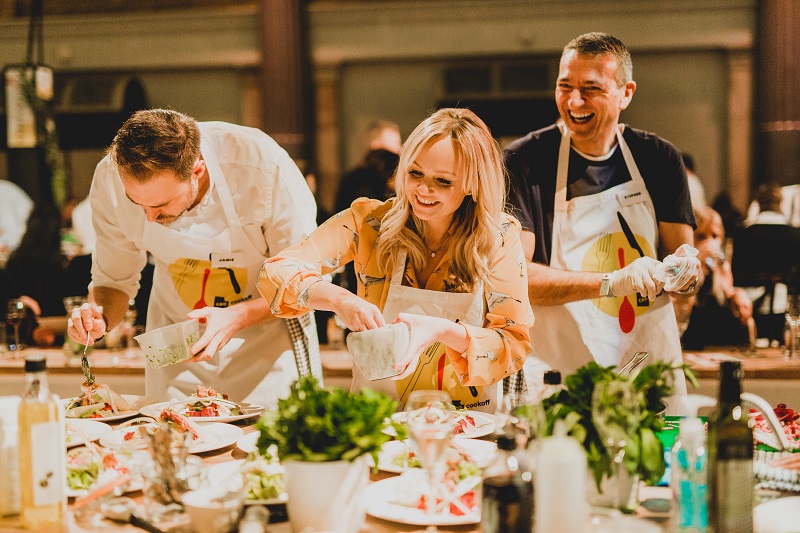 Jamie Oliver, HRH The Duchess of Cornwall and a host of renowned chefs, CEOs and everyday heroes at fundraising event to tackle food waste and food education
London: Jamie Oliver last night teamed up with the UK's top chefs for a giant cooking extravaganza never seen before in the UK as part of his ongoing drive for a nationwide Food Revolution.
The first-ever UK CEO CookOff saw sixty CEOs and business leaders swap their suits for aprons and take to the kitchen alongside thirty high-profile chefs in Old Billingsgate Market, London. Together they cooked a three-course banquet for 600 everyday heroes who have dedicated their lives to supporting others.
The event was jointly hosted by the Jamie Oliver Food Foundation and new charity UKHarvest, which prevents unnecessary food waste by distributing surplus food to vulnerable people in the community. The evening was full of fun and celebration, but was rooted in a serious cause: to fundraise for vital food waste reduction initiatives and food education schemes.
The UK CEO CookOff was opened in style by Her Royal Highness The Duchess of Cornwall, who is Patron of UKHarvest. Her Royal Highness showed off her culinary prowess by helping prepare the starters in both Jamie Oliver's and Angela Hartnett's kitchens.
Among the renowned chefs joining Jamie Oliver were Angela Hartnett, Mark Hix, Bill Granger, Atul Kochhar and Gennaro Contaldo. The CEOs and business leaders included Fiona Dawson (Mars), Ewen Venters (Fortnum & Mason), Eileen Mannion (Google) Stephen Miron (Global Radio), Peter Harding (LucozadeRibenaSuntory), Nitin Passi (Misguided), and Paul Pomroy (McDonald's UK).
Thirty fully-functioning kitchens were installed especially for the evening, thanks to John Lewis, Hotpoint and Tefal. Each kitchen was run by its own head chef, transforming Old Billingsgate into thirty small restaurants – including Rules, Granger & Co., River Cottage, Modern Pantry, Duck and Waffle, Moro, The Ledbury, Frenchie and more.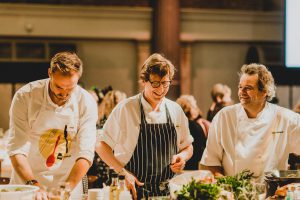 600 guests were invited to the banquet from a selection organisations and community groups from the public and charitable sectors. Among the everyday heroes was Jeanette Orrey MBE, children's food campaigner and former school 'dinner lady'. Jeanette worked with Jamie on his school dinners campaign in 2005. She was joined by other youth workers, nurses and teachers, who all sat alongside the CEOs and were treated to three course meal.
The guests also enjoyed performances by rising star, Imelda May, Callum Scott, and Rhys Lewis. Dynamo also entertained guests during the event. Other personalities there on the night included Emma Bunton and Jamie Theakston.
Speaking at the CEO CookOff, Jamie Oliver said: "We've achieved two fantastic things tonight at the CEO CookOff – we've secured over half a million pounds to provide better food education in hundreds of schools across the UK, as well as feed hundreds of families in need, while reducing food waste. This amazing event is living proof that when big business, the food industry and everyday people put their minds together, amazing things happen.
"And it doesn't stop tonight. For me, it's all about securing a better future for our kids. We want them to learn about food in the same way they learn about Maths and English. If you know how to cook for yourself and your family, and you know how to stop food being wasted, then you have a better chance for a healthy, happy future."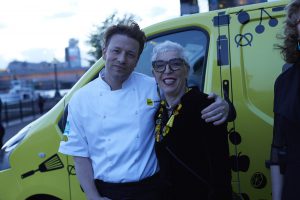 Ronni Kahn, founder of OzHarvest, added: "The CEO CookOff is a model that works – it's all about getting a group of highly influential, motivated business leaders together with dedicated chefs and everyday heroes who are a shining example of good in the world to raise money for causes that really matter – food waste and food education. Our purpose is to nourish this country – we do this by rescuing good food and making sure it doesn't go to landfill. Through education we can learn how to look after our planet and eat healthy, nutritious food – a belief that makes us totally aligned with Jamie's philosophy. I'm delighted to be here with Jamie and his team tonight, this a magical night."
Throughout the evening the CEOs and business leaders were encouraged to continue fundraising – with the final fundraising pot on the night coming in at over £500,000. And fundraising doesn't stop there – with the event promising to raise over £2 million in the next two years.
The UK CEO CookOff aligns with Jamie Oliver's Food Revolution – an ongoing campaign in response to the fact that too many people across the UK still suffer from poor health because they don't get enough healthy food. Meanwhile, 11 million tonnes of perfectly good food are unnecessarily wasted every year.
The Food Revolution aims to improve food education for children and adults alike in the UK – a focus which Jamie Oliver considers to be as important as maths and English when it comes to helping kids live happy, healthy and productive lives.
The CEO CookOff was a zero-waste event. The menu for the evening was carefully engineered with specific recipes and portion control. Any meal that wasn't served was collected by UKHarvest's van and taken to The Robes Project, a charity that offers shelter and food to the homeless in south London.